Newspaper Serving Murrieta, Temecula and surrounding cities
Scroll down this page to read our Current Issue

Distribution of this publication does not constitute an endorsement of the information, product or services herein. The publisher assumes no liability for the products, services or statements made by the advertisers. Advertising is accepted and positioned at the discretion of publisher. Advertisers assume all responsibility and liability for claims arising from their advertisements. Advertisers release the publisher of any and all liability for damages, incidental, consequential or otherwise, in excess of the cost of the ad space involved. Opinions expressed by columnists or advertisers do not necessarily reflect those of the publisher. The Bugle does not have staff reporters. Volunteer authors submit their articles and photos by email. Authors are not restricted by word count however text may be edited for space availability and clarity. All rights reserved; however, reproduction and distribution of specific articles may be requested in writing by emailing the publisher at info@thebugle.com



Past issues follow our current issue with omission of untimely event content.
Click the Archives menu item to read more past issues



---
Vol. 19 No. 2..................................April 2016
---
Randon Lane does not deserve your vote!
By Nancy Knight, Murrieta

Is your email being deluged with Randon Lane endorsements and political propaganda? Don't fall for the lies and stop electing career politicians that work for the establishment and harm you. They think you are fools. They play dirty politics to get what they want.

Randon Lane claims to be a businessman for his ballot designation. What business does he own? He worked in Assemblyman Jeffries office before he became an employee of Verizon and then moved on to a job with Southern California Gas. A businessman owns a business and risks his personal funds to bring product to the market. A career politician works for "The Party", other elected officials, and for public utility companies who, as we see when rate increases are approved, also get what they want at your expense when they have well-connected politicians in their pocket.

Randon Lane is not the official Mayor of Murrieta. He and his cronies on the Murrieta council robbed the Official Mayor, Harry Ramos, of his title. There were phony charges raised against Ramos in the dirty politics involved. The Riverside District Attorney did an extensive investigation into the charges and exonerated Harry Ramos but the crony members of the Murrieta council refused to give Ramos his Mayoral title back. That mayoral title is being used as election deceit to help Lane get elected to the position of Riverside County Board of Supervisors.

What has Randon Lane done to serve the establishment? Let's begin with his role as an appointed Murrieta Planning Commissioner. In order to prove himself as a rubber stamp politician, without the brains or inclination to serve the public honestly, he approved two high density condominium projects on Commmercial Land. One of those projects was on land owned by a former Murrieta Planning Commissioner, Carmela Loelkes – a real estate broker at the time of her involvement to get DR Horton to buy her and her partner's Commercial Land for Condominiums. Who was her partner in this scam? The owner of Excel Landscape who has the city contract for landscape maintenance across the city. The well-connected indeed.

The other Commercial Land Use parcel had the fill dirt DR Horton needed to raise Carmela's parcel out of a flood plain. It was a package deal, so to speak, with DR Horton. Randon Lane approved both projects as a Planning Commissioner. The city employees that were involved kept their mouths shut while the long time residents on residential estates were left to battle and appeal to a voting block on the Council who also approved condominiums on both of these Commercial Land Use parcels. How do I know? I was the owner of one of those residential estates. I now live adjacent to 159 faceless families in condos who throw trash and broken glass over the wall into my yard.

What did Randon Lane do to us while he served on the City Council? He took our residential property rights away. Our estate residential property was designated Commercial Land with a multiple use zoning that allowed us to build a commercial building or add more residential units on up to 40% of our parcel. Under the guise of the General Plan Update, Lane and his cronies on the Murrieta Council, took our property rights by changing our Land Use to Research Park. No new residential housing is allowed on our parcels. We cannot add a highly needed low income housing unit on our property. That benefit is reserved for the big developers who get tax benefits and grant money from the city to boot.

Randon Lane wants to claim he protected you from eminent domain. What he approves in a General Plan Update is worse than eminent domain. They took our property rights and they didn't have to pay market value as they would have under eminent domain. Sheer trickery.

Your vote matters. The political elite have the numbers to defeat the opposition when the majority of voters stay home. When you allow them to defeat honest people who want to work for you, you make your own bed and you have to lie in it. Make this a year of change and stop the political elite. Vote and gather your neighbors who never vote and take them to the polls.


---
Trump rally - Saturday, March 26, 2016 in Temecula, California.
By Nick Biddle, Temecula
Everyone (blacks, women, youth and Hispanics) was in high spirits, passing cars honked, including a black stretch limo, all windows down, heads out, cheering. The creepy George Soros-hired operatives and "black lives matter" disrupters sent in to bust up the fun were ignored. Thanks to the many professional law enforcement officers from the City and County, there were no mishaps, though one over-excited woman collapsed and was carried to an ambulance.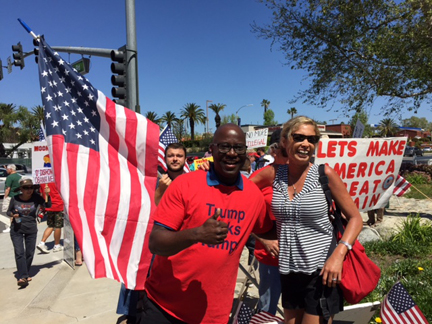 ---
Community Voice (Opinion)

Why Trump? A letter sent to the RNC
Published with permission from Nick Biddle of Temecula

Many have asked me if I support the Republican Party? Here is a letter I sent to the RNC…You be the judge…

Dear Representative,
From the time I was able to vote I voted Republican. I am 80 and have a great deal of respect and influence with hundreds of senior ball players who also network with thousands of others around the country. I received your questionnaire and request for money and strongly agree with every question as I have since Obama was elected. Unfortunately the one question that was missing is "What have the Republicans done for the American people?" We gave you a majority in the house and senate and you never listened to us. Now you want our money.

You should be more concerned about our votes - not our money. You are the establishment which means all you want is to save your jobs and line your pockets… Well guess what? "It's not going to happen". You can shake in your boots when I tell you our movement is for TRUMP and he hasn't asked for a dime.

You might think we are fools because you feel Trump is on a self destruct course but look beyond Washington and listen to the masses. Nobody has achieved what he has, especially in the state of New York.

If you really want to know how the majority of people feel, and this applies to both Democrats and Republicans, read below, it says it all.

You've been on vacation for two weeks, you come home, and your basement is infested with raccoons. Hundreds of rabid, messy, mean raccoons have overtaken your basement. You want them gone immediately… You call the city, 4 different exterminators but nobody could handle the job… But there is this one guy and he guarantees you to get rid of them, so you hire him. You don't care if the guy smells, you don't care if the guy swears, you don't care if he's an alcoholic, you don't care how many times he's been married, you don't care if he voted for Obama, you don't care if he has plumber's crack...you simply want those raccoons gone! You want your problem fixed! He's the guy. He's the best.

Here's why we want Trump, yes he's a bit of an ass, yes he's an egomaniac, but we don't care. The country is a mess because politicians suck, the Republican Party is two-faced & gutless, and illegals are everywhere. We want it all fixed! We don't care that Trump is crude, we don't care that he insults people, we don't care that he had been friendly with Hillary, we don't care that he has changed positions, we don't care that he's been married 3 times, we don't care that he fights with Megan Kelly and Rosie O'Donnell, we don't care that he doesn't know the name of some Muslim terrorist. This country is weak, bankrupt, our enemies are making fun of us, we are being invaded by illegals, we are becoming a nation of victims where every Tom, Ricardo and Hasid is a special group with special rights to a point where we don't even recognize the country we were born and raised in; "AND WE JUST WANT IT FIXED" and Trump is the only guy who seems to understand what the people want. We're sick of politicians, sick of the Democratic Party, Republican Party, and sick of illegals. We just want this thing fixed. Trump may not be a saint, but he doesn't have lobbyist money holding him, he doesn't have political correctness restraining him. You know he has been very successful, a good negotiator, he has built a lot of things, and he's also not a politician, he's not a cowardly politician. And he says he'll fix it. And we believe him because he is too much of an egotist to be proven wrong or looked at and called a liar.

Also we don't care if the guy has bad hair. We just want those raccoons gone - out of our house. NOW!


---
Taste of Bear Creek

Plan to come to Bear Creek on May 1 from 2pm-6pm for this fundraising event benefiting SAFE (Safe Alternative For Everyone), Project Touch, and Children's Tumor Foundation. The event will be held at the Bear Creek Golf Club located at 22640 Bear Creek Drive N., Murrieta, CA, 92562

The Taste of Bear Creek, sponsored by BMW of Murrieta, celebrates the 6th Annual event benefiting local charities. Tickets are $45 per person and includes 10 tasting tickets. Over the past 5 years, The Taste of Bear Creek has donated nearly $75,000 to benefitting charities via ticket sales and the silent auction.

Enjoy a delicious bite-by-bite exploration of tasty samples provided by local restaurants, wineries and microbreweries. This well appointed event blends food tastings of delectable cuisine, desserts, wines and yummy champagnes. Peruse the raffle and silent auction items while listening to the sounds of The Mark Sage Band and as you EAT, DRINK & MINGLE! Purchasing VIP Reserved tables for 4, 6, or 8 people is a great way to enjoy the event. "Our goal is to raise as much money for our charities as possible," exclaims Charlotte DeHesa, event chairperson. Guests may also write checks directly to their favorite charity.

Tickets may be purchased from the Bear Creek Master Office, Bear Creek Golf Club, or thru PayPal. For more information about tickets and VIP tables, contact Charlotte DeHesa at (714) 931-4663 or email bearcreektasteofthetown@yahoo.com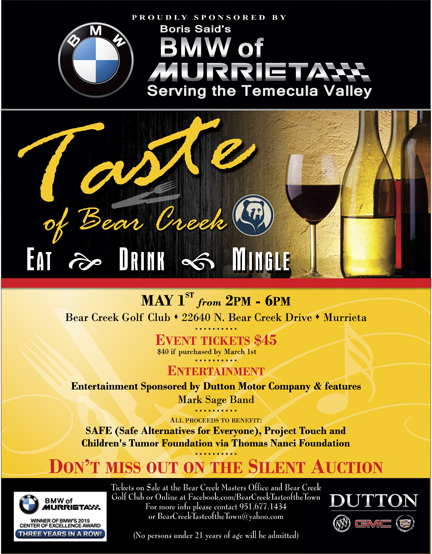 ---


3 Local Youth Receive Eagle Scout Honor

Connor Decocq, Chad Holmes, and Nathan Strong were recognized at an Eagle Court of Honor on Friday, March 25 at The Church of Jesus Christ of Latter-day Saints located at 18220 Dexter Avenue in Lake Elsinore. All three young men are students at Temescal Canyon High School.

For their Eagle projects, Decocq led a group to build three separate self-standing garden boxes for a local preschool in Lake Elsinore; Holmes designed and led a group to build a U.S. flag depository box for the Veterans of Foreign Wars post in Wildomar; and Strong led a group to make 105 fleece blankets that were donated to Project Linus for local children's hospitals and care centers.

"I think every young kid should join the scouting program," Decocq said. "Not only is it fun, but it teaches you essential skills that can help you in your day to day life."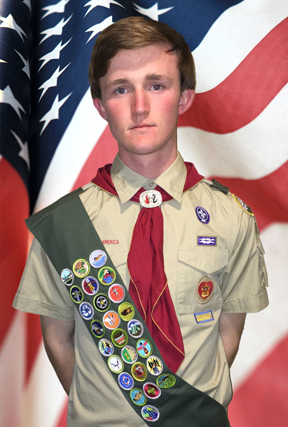 ---


"As a scout I learned the importance of planning, goal setting, integrity and diligence," Holmes said. "Scouting has played an essential role in developing my character."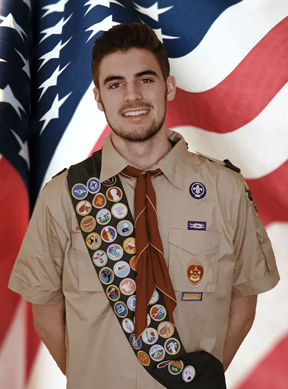 ---


"One of my greatest memories was attending scout camp at Camp Tahquitz and learning how to horseback ride, rock climb, kayak, use a shotgun and survive in the wilderness," Strong said.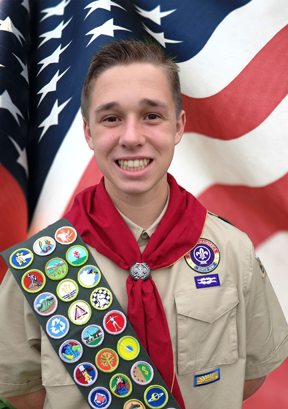 ---
CLIPPENDALES

The Elks Ladies, an Elks Auxiliary of the Lake Elsinore/Wildomar Elks Lodge No. 2591, has formed a club called the "The Cliippendales." The object of this club is to send manufacturers coupons to Kadena Air Base, Okinawa, Japan to be redeemed for products at their commissary and other stores. The Elks Ladies meet the second Monday of the month at the lodge at 5:00 pm to clip coupons. As of March 1 they have sent a package of coupons worth $14,464.42 making a grand total of $23,531.19 sent this year.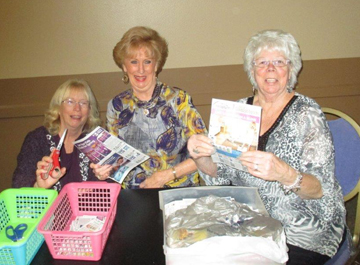 ---
Book Review
By Esther Tyrrell, Murrieta

If you're in the mood for a thriller that will have you guessing until the very end, consider THE BITTER SEASON (Kovac and Liska) by Tami Hoag (Dutton and Brilliance Audio.) Nikki Liska and Sam Kovac are former partners in the homicide division of the Minneapolis police department. But Nikki, who has been transferred to the cold case unit, is struggling with the case of Ted Duffy, a detective who specialized in sex crimes and who was murdered 25 years ago. The case has been newly re-opened and the cops who have worked on it for years resent her opening it again. Sam, on the other hand, is working on a grisly murder case in which university professor Lucien Chamberlain and his wife have been found brutally murdered in their own home. He was an unpopular teacher of Asian Studies and the weapon was a samurai sword. Hard to get along with, the professor had plenty of enemies but heading the list of suspects are his daughter and her boyfriend.Well-known for her complex plots, the author has written a story that takes two completely different cases and linked them together with an unusual third case. Well-written and fast-moving.

NYPD RED 4 by James Patterson (Little, Brown and Co. and Hachette Audio) is the fourth in the author's popular NYPD Red series, named for the special task force of top investigators who deal exclusively with crimes involving New York's rich and famous. This elite unit is led by Detective Zach Jordan and Kylie MacDonald. This time, the crime takes place on the red carpet at a glitzy premiere when A-list movie star Elena Travers steps onto the red carpet wearing a couture dress and a sparkling custom-made emerald necklace worth eight million dollars. The crowd went wild when they saw her -- there were screams and a tremendous commotion -- and then the beautiful star was found dead in her limousine and the glittering necklace was gone. The plot is complicated with another high-profile case and there are many unexpected twists and turns. Watch for the cliff hanger ending.

FLIGHT OF DREAMS: A Novel by Ariel Lawhon (Doubleday and Penguin Random House Audio)is the story of the tragic last flight of the German passenger airship LZ 129 Hindenburg. The zeppelin left Germany on May 3, 1937 for its three-day journey to Lakehurst, New Jersey with 97 people aboard. But on May 6, disaster occurred when it reached its destination and tried to dock with its mooring mast. It caught fire and was destroyed in a fiery inferno that lasted only 34 seconds. This fascinating book presents in gripping detail a blend of facts and fiction about the passengers, the ship, and what could have caused the explosion. Exciting historical fiction.


---
Art Walk in Murrieta

Wondering where all the talent is in Murrieta? On Thursday 4/28 you can see a lot of it on display. It's the premiere of the Murrieta Arts Walk, a free event you don't want to miss. From 4-8 pm there will be up to 40 adult artists displaying their works. There will be musicians performing too. Local merchants are participation and there will be a food truck.

It is all happening at several locations near Washington Avenue and Juniper Street. Mark your calendar and tell your friends – it's going to be a fun way to celebrate Earth Day, stroll through the older part of Murrieta and support your talented neighbors.

Brought to you by Murrieta Arts Council, a non-profit dedicated to enhancing arts and culture in the Murrieta Valley. Visit murrietaarts.org for more info.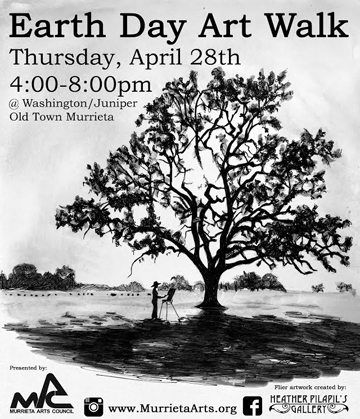 ---
Local Club Meetings

The Murrieta Garden club will meet on Tuesday, April 12 at 9:30am. We meet at the Murrieta Community Center located at 41816 Juniper St, Murrieta. Agenda for April: Plant sale planning, Order logo T-shirts, Garden report for April and Nominations for new club officers 2016-2017. Please join us, guest and visitors are always welcomed. Call Barb if you have questions: 951-677-7310

The Temecula Valley Garden Club will meet on Tuesday, April 12 from 9:00 a.m. to 12:00 p.m. A very special program is planned for this month's meeting. "Fairy Gardens - A Little World of Enchantment" will be presented by Vanessa Andrade, owner of Garden Moonligh. She will help you create your own unique miniature secret garden filled with magical toadstools, pixie dust, elves and fairies. Let your imagination run wild! Visitors are always welcome.Community Recreation Center, 30875 Rancho Vista Road, Temecula, 92592More information: http://www.temeculavalleygardenclub.com

Temecula Valley Newcomers Club will meet on April 18 at 11 a.m. Whether you have lived in the area for many years or have recently moved here, you are invited to come to our meetings to meet new people and have fun. We host a monthly luncheon with entertainment at Wilson Creek Winery, 35960 Rancho California Rd, Temecula. Reservations are Required, please call Ann (951) 677-7149. This Club is a social organization with many different kinds of activities, such as card, book, mahjong, movie, lunch and dinner groups and much more. For Club information call Robin (951) 482-0940.

SW Riverside County Marine Corps League Detachment 1057 meets on the last Saturday of each month at 9am at Grand Isles, 24405 Village Walk Place in Murrieta. More info: www.mcl1057.org or call 951-775-1191

Lake Elsinore/Wildomar Elks #2591 meet on the first four Tuesdays of each month at 7:30 p.m. at the lodge located at 33700 Mission Trail, Wildomar. For info call (951) 674-6804.

Temecula Valley Elks #2801 meet on the first, third, and fourth Tuesday of each month at the Lodge located at 28061 Diaz Road in Temecula. For info call 951-695-7470


---
Pet Adoptions
Animal Friends of the Valleys is located at 33751 Mission Trail in Wildomar. Phone: 951-674-0618. Hours of operation: Monday, Tuesday, Thursday, and Friday from 10:00am-4:00pm. Wednesday from 10:00am-7:00pm. Saturday 10:00am-5:00pm. Website: www.animalfriendsofthevalleys.com

Special: all cats/kittens, pitbulls & Chihuahua adoptions are just $5.00 through April (spay/neuter fees, if applicable, are additional). Note: Dog & cat adoption fees include a microchip, basic shelter vaccines (excluding rabies), and a free vet check.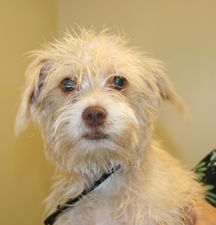 Intake Number: 290875. Chihuahua Mix, 4-years old, male, tan. My name is Bolt. I am such a cute little fella. I am sweet and friendly. I do well with other dogs. Won't you come to meet me? I will need to be neutered before leaving the shelter.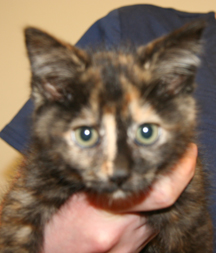 Intake Number: 264257. Domestic Short Hair, 8-months old, spayed female, brown. My name is Angel. My family moved and was unable to take me. I am still in the kitten stage. I am playful and a real sweetie. I am good with kids and I am litter-box trained, too. I am all ready for a loving home.


---
Vol. 19 No. 1..................................March 2016
---
MSJC Foundation's 8th Annual Gala

More than 400 people attended the Mt. San Jacinto College Foundation's 8th annual Gala. The Gala is the Foundation's signature event to raise funds for student scholarships, mini-grants for faculty and classified staff and other philanthropic endeavors. This year's theme, MSJC – Building a Sustainable Future, featured a Recycled Art & Fashion Show with designs by MSJC Students. Mary Runde and Dennis Armatis tied for first place, each receiving scholarships for $1,000. The second place winner Kyle Nguyen was awarded $750.The evening included a silent auction, delicious meal and live music by the band Kicks.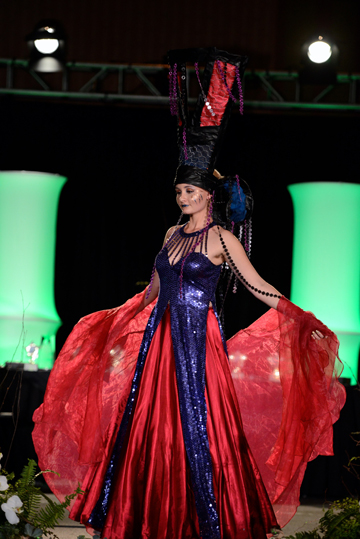 Mary Runde tied for first place in the Recycle Art Fashion Show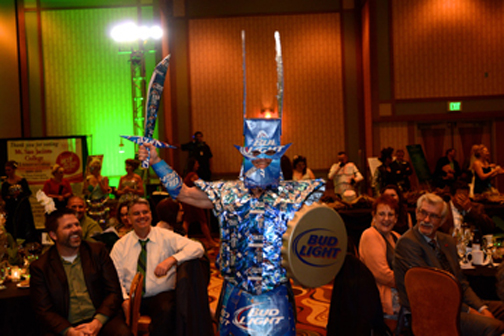 Dennis Armatis tied for first place in the Recycle Art Fashion Show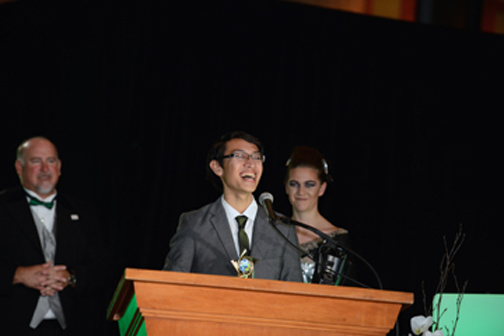 Kyle Nguyen won second place in the Recycle Art Fashion Show


---

Father-Daughter Duo Awarded for Artistic Talent
By Bill Zimmerman, Past President, Arts Council Menifee

Chuck Fisher and Tiffany O'Malley are award-winning artists in their chosen fields, are father and daughter, and are being recognized by Arts Council Menifee as March's artists of the month.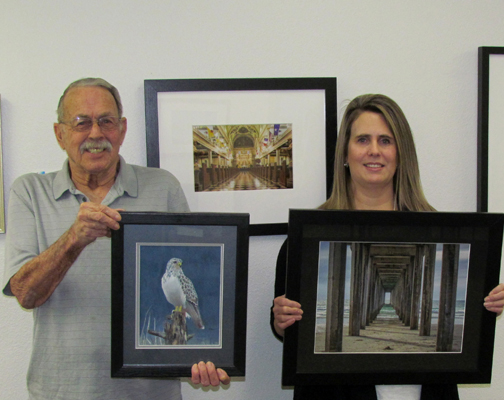 Fisher is a painter who has focused on watercolors in recent years and O'Malley is a photographer with a great eye for architectural structure. Both currently have works on display at the art gallery at Menifee's Kay Ceniceros Community Center.

Fisher is a self-taught painter who has been working at his craft for the past 20 years. He describes his art style as traditional with an emphasis on still life and nature themes. Animals are a preferred subject when Fisher is painting for himself. Last year he entered his paintings in the Southern California Fair in Perris and won numerous prizes including a First Place ribbon.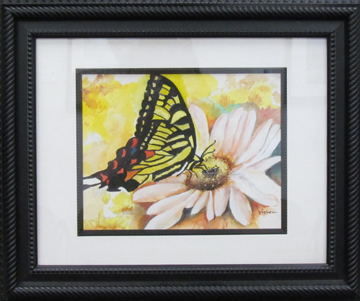 Fisher joined ACM about five years ago and likes the camaraderie of the visual arts group. "I look forward to participating in the events and attending the monthly meetings," said Fisher, 80. "I am a full-time artist who also enjoys spending time with my family. I also enjoy watching football, going to the casino and traveling with my beautiful wife."

Chuck and Bobbi Fisher have been married 48 years and moved to Menifee about eight years ago. Bobbi, who has a strong aesthetic for interior designing, helps her husband with custom framing of his art pieces. Their daughter Tiffany O'Malley shares their passion for art.

O'Malley joined a team of artists from the Arts Council to participate in Mt. San Jacinto College's Arts Festival in November and displayed her work a fine arts exhibit area under the courtyard trees.

"Guests seemed to migrate right toward Tiffany's display of photographic images she had placed on our grid wall," Zimmerman said. "The best photographers have an eye for artistic composition, and Tiffany's work really showcases her innate talent."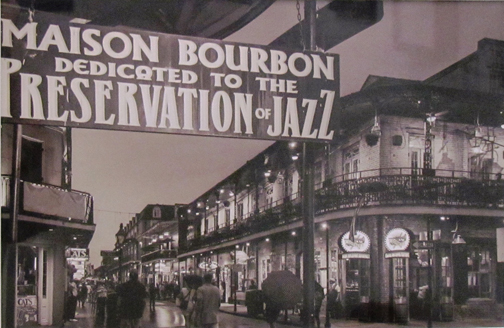 O'Malley has had a passion for photography for as long as she can remember. She took her first photography class in high school and never stopped taking photos. "I decided to turn my passion into a business and have not looked back since," said O'Malley, 45. "Becoming a professional photographer has been, and continues to be, a dream come true."

When taking photos for fun, her favorite subjects have always been her two children. "I absolutely love being able to capture them at different stages of their lives and being able to look back on those special moments," she said.

O'Malley joined Arts Council Menifee after her parents told her about it and she enjoys being around so many other creative people.

Chuck Fisher was born in Hawaii and spent 35 years as a professional big-rig truck driver. Bobbi Fisher worked as administrative assistant for state senator Bill Craven for 22 years and still likes to brag about the fact that one of her husband's paintings was chosen by Craven to hang in the state capital for one year. "With so much in this world going downhill, art is something they can never take away from you. It's inside of you and your hands make it come out in you," Chuck Fisher said. "I love teaching new artists and want to continue to paint for the rest of my life."

O'Malley made a similar life-changing decision, having studied business and finance in college, thinking that would be her career direction. "After being married and raising my children, I found that my path had changed and photography was my future," she said. "I absolutely love what I do and am grateful every day for the wonderful opportunity I have been given. As they say: when you love what you do, you never have to work another day in your life."

O'Malley can be contacted at www.tiffanyomalleyphotography.com


---
Community Voice (Opinion)

A WHOLE GENERATION OF AMERICANS PROSTITUTED BY HANDOUTS???
The Spring lunatics this year are mostly of the millenial persuasion, as evidenced by their near-unanimous support for a doddering old Socialist for President of the most successful experiment in human excellence ever conceived. Why young and irresponsible collegians overwhelmingly support collectivism is clear. They were reared to believe irrationally in their right to free education and lucrative careers in the arts or social industries that require little work or productive successes. And, who taught those suggestable innocents to expect much and contribute little? Who, if not the sheltered and entertainment - driven previous generation that whelped them, along with teachers schooled in entitlements 101 by elite collectivists around the world?

More than 2 generations of Americans have discarded obligations to family, community, or homeland, except for the dwindling few who serve in defense. Many of those boots are pathetic misfits who can't find gainful employment, but in military service they do finally learn to excel, support a team, and become responsible and disciplined assets. They are not the culprits obsessed with gaming, constant pursuit of fun, or stoned bliss induced by drug and sex abuse. Real Americans regret the shift from our founders' call for independence of patriots defending self-determination of personal and property growth, to the current and popular reality so degraded by egotism without ambition that is prevalent over the planet.

Progressive fanatics here and abroad are creating governments that swallow our right to life, liberty, and pursuit, by substituting communal dependence and irresponsibility for meritorious initiative and capital opportunity to excel. Unless the mature and responsible among us coalesce in a united front to recapture official mechanisms, the social failures in USSR, Cuba, Venezuela, China/HongKong, south Europe, will repeat here and throughout the world.

Submitted by Ken Woytek, Menifee


---
Elk Lodge Americanism Contest
Temecula Valley Elks recognized the winners of their Americanism Essay contest recently. The topic for this year's contest was: "What I Can Do to Promote Love of Country and Americanism". The essays were 300 words or less. The Americanism program within the Elks organization strives to help promote Patriotism in our communities and to teach and encourage it in our young people.

There were two Divisions: Division I for 5th and 6th grades and Division II for 7th and 8th grades. In each Division, the students writing the first place essay received a $50 gift card for Barnes & Noble; second place received a $35 gift card for Barnes & Noble; and third place received a $25 gift card for Barnes & Noble.

Division I Winners are: Kacey Yoe, 5th Grade Student from Van Avery Prep is the First Place winner. Madeline Freeman, 5th Grade Student from Van Avery Prep School is the Second Place winner and Ella Sweeney, 5th Grade Student from Van Avery Prep School is the Third Place winner.

Division II Winners are: Fiona Harley, 7th Grade Student from Van Avery Prep School is the First Place winner. Kennedy Adams, 7th Grade Student from Van Avery Prep is the Second Place winner and Chloe Goode, 7th Grade Student from Linfield Christian School School is the Third Place winner.

Betty Schwartz, Southeast District Elks Americanism Chairman, now has the essays for additional judging in the regional district.

Photo Back Row: Bob Walker California Hawaii Elks Association Americanism Chairman: Front Row L-R: Laurel Frey, Temecula Valley Elks Americanism Chairman; Ella Sweeney; Kacey Yoe; Madeline Sweeney; Elroy T. Elk, Elk Drug Awareness Mascot; Fiona Harley; Kennedy Adams; Chloe Goode and Ken Hauer, Exalted Ruler/President for Temecula Valley Elks #2801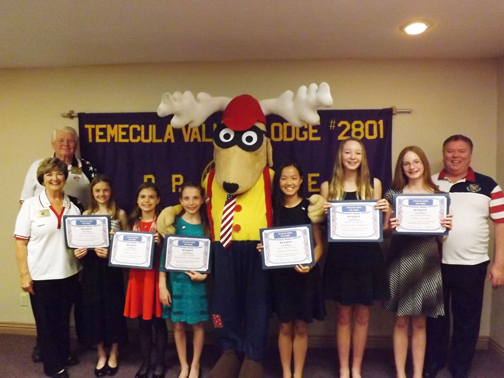 ---
Book Review
By Esther Tyrrell, Murrieta

One of today's hot-button issues is whether or not to vaccinate your child. There are so many "expert" opinions --- both pro and con --- that parents often find it hard to do the right thing. THE VACCINE BOOK: Making the Right Decision for Your Child by Dr. Robert Sears (Little, Brown and Co. and Hachette Book Group) was written to guide the confused parent. This book aims to educate readers in a non-biased way about this important subject . It provides details about each vaccine including ingredients, the diseases it prevents, possible side effects, and risks such as what can happen if one declines to use it. Armed with this information, the parent finds making the final decision easier. A special bonus is the alternative vaccination schedule in the back of the book. Eliminates the confusion about a very important subject.

NEVER SURRENDER: Winston Churchill and Britain's Decision to Fight Nazi Germany in the Fateful Summer of 1940 by John Kelly (Scribner and Brilliance Audio) is a thrilling account of the legendary leader's actions from May to September, 1940. Up until then, with the hardships of the Great War behind them, the British hoped to rebuild their country in peacetime. But Adolf Hitler now seemed intent on invasion and conquest. Denmark, Holland, Belgium, and Norway fell. Thus, another war, once unimaginable, now seemed inevitable. The appeasement policies of Prime Minister Neville Chamberlain resulted in his resignation and he was succeeded by Winston Churchill who absolutely refused to consider surrender. The book relates how he stood firm during the monumental rescue operation to save British and Allied troops trapped in Dunkirk and the attacks by the Luftwaffe during the brutal Battle of Britain. As suspenseful and intense as any fine novel.

Well-known investigative reporter Ted Koppel has written LIGHTS OUT: A Cyber attack, A Nation Unprepared, Surviving the Aftermath ( Crown Books and Random House Audio) to warn us of a very real danger in the near future. If any of America's three power grids is destroyed, it will result in an electrical blackout that can last for months. This will create a disaster that will leave millions of people without electricity, lights, refrigerators, water, or food. No medicines or waste disposal, either. This eye-opening book also reveals that the government is not prepared to deal with such a catastrophe. Highly recommended.

In OVER THE TOP AND BACK: The Autobiography (Blue Rider Press and Penguin Audio), Tom Jones recalls his six decades as an international singing star. Now in his late 70's, Sir Tom (he was knighted by Queen Elizabeth in 2006) grew up in a Welsh mining town. As a student he was frustrated by dyslexia but got a reprieve of sorts when he got tuberculosis and was told to stay at home for two years. Bored, he listened to the radio and was fascinated and influenced by early rock and roll singers. After years of struggle, he finally found fame with songs like "It's Not Unusual", "What's New Pussycat" and "Delilah". He rode the wave of superstardom for many years and sold more than 100 million records. But, his popularity wound down and he was forced to turn to recording country western albums to keep the cash flow coming in. When his long-time manager died, his son took over and revamped his career. A candid memoir told in a very refreshing way.

In SWEET DREAMS ARE MADE OF THIS: A Life in Music (NAL and Penguin Group) Dave Stewart chronicles his thirty year-long career as a legendary rock icon. Born in England, he met Annie Lennox in the 80's and they formed Eurythmics.They introduced their innovative sound with the highly successful album Sweet Dreams (Are Made of This). He writes how, through the years, he has made a name for himself as songwriter, musician and producer for such friends as Mick Jagger, Bono, Gwen Stefani, Tom Petty,and Katy Perry. Well written and insightful.


---
THE RISK IS REAL - Mosquitoes Spread Disease
Contributed by Ron Loftus. Reprinted and updated due to increased health risks

Most summers, mosquitoes are merely persistent pests leaving miserable, itchy welts. Last year, however, experts say the risk of disease just went up a notch when adult rock-pool mosquitoes (Ochlerotatus japonicus), first seen in Portland five years ago, were found to have spread around Multnomah County. This mosquito is a killer, and a known carrier of dengue fever, West Nile virus, and encephalitis. No matter where you live, the Red Cross says "mosquitoes are responsible for more human deaths than any other living creature." This year we have added the risk of a virus that causes microencephally (small brains) in a developing fetus.

Given that cities in our region contributed to the risk by creating habitats for mosquitoes and their breeding grounds, Riverside County residents need to be particularly aware of the need to report mosquitoes in their neighborhood. The cities do not have adequate funds for abatement and rely on complaints before inspecting areas and thinking about spraying the detention basins they approved to enhance high density development. Some of the basins are actually hidden from public view. They are underground pools and trenches that capture runoff and when full will spill over into the channels that take flood waters to the creeks and eventually to the river.

Since government is more interested in growth than public health, what can citizens do? Here is some research on protection.

Mosquito-repellent wristbands look like they'd be super-smart for gardening, golfing, fishing, swimming and camping. After all, who wants to glisten with a sheen of sweaty, chemical bug spray during outdoor activities? Ron writes that the pitch he saw on TV as presented by HSN barker, Cory Bergeron, who gesticulated wildly, more amped than a power line 10 seconds before a brownout, delivered a rapid-fire pitch saying, "When mosquitoes smell carbon dioxide - that's like a homing device. They come right at you." The wristband, he said, "completely masks your entire body in a cocoon of protection." In less than five minutes, more than 2,000 viewers shelled out nearly $19.95 each for a 12-pack of colorful Viatek Mosquito Shield Bands, and the product was sold out.

Still wanting to know if such bands worked, I found a similar product to try: the BugBand, sold at REI for $5 (offered in green or glow-in-the-dark).

The verdict
These products are too expensive when we already have proven winners. For instance, if you want to pull out the big guns for adults, Jungle Juice at REI (98 percent DEET, lasts 10 hours) requires only six drops per application and costs $7 a bottle. If DEET, picaridin and permethrin give you the chemical willies, pick up some oil of lemon eucalyptus (often listed as PMD on labels) for kids and adults. The Centers for Disease Control says it "provided protection similar to repellents with low concentrations of DEET."


---
OUTSTANDING PTA VOLUNTEERS

In celebration of the 119th birthday of the National Parent Teacher Association (PTA), outstanding PTA volunteers were recognized by the Temecula Valley Council of PTAs (TVC PTA) at its annual Founders Day Celebration. Four overall award winners received special recognition and will have graduating senior scholarships presented in their honor at the May 16 Temecula Dollars for Scholars® Community Awards Night. Pictured are TVC PTA Founders Day award recipients (L-R): Ashleye Fu, Abby Reinke Elementary PTA; Nancy Hays, Temecula Luiseño Elementary PTA; Andrea Heim, Margarita Middle School PTSA; and TVC PTA President Rebecca Weersing. Not pictured is Debbie Aleksak from James L. Day Middle School PTSA.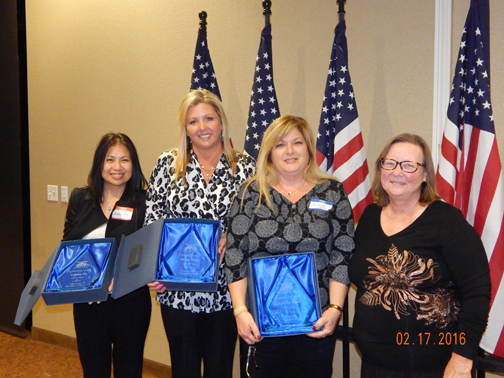 ---
Vol. 18 No. 12..................................February 2016
---
MSJC: Casino Dealer Training Program

This exciting career certificate training program opens opportunities for Table Games Dealers and Poker Dealers who can earn $55,000- $85,000 per year and more. MSJC's Casino Dealer program operates year round with open enrollment. The program cost is $1,000. Table Games Dealer and Poker Dealer programs are 104 hours for each program. Learn at your own pace, start today and finish when you are ready. No pressure, no extra fees - materials are included. Enjoy the advantage of small class sizes and learn from professionals in the field. This training program prepares students for their Dealer Audition. For more information, call 951-506-6595 or visit www.msjc.edu/ce


---
Community Voice (Opinion)

WHAT HAPPENED TO COMMON SENSE
Have you ever wondered why "outsider" candidates like Donald Trump are leading in today's polls, look no further than your local government.

People are fed up with political correctness, abuse of power, and the frustration of dealing with a demonstrably failed government from the President all the way down to local administrators.

I have encountered yet another example of ridiculousness from a high school administrator; oh pardon me, a bloviating, egotistical fool that has elevated his title to "Dean of Students".

Here is a short version of the events leading up to this outrageous behavior from the "dean"; My daughter is at the end of a bad cold where the congestion is beginning to ease. She has an almost empty bottle of prescription cough syrup which she took to school to help control her cough. During break a teacher saw her take it out of her backpack and "display it" to the other kids at the table. The teacher immediately referred her to the Principal (oops "Dean"). For the next 20 minutes he proceeded to berate my daughter, telling her he had the incident on tape and that he could charge her with a felony, etc. Of course no tape was proffered nor was the police dept. contacted. He did however suspend her for a week.

Now I could understand punishment if she were say, passing the bottle around for everyone to don "shots" of cough syrup. That would be a serious incident, and I would imagine the rationale for an administrative code covering such conduct. However, the pin-headed "Dean" chose to misuse or at the very least misinterpret the code in applying it to a young lady who has no record of misconduct, excellent attendance record and about a 3.5 gpa.

Here is my question: At what point did our schools place education behind enforcement of the school code of conduct? Throwing a good child out of school for a week by abusing the administrative rule is irresponsible and does nothing to further that child's education. Nor does it teach them any useful lessons other than to make them aware that dolts are sprinkled generously throughout both government and civil bureaucracies and it is best to avoid them at all cost.

To surmise; The Calif State Department of Education Code is written with good intent and is designed to protect students and provide them with a safe environment in which to learn. However as with any "rule" or law, it is assumed that those charged with enforcing those rules possess the maturity and capability of properly interpreting and applying that code to any given situation. In this case, with this "Dean", that did not happen. He ought to be ashamed at his unwillingness or lack of ability to make a useful decision. Gosh, even a Principal would know that.
Submitted by S.H.


---
Community Voice (Opinion)

Obama could stop the influx of terrorists if he wanted to.

The "Inadmissible Alien" law was written in 1952. It was passed by a Democrat-controlled Congress, House and Senate, and was signed by a Democrat president, Harry S. Truman. Read it for yourself. The Internet address is https://www.gpo.gov/fdsys/pkg/USCODE-2011-title8/pdf/USCODE-2011-title8-chap12-subchapII-partII-sec1182.pdf [see p 133], Inadmissible aliens.

"Suspension of entry or imposition of restrictions... Whenever the president finds that the entry of any aliens or of any class of aliens into the United States would be detrimental to the interests of the United States, the president may, by proclamation, and for such period as he shall deem necessary, suspend the entry of all aliens or any class of aliens as immigrants or non-immigrants or impose on the entry of aliens any restrictions he may deem to be appropriate."

All of the pundits that are claiming that what Trump said is dumb, stupid, reckless, dangerous, and/or unconstitutional, need to educate themselves. It is already the law of the land.

And it was utilized by Jimmy Carter, no less, in 1979 to keep Iranians out of the United States, but he actually did more. He made all Iranian students already here check in, and then he deported a bunch. Seven thousand were found in violation of their visas, 15,000 Iranians were forced to leave the United States, 1979. You probably won't hear of this from our mainstream media (nor from our Narcissist-in-chief), but those are the facts.
Submitted by K.W.


---

Behind the Scenes
2016 Tournament of Roses Parade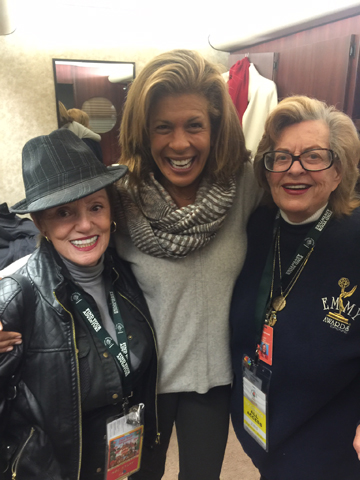 Shown above (L-R), NBC Television Coordinating Producer and writer Stephanie Prescott, Hoda Kotb Co-Host of the annual Tournament of Roses Parade, and Supervising Producer and writer Carol Kahl. The team are shown at 4 A.M. on New Years morning in Hoda's dressing room outside the NBC set in Pasadena preparing for the final make-up, wardrobe, last minute notes, and "pre air" rehearsal.

While most of the world is sleeping, the floats are moved into correct positions and at precisely 6 A.M. Kahl and Prescott receive the final award winning float list and have them placed in the Control Booth scripts and cue cards for Hoda and her long time co-host Al Roker. At the same time, the opening parade act is rehearsing onOrange Grove Blvd. and Bands from around the world are setting up at their starting locations. While all this is occurring the Equestrian units also from around the world of various sizes, shapes and performances are unloading, grooming and locating their positions.

In the control booth, final connections are cemented with New York including commercial and promo units among other items. A final talent rehearsal of various show elements take place. Stephanie is the "hot line" throughout the 2 hour live special between the master control booth and the talent control booth. Carol is on the hot line with the Tournament parade timing and problem elements unit as well as calling the commercials. It should be noted that NBC tapes any units missed during commercials and interjects them later throughout the two hours.

And then, three, two, one, "Every Things Coming Up Roses" for another Happy New Year to the world from Wildomar residents Kahl and Prescott (aka Wild Women of Wildomar).
Presented by; Carol Kahl, NBC


---

Children's Art Instructor "Mrs. G" Honored
By Bill Zimmerman, Past President, Arts Council Menifee

Nicole Greenberg recalls being fascinated with visual arts in her youth. Today she enjoys introducing art to young children. She especially cherishes that magic moment when their minds realize the possibilities of creativity and accomplishment through color and composition. For her efforts and dedication to our youth, Greenberg is being honored as Arts Council Menifee's "Artist of the Month" recipient.

Summer break for kids usually means time away from school and learning. But for approximately 400 local children it has meant attending Arts Council Menifee's Summer Youth Art Institute held at Quail Valley and Romoland Elementary Schools. And one of their favorite teachers there has been "Mrs. G".

Greenberg recalls getting her start in high school where she elected to take painting, drawing and art history classes. At age 16, she studied art while traveling in France. Greenberg studied interior design in college and received her Bachelors Degree.

She and her husband Jonathan raised two children, Jason and Naomi. During those years Greenberg helped coordinate a number of art projects with the Girl Scout troop she co-led. Sharing her love for art has always been important to Greenberg. Whether it was her own children, her Scout troop or neighborhood children, Greenberg's kitchen served double-duty as an arts studio. About ten years ago, Greenberg began to teach art in a more formal setting. She taught art classes after school through Young Rembrandts, which allowed her to develop her teaching style and technique.

"Children's minds are like sponges, yearning to soak up art theory while demonstrating their own individual talents", says the art teacher. "I always tell students that there is no right or wrong way; it is an expression of yourself and how you see things", she added. Greenberg loves to introduce the different visual arts mediums available, from pastel to pencil, and from black and white to watercolors. She encourages her students to experiment with mix media in order to bring versatile outcomes to a drawing or painting.

While teaching children to discover "the artist within themselves", Greenberg usually incorporates a little art history in the lesson. Menifee's Summer Youth Art Institute has a wonderful curriculum that describes popular styles and the early artists who became well known for introducing these signature techniques.

Greenberg has recently joined the Board of Trustees for the Arts Council with a focus on seeking opportunities to develop and expose local youth to the world of artistic expression.

"The kids really enjoy Mrs. G. They come away loving to paint and draw with the same enthusiasm as their teacher", said Kathy Pickett, who co-chairs the Visual Arts Division at Arts Council Menifee. Pickett and Greenberg are discussing the potential for new year-round art classes for youth that can be offered for free at locations in the Menifee area.

Art Institute administrators Kathy Pickett and Nicole Greenberg with a student artist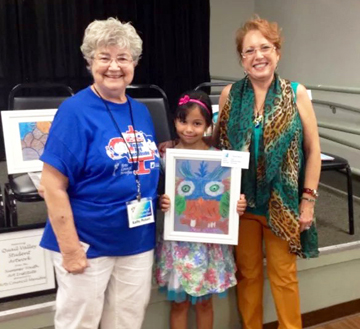 ---

MSJC Hires New Vice President of Instruction

Mt. San Jacinto College is pleased to announce it has hired Dr. Rudolph Besikof to serve as the new vice president of Instruction starting Feb. 1, 2016.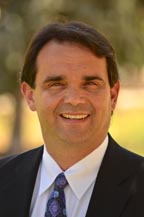 Dr. Besikof will take over the role currently held in an interim capacity by Brandon Moore. Currently the dean of Academic Affairs at Los Angeles Valley College, Dr. Besikof has 27 years of experience in higher education. During those years, he gained classroom experience as a professor and also served as a coordinator before becoming a dean. His resume includes fulltime faculty positions at Long Beach City College and the University of California, San Diego and positions as far away as Japan and France.

"I am excited to have Dr. Besikof on board," said Dr. Roger Schultz, superintendent/president of MSJC. "He has experience that will enhance the executive team at Mt. San Jacinto College and he understands the needs of our diverse population. He is a visionary whose focus is set on student success and he will be a good fit for MSJC."

Dr. Besikof received his Doctor of Education degree from the University of California, Los Angeles. He received a Master's degree in English from the University of Colorado, Denver and a Bachelor's degree in English from the University of Colorado, Boulder.

"I am thrilled to be joining the team of great educators at Mt. San Jacinto College, especially given its stellar reputation within the region as well as across California," Dr. Besikof said. "I look forward to contributing to the college as it continues to provide educational opportunities that will lead to more students completing their educational goals."

As dean of Academic Affairs at Los Angeles Valley College, Dr. Besikof's responsibilities including planning course offerings and the production of the schedule of classes. In addition, he supervises several programs, including communication studies, athletics, music, psychology and English/ESL. While serving as dean of Instruction and Learning Resources in his prior position at Woodland Community College, he supervised social sciences, math and science, the library and tutoring center and more.

Dr. Besikof also has experience working with college foundations and focused his doctoral thesis on "The Role of the Community College President in Fundraising: A Best Practices Study."

Dr. Besikof has received a host of awards. Most recently, he received the Los Angeles Valley College Monarch Award as an outstanding employee in 2014. Others include a certificate of appreciation from the Disabled Student Program and Services at Woodland Community College, the U.C.L.A. School of Education Outstanding Dissertation Award and Certificate of Appreciation for Accreditation Work.


---
Book Review
By Esther Tyrrell, Murrieta

In the book FIND A WAY (Knopf and Random House Audio) Diana Nyad recounts her struggles in combatting a most formidable adversary --- Nature.
The famous open water swimmer has had a tough life. When she was young, she was raped by both her father and her swimming coach and her mother was unresponsive. The effects of the emotional and physical abuse of these and other traumatic events caused her to become an overachiever. This is one her coping skills and the other is to use the many failures in her life to propel her forward.
Nyad, whose past triumphs included swimming in record time around Manhattan Island and from the Bahamas to Florida, is also a well-known TV commentator and motivational speaker. When, at the age of 60, she decided to revive a long-time goal of swimming from Cuba to Florida, she hadn't entered the water competitively for decades.
Her training regime? Up at 2 a.m. Start swimming in the ocean at 6 a.m. and swim straight for 12 hours. She had an extraordinary team of friends and supporters to push her along and she would need them because she failed the difficult feat four times.
In 2013, she tried one more time to swim from Cuba to Florida. This time she succeeded, swimming 110.86 miles in 52 hours, 54 minutes and 18 seconds. She was 64 years old.
A self-portrait of a dynamic woman who refused to give up. Highly recommended.

Authors Douglas Preston and Lincoln Child have a new novel for action/adventure readers --CRIMSON SHORE (Grand Central Publishing and Hachette Book Group). It is the 15th in their popular series starring FBI Special Agent Aloysius X.L. Pendergast.
This time, Pendergast is called upon to find out who is responsible for the heist of a large and valuable wine collection. Along with Constance Greene, his protege, he travels to Exmouth, Massachusetts, a quiet fishing village, to investigate. But their search of an old lighthouse reveals a startling discovery - a sealed chamber with the remains of a man who had been chained and tortured.
Soon a corpse covered with satanic carvings is discovered in the nearby salt marsh followed by another body. Further research unveils the fact that witches who escaped the 1692 trials in Salem fled to this seaside village to continue their dark rituals in the secluded salt marshes. Are the three murders connected? Are the evils of the past in evidence today? Probably, and Pendergast must also come to the conclusion that his life and those involved in the case are targeted for death. Tense and fast-paced.

If you're in the mood for a novel with an absorbing story that helps you to get away from it all, consider Danielle Steel's latest offering -- PRECIOUS GIFTS (Delacorte Press and Brilliance Audio). The doyen of women's fiction tells the story of Veronique Parker, a wealthy socialite who was married for over ten years to Paul Parker, a man who seemed to truly care for her but who was really in love with her money. Long after he divorced Veronique, Paul dies after a lengthy illness. The book begins with the reading of his will.
An exemplary mother, Veronique has always been completed devoted to their three daughters -- Joy, Timmie, and Juliette. But they are selfish and self-centered. During a European holiday, Veronique falls in love with a handsome Italian, but he can't come to terms with her tremendous wealth. These predicaments are solved by the surprising bequests in Paul's last will and testament. Heartwarming yet riveting.


---

Crystal Apple Award

The Lake Elsinore California Stake of The Church of Jesus Christ of Latter-day Saints presented the Crystal Apple Award to Daniel Templeton of Elsinore High School, Christopher Fossmo of Lakeside High School, and Kevin Quint of Temescal Canyon High School at its Stake Center on Jan. 17.

Nine teachers in all were celebrated during the event. Other nominees included Ryan Klopp and Joshua Mason of Elsinore High School; Dinah Greene and Michael Tillery of Lakeside High School; and Thomas Collins and Tamara Cullen of Temescal Canyon High School.

Prior to the announcement of the Crystal Apple winners, all nine nominees were recognized individually by a respective student, or students.

"I picked a teacher who pushed me to do my best and help me realize my true potential as a musician and as a student," said Alyssa Lucia, a band student of Fossmo at Lakeside. "He wants us to be better than we did before. He wishes nothing but the best for us and assists us in any way that he can."

"In the classroom Mr. Quint creates an awesome atmosphere of learning," said Chad Holmes, a student and basketball player at Temescal Canyon. "Coach Quint, I hope you know how thankful I am for you in your role in my life as a coach, as a teacher, and as a close friend."

Joining Lucia and Holmes to give short speeches to honor their teachers were Rebekah Kaiser, Audrey Peterson, and Faith Burke of Lakeside; Jarom Hill and Foster Smith of Temescal Canyon; and Hailea Rice, Darian Bess, and Nick Gallegos of Elsinore.

The Crystal Apple Award honors teachers of local high schools. Recipients are nominated by youth of the Stake who attend local high schools and local seminaries of the Church. Students of the Stake attend Elsinore, Lakeside, and Temescal Canyon High Schools.

"I'm deeply honored," said Templeton, a leadership and peer counseling teacher at Elsinore. "I'm deeply blessed. I want to thank the church for this award. I want to thank the students. This is something that means an awful lot to me."

Criteria for teachers to be considered for the award are to have a positive influence in the lives of their students, to go the extra mile for their students, to be dedicated to quality teaching, and to encourage and reflect students' moral values and high ethical standards.

"It is our hope this evening that you will come to appreciate what we appreciate about you and the qualities that you have as strong, valued, faithful teachers of our youth," said Robert Wilson, president of the Lake Elsinore Stake. "May you be blessed in your personal lives as teachers as you watch and witness the achievements of those who you teach. And may we all unitedly acknowledge Jesus Christ as he who has set the standard for teaching, which is done through unconditional love, and care, and concern for the student."

The Lake Elsinore Stake consists of six Wards, or congregations, in the communities and surrounding areas of Lake Elsinore, Canyon Lake, and Wildomar.

Photo (l-r): Kevin Quint of Temescal Canyon High School; Robert Wilson of Lake Elsinore Stake; Daniel Templeton of Elsinore High School; and Christopher Fossmo of Lakeside High School.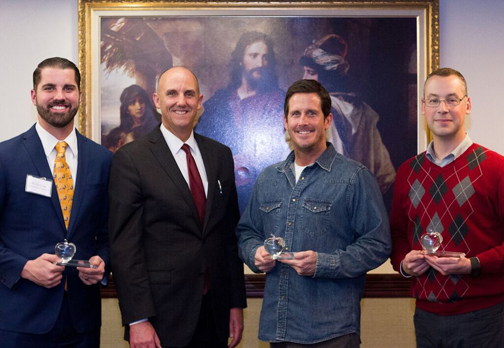 ---