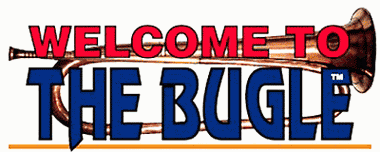 July 2016 marked a new beginning for The Bugle with expanded coverage and services.



Click a menu item on the left or top of this page.
Descriptions of content are below.
Many of the SW California banner ads also have links to our advertiser's websites



---
The SW California Bugle contains only online event postings at this time for the region of SW Riverside County outside of Murrieta.

---
The Tri-State Bugle region, that launched in August 2016, is direct mailed to the Colorado River areas of Nevada, California and Arizona.

---
The Murrieta Bugle, that will be direct mailed to Murrieta homes and businesses again, is now accepting advertising placement. Spread the word to businesses that you patronize to think of The Bugle as a first choice for their advertising budget. Remember, without advertising there are no newspapers!

---
Examples of "Services" now being offered from this website include layout for your books or community newspapers and podcast episodes.

---
We are also expanding our affiliate "Internet Shopping" sites and hope you think of The Bugle website the next time you want to order something online and pick it up in the store or just want to compare prices before you buy elsewhere.

---