Subscribe for $1 per year!



Note from the Publisher: Next month marks the beginning of our 19th year of providing citizen contributed news and views to the region. We are asking for subscriptions in an effort to determine if our efforts are sufficiently appreciated to continue operations after July 2016.

We understand that a lack of advertising dollars has affected many newspaper outlets. Your choice in news media has dwindled due to the poor economy that has lasted for far too many years. The poor economy has also affected our ability to continue to provide a FREE print edition since the latter part of 2015. With subscriptions to our online newspaper there is a chance that we can bring back advertisers and also bring back the print edition that you have enjoyed for so many years. As you can see, a $1 per year price isn't about profit. Numbers matter to advertisers.

If you are so inclined, please mail us your email address and a check for one dollar to: Community Bugle, PO Box 657, Murrieta, CA 92564. Email addresses are not shared with anyone. It is used to email you a monthly memo letting you know when the new issue is posted online.



Newspaper Serving Murrieta, Temecula and surrounding cities

Scroll down this page to read our Current Issue



Distribution of this publication does not constitute an endorsement of the information, product or services herein. The publisher assumes no liability for the products, services or statements made by the advertisers. Advertising is accepted and positioned at the discretion of publisher. Advertisers assume all responsibility and liability for claims arising from their advertisements. Advertisers release the publisher of any and all liability for damages, incidental, consequential or otherwise, in excess of the cost of the ad space involved. Opinions expressed by columnists or advertisers do not necessarily reflect those of the publisher. The Bugle does not have staff reporters. Volunteer authors submit their articles and photos by email. Authors are not restricted by word count however text may be edited for space availability and clarity. All rights reserved; however, reproduction and distribution of specific articles may be requested in writing by emailing the publisher at info@thebugle.com


---
Past issues follow our current issue however
they are edited to omit untimely event content.
---
Vol. 18 No. 12..................................February 2016
---
Grocery Store Hiring Event in Menifee

Local residents currently seeking employment opportunities are encouraged to attend ALDI's hiring event on Wednesday, Feb. 3 from 8:00 a.m. to 6:00 p.m. at the Wedgewood Banquet Center located at 29875 Menifee Lakes Drive in Menifee. Store Associate positions earn $13.00 per hour; up to $21.00 per hour with tenure. Job Requirements: Must be 18 years or older to apply, High school diploma or GED, available to work anytime between 5 a.m. and 11 p.m., Monday - Sunday, retail experience preferred, drug screening and background check, ability to lift 45 pounds. Employees will average 33-40 hours each week and will be eligible for full benefits, including health insurance and dental coverage.


---
MSJC: Casino Dealer Training Program

This exciting career certificate training program opens opportunities for Table Games Dealers and Poker Dealers who can earn $55,000- $85,000 per year and more. MSJC's Casino Dealer program operates year round with open enrollment. The program cost is $1,000. Table Games Dealer and Poker Dealer programs are 104 hours for each program. Learn at your own pace, start today and finish when you are ready. No pressure, no extra fees - materials are included. Enjoy the advantage of small class sizes and learn from professionals in the field. This training program prepares students for their Dealer Audition. For more information, call 951-506-6595 or visit www.msjc.edu/ce


---
Community Voice (Opinion)

WHAT HAPPENED TO COMMON SENSE
Have you ever wondered why "outsider" candidates like Donald Trump are leading in today's polls, look no further than your local government.

People are fed up with political correctness, abuse of power, and the frustration of dealing with a demonstrably failed government from the President all the way down to local administrators.

I have encountered yet another example of ridiculousness from a high school administrator; oh pardon me, a bloviating, egotistical fool that has elevated his title to "Dean of Students".

Here is a short version of the events leading up to this outrageous behavior from the "dean"; My daughter is at the end of a bad cold where the congestion is beginning to ease. She has an almost empty bottle of prescription cough syrup which she took to school to help control her cough. During break a teacher saw her take it out of her backpack and "display it" to the other kids at the table. The teacher immediately referred her to the Principal (oops "Dean"). For the next 20 minutes he proceeded to berate my daughter, telling her he had the incident on tape and that he could charge her with a felony, etc. Of course no tape was proffered nor was the police dept. contacted. He did however suspend her for a week.

Now I could understand punishment if she were say, passing the bottle around for everyone to don "shots" of cough syrup. That would be a serious incident, and I would imagine the rationale for an administrative code covering such conduct. However, the pin-headed "Dean" chose to misuse or at the very least misinterpret the code in applying it to a young lady who has no record of misconduct, excellent attendance record and about a 3.5 gpa.

Here is my question: At what point did our schools place education behind enforcement of the school code of conduct? Throwing a good child out of school for a week by abusing the administrative rule is irresponsible and does nothing to further that child's education. Nor does it teach them any useful lessons other than to make them aware that dolts are sprinkled generously throughout both government and civil bureaucracies and it is best to avoid them at all cost.

To surmise; The Calif State Department of Education Code is written with good intent and is designed to protect students and provide them with a safe environment in which to learn. However as with any "rule" or law, it is assumed that those charged with enforcing those rules possess the maturity and capability of properly interpreting and applying that code to any given situation. In this case, with this "Dean", that did not happen. He ought to be ashamed at his unwillingness or lack of ability to make a useful decision. Gosh, even a Principal would know that.
Submitted by S.H.


---
Community Voice (Opinion)

Obama could stop the influx of terrorists if he wanted to.

The "Inadmissible Alien" law was written in 1952. It was passed by a Democrat-controlled Congress, House and Senate, and was signed by a Democrat president, Harry S. Truman. Read it for yourself. The Internet address is https://www.gpo.gov/fdsys/pkg/USCODE-2011-title8/pdf/USCODE-2011-title8-chap12-subchapII-partII-sec1182.pdf [see p 133], Inadmissible aliens.

"Suspension of entry or imposition of restrictions... Whenever the president finds that the entry of any aliens or of any class of aliens into the United States would be detrimental to the interests of the United States, the president may, by proclamation, and for such period as he shall deem necessary, suspend the entry of all aliens or any class of aliens as immigrants or non-immigrants or impose on the entry of aliens any restrictions he may deem to be appropriate."

All of the pundits that are claiming that what Trump said is dumb, stupid, reckless, dangerous, and/or unconstitutional, need to educate themselves. It is already the law of the land.

And it was utilized by Jimmy Carter, no less, in 1979 to keep Iranians out of the United States, but he actually did more. He made all Iranian students already here check in, and then he deported a bunch. Seven thousand were found in violation of their visas, 15,000 Iranians were forced to leave the United States, 1979. You probably won't hear of this from our mainstream media (nor from our Narcissist-in-chief), but those are the facts.
Submitted by K.W.


---

Behind the Scenes
2016 Tournament of Roses Parade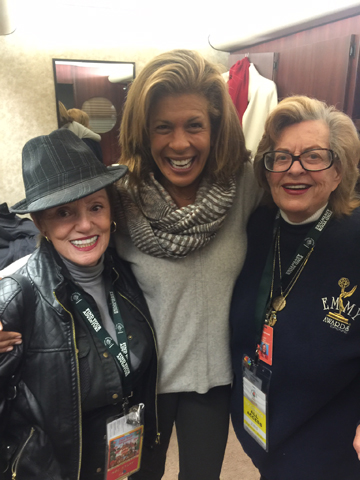 Shown above (L-R), NBC Television Coordinating Producer and writer Stephanie Prescott, Hoda Kotb Co-Host of the annual Tournament of Roses Parade, and Supervising Producer and writer Carol Kahl. The team are shown at 4 A.M. on New Years morning in Hoda's dressing room outside the NBC set in Pasadena preparing for the final make-up, wardrobe, last minute notes, and "pre air" rehearsal.

While most of the world is sleeping, the floats are moved into correct positions and at precisely 6 A.M. Kahl and Prescott receive the final award winning float list and have them placed in the Control Booth scripts and cue cards for Hoda and her long time co-host Al Roker. At the same time, the opening parade act is rehearsing onOrange Grove Blvd. and Bands from around the world are setting up at their starting locations. While all this is occurring the Equestrian units also from around the world of various sizes, shapes and performances are unloading, grooming and locating their positions.

In the control booth, final connections are cemented with New York including commercial and promo units among other items. A final talent rehearsal of various show elements take place. Stephanie is the "hot line" throughout the 2 hour live special between the master control booth and the talent control booth. Carol is on the hot line with the Tournament parade timing and problem elements unit as well as calling the commercials. It should be noted that NBC tapes any units missed during commercials and interjects them later throughout the two hours.

And then, three, two, one, "Every Things Coming Up Roses" for another Happy New Year to the world from Wildomar residents Kahl and Prescott (aka Wild Women of Wildomar).
Presented by; Carol Kahl, NBC


---

Children's Art Instructor "Mrs. G" Honored
By Bill Zimmerman, Past President, Arts Council Menifee

Nicole Greenberg recalls being fascinated with visual arts in her youth. Today she enjoys introducing art to young children. She especially cherishes that magic moment when their minds realize the possibilities of creativity and accomplishment through color and composition. For her efforts and dedication to our youth, Greenberg is being honored as Arts Council Menifee's "Artist of the Month" recipient.

Summer break for kids usually means time away from school and learning. But for approximately 400 local children it has meant attending Arts Council Menifee's Summer Youth Art Institute held at Quail Valley and Romoland Elementary Schools. And one of their favorite teachers there has been "Mrs. G".

Greenberg recalls getting her start in high school where she elected to take painting, drawing and art history classes. At age 16, she studied art while traveling in France. Greenberg studied interior design in college and received her Bachelors Degree.

She and her husband Jonathan raised two children, Jason and Naomi. During those years Greenberg helped coordinate a number of art projects with the Girl Scout troop she co-led. Sharing her love for art has always been important to Greenberg. Whether it was her own children, her Scout troop or neighborhood children, Greenberg's kitchen served double-duty as an arts studio. About ten years ago, Greenberg began to teach art in a more formal setting. She taught art classes after school through Young Rembrandts, which allowed her to develop her teaching style and technique.

"Children's minds are like sponges, yearning to soak up art theory while demonstrating their own individual talents", says the art teacher. "I always tell students that there is no right or wrong way; it is an expression of yourself and how you see things", she added. Greenberg loves to introduce the different visual arts mediums available, from pastel to pencil, and from black and white to watercolors. She encourages her students to experiment with mix media in order to bring versatile outcomes to a drawing or painting.

While teaching children to discover "the artist within themselves", Greenberg usually incorporates a little art history in the lesson. Menifee's Summer Youth Art Institute has a wonderful curriculum that describes popular styles and the early artists who became well known for introducing these signature techniques.

Greenberg has recently joined the Board of Trustees for the Arts Council with a focus on seeking opportunities to develop and expose local youth to the world of artistic expression.

"The kids really enjoy Mrs. G. They come away loving to paint and draw with the same enthusiasm as their teacher", said Kathy Pickett, who co-chairs the Visual Arts Division at Arts Council Menifee. Pickett and Greenberg are discussing the potential for new year-round art classes for youth that can be offered for free at locations in the Menifee area.

Art Institute administrators Kathy Pickett and Nicole Greenberg with a student artist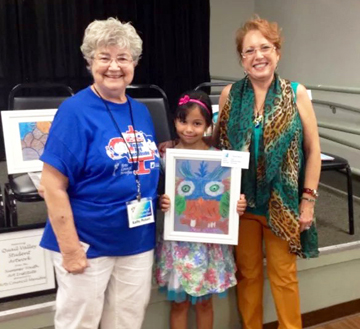 ---

MSJC Hires New Vice President of Instruction

Mt. San Jacinto College is pleased to announce it has hired Dr. Rudolph Besikof to serve as the new vice president of Instruction starting Feb. 1, 2016.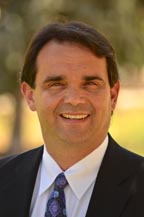 Dr. Besikof will take over the role currently held in an interim capacity by Brandon Moore. Currently the dean of Academic Affairs at Los Angeles Valley College, Dr. Besikof has 27 years of experience in higher education. During those years, he gained classroom experience as a professor and also served as a coordinator before becoming a dean. His resume includes fulltime faculty positions at Long Beach City College and the University of California, San Diego and positions as far away as Japan and France.

"I am excited to have Dr. Besikof on board," said Dr. Roger Schultz, superintendent/president of MSJC. "He has experience that will enhance the executive team at Mt. San Jacinto College and he understands the needs of our diverse population. He is a visionary whose focus is set on student success and he will be a good fit for MSJC."

Dr. Besikof received his Doctor of Education degree from the University of California, Los Angeles. He received a Master's degree in English from the University of Colorado, Denver and a Bachelor's degree in English from the University of Colorado, Boulder.

"I am thrilled to be joining the team of great educators at Mt. San Jacinto College, especially given its stellar reputation within the region as well as across California," Dr. Besikof said. "I look forward to contributing to the college as it continues to provide educational opportunities that will lead to more students completing their educational goals."

As dean of Academic Affairs at Los Angeles Valley College, Dr. Besikof's responsibilities including planning course offerings and the production of the schedule of classes. In addition, he supervises several programs, including communication studies, athletics, music, psychology and English/ESL. While serving as dean of Instruction and Learning Resources in his prior position at Woodland Community College, he supervised social sciences, math and science, the library and tutoring center and more.

Dr. Besikof also has experience working with college foundations and focused his doctoral thesis on "The Role of the Community College President in Fundraising: A Best Practices Study."

Dr. Besikof has received a host of awards. Most recently, he received the Los Angeles Valley College Monarch Award as an outstanding employee in 2014. Others include a certificate of appreciation from the Disabled Student Program and Services at Woodland Community College, the U.C.L.A. School of Education Outstanding Dissertation Award and Certificate of Appreciation for Accreditation Work.


---
Book Review
By Esther Tyrrell, Murrieta

In the book FIND A WAY (Knopf and Random House Audio) Diana Nyad recounts her struggles in combatting a most formidable adversary --- Nature.
The famous open water swimmer has had a tough life. When she was young, she was raped by both her father and her swimming coach and her mother was unresponsive. The effects of the emotional and physical abuse of these and other traumatic events caused her to become an overachiever. This is one her coping skills and the other is to use the many failures in her life to propel her forward.
Nyad, whose past triumphs included swimming in record time around Manhattan Island and from the Bahamas to Florida, is also a well-known TV commentator and motivational speaker. When, at the age of 60, she decided to revive a long-time goal of swimming from Cuba to Florida, she hadn't entered the water competitively for decades.
Her training regime? Up at 2 a.m. Start swimming in the ocean at 6 a.m. and swim straight for 12 hours. She had an extraordinary team of friends and supporters to push her along and she would need them because she failed the difficult feat four times.
In 2013, she tried one more time to swim from Cuba to Florida. This time she succeeded, swimming 110.86 miles in 52 hours, 54 minutes and 18 seconds. She was 64 years old.
A self-portrait of a dynamic woman who refused to give up. Highly recommended.

Authors Douglas Preston and Lincoln Child have a new novel for action/adventure readers --CRIMSON SHORE (Grand Central Publishing and Hachette Book Group). It is the 15th in their popular series starring FBI Special Agent Aloysius X.L. Pendergast.
This time, Pendergast is called upon to find out who is responsible for the heist of a large and valuable wine collection. Along with Constance Greene, his protege, he travels to Exmouth, Massachusetts, a quiet fishing village, to investigate. But their search of an old lighthouse reveals a startling discovery - a sealed chamber with the remains of a man who had been chained and tortured.
Soon a corpse covered with satanic carvings is discovered in the nearby salt marsh followed by another body. Further research unveils the fact that witches who escaped the 1692 trials in Salem fled to this seaside village to continue their dark rituals in the secluded salt marshes. Are the three murders connected? Are the evils of the past in evidence today? Probably, and Pendergast must also come to the conclusion that his life and those involved in the case are targeted for death. Tense and fast-paced.

If you're in the mood for a novel with an absorbing story that helps you to get away from it all, consider Danielle Steel's latest offering -- PRECIOUS GIFTS (Delacorte Press and Brilliance Audio). The doyen of women's fiction tells the story of Veronique Parker, a wealthy socialite who was married for over ten years to Paul Parker, a man who seemed to truly care for her but who was really in love with her money. Long after he divorced Veronique, Paul dies after a lengthy illness. The book begins with the reading of his will.
An exemplary mother, Veronique has always been completed devoted to their three daughters -- Joy, Timmie, and Juliette. But they are selfish and self-centered. During a European holiday, Veronique falls in love with a handsome Italian, but he can't come to terms with her tremendous wealth. These predicaments are solved by the surprising bequests in Paul's last will and testament. Heartwarming yet riveting.


---

Crystal Apple Award

The Lake Elsinore California Stake of The Church of Jesus Christ of Latter-day Saints presented the Crystal Apple Award to Daniel Templeton of Elsinore High School, Christopher Fossmo of Lakeside High School, and Kevin Quint of Temescal Canyon High School at its Stake Center on Jan. 17.

Nine teachers in all were celebrated during the event. Other nominees included Ryan Klopp and Joshua Mason of Elsinore High School; Dinah Greene and Michael Tillery of Lakeside High School; and Thomas Collins and Tamara Cullen of Temescal Canyon High School.

Prior to the announcement of the Crystal Apple winners, all nine nominees were recognized individually by a respective student, or students.

"I picked a teacher who pushed me to do my best and help me realize my true potential as a musician and as a student," said Alyssa Lucia, a band student of Fossmo at Lakeside. "He wants us to be better than we did before. He wishes nothing but the best for us and assists us in any way that he can."

"In the classroom Mr. Quint creates an awesome atmosphere of learning," said Chad Holmes, a student and basketball player at Temescal Canyon. "Coach Quint, I hope you know how thankful I am for you in your role in my life as a coach, as a teacher, and as a close friend."

Joining Lucia and Holmes to give short speeches to honor their teachers were Rebekah Kaiser, Audrey Peterson, and Faith Burke of Lakeside; Jarom Hill and Foster Smith of Temescal Canyon; and Hailea Rice, Darian Bess, and Nick Gallegos of Elsinore.

The Crystal Apple Award honors teachers of local high schools. Recipients are nominated by youth of the Stake who attend local high schools and local seminaries of the Church. Students of the Stake attend Elsinore, Lakeside, and Temescal Canyon High Schools.

"I'm deeply honored," said Templeton, a leadership and peer counseling teacher at Elsinore. "I'm deeply blessed. I want to thank the church for this award. I want to thank the students. This is something that means an awful lot to me."

Criteria for teachers to be considered for the award are to have a positive influence in the lives of their students, to go the extra mile for their students, to be dedicated to quality teaching, and to encourage and reflect students' moral values and high ethical standards.

"It is our hope this evening that you will come to appreciate what we appreciate about you and the qualities that you have as strong, valued, faithful teachers of our youth," said Robert Wilson, president of the Lake Elsinore Stake. "May you be blessed in your personal lives as teachers as you watch and witness the achievements of those who you teach. And may we all unitedly acknowledge Jesus Christ as he who has set the standard for teaching, which is done through unconditional love, and care, and concern for the student."

The Lake Elsinore Stake consists of six Wards, or congregations, in the communities and surrounding areas of Lake Elsinore, Canyon Lake, and Wildomar.

Photo (l-r): Kevin Quint of Temescal Canyon High School; Robert Wilson of Lake Elsinore Stake; Daniel Templeton of Elsinore High School; and Christopher Fossmo of Lakeside High School.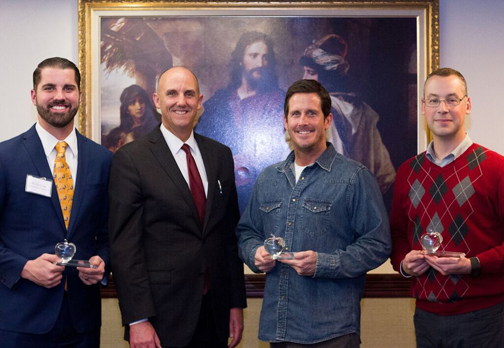 ---

The Elizabeth Hospice - Temecula Grand Opening

The Elizabeth Hospice is pleased to announce the grand opening of its Temecula office located in Temecula Town Center. A ribbon-cutting ceremony and Open House will take place on Thursday, February 11 from 4:30 to 7:00 p.m. at The Elizabeth Hospice Temecula office located at 27450 Ynez Road, Suite 203, Temecula, CA 92591.

Meet Jan Jones, President and CEO of The Elizabeth Hospice and Dr. Laurence Boggeln, Regional Medical Director for The Elizabeth Hospice and Palliative Care Medical Director for Temecula Valley Hospital and other hospice and palliative care experts to learn more about services for adults and children impacted by serious illness, grief and loss.

"We are honored to bring The Elizabeth Hospice's 38 years of expertise in hospice and palliative care to the Inland Empire," said Jan Jones, President and CEO of The Elizabeth Hospice "Our goal is to ensure access to quality hospice and palliative care services for all ages in Temecula and the surrounding communities."

Ribbon-cutting ceremony with the Temecula Valley Chamber of Commerce is at 4:30pm followed by networking and informal presentations by Jan Jones and Dr. Boggeln. Hors d'ouevres and refreshments will be provided. For more information or to RSVP, please contact Katie Ricker at (800) 797-2050 ext. 3341 or Katie.Ricker@ehospice.org.


---

Sweetheart Car Show

St. Thomas of Canterbury Episcopal Church in Temecula hosts the Fourth Annual Sweetheart Car Show on Saturday, February 13th from 10AM to 2PM. Car lovers are invited to see a variety of classic and custom cars and street rods, enjoy food from local vendors, and enter a raffle for a chance to win prizes.

This is a pet-friendly show, so well-behaved animal friends are also welcome! Music and entertainment will be provided by Sounds Divine DJ service. Visitors can also get a tour of St. Thomas of Canterbury Church, guided by church members.

Car owners can enter their vehicles for $20 until February 10th, and will receive a car show T-shirt. Late registration is also available for $25 without T-shirt. Show day setup begins at 9AM. For entry information, contact Chris Junger at chrisjunger25@gmail.com.

The Sweetheart Car Show offers family fun for all. St. Thomas of Canterbury Church is located at 44651 Avenida de Missiones, just off Temecula Parkway. Phone: 951-302-4566.


---

Students invited to take part in the 10th annual Can-Do Day

The annual Can-Do Day Celebration that will be held on Saturday, March 5, 2016 in Temecula honors local students who demonstrate the can-do spirit, described by President Reagan on March 3, 1983 when he spoke of the people in Temecula as having a can-do spirit. The words appear on the Sports Park Can-Do Monument that stands near the snack bar fronting Rancho Vista Road.

Each year, 3rd and 4th grade students from the Temecula Valley Unified School District, as well as private schools and home-schooled students, are invited to enter an essay contest answering the question: "Why is individual initiative important, and why do we honor President Reagan and the Temecula volunteers who built our first sports park?"

First prize of $150 goes to the 3rd or 4th grader with the best response. Second place gets $100 and 3rd place gets $50. The essays of the top three prize winners will be printed in the next issue of Community Little Book.

Every student who enters the contest and attends the Can-Do Day Celebration will receive an "I'm a Can-Do Kid!" decal at the event.

In addition, a Temecula or Murrieta high school senior will be awarded the Medallion of Initiative and a $500 scholarship for submitting an essay that offers a compelling, true, personal story of individual initiative.

For more information about the Can-Do Day celebration, contact Ed Dominguez, President – Friends of Ronald Reagan Sports Park by e-mail: edconni@yahoo.com or call (951) 394-1963.


---
Scholarship Applications open until February 28

Michelle's Place Breast Cancer Resource Center is offering several educational scholarships, totaling $6,000, for eligible individuals seeking continuing education. Applications are only available until February 28th, funds will be dispersed in April 2016.

Michelle's Place is offering two $1,000 scholarships to individuals whose families have been impacted by cancer. To be eligible for this scholarship, the applicant must be affected by cancer in some way or have a family member affected by cancer, and must utilize the scholarship funds for higher education purposes.

Additionally, Michelle's Place is facilitating two Patricia Deroeux Scholarships for $2,000 each, on behalf of the Temecula Valley Chamber of Commerce, to a deserving student living in the City of Temecula who is in need of financial assistance for educational purposes and has lost a parent due to cancer.

To fill out an application for both scholarships visit www.michellesplace.org/outreach/scholarship. For more information on each scholarship email info@michellesplace.org, or visit www.michellesplace.org


---
Information Session for Azusa Pacific University School of Education

Attending an Azusa Pacific University (APU), Murrieta Campus, information session is a terrific way to learn more about APU's School of Education's (SoE) graduate degrees and credentialing programs. APU Murrieta Regional Campus is hosting a free Graduate & Credential Information Meeting on Thursday, February 25, 2016, from 5:45 pm – 7:30 pm at 40508 Murrieta Hot Springs Road (to the right of Sam's Club). A light dinner will be served.

This information session will cover key topics including: program information, admissions requirements, navigating the application process, financial aid opportunities, and important dates and deadlines. This meeting is also a great opportunity for prospective students to personally talk with SoE faculty and advisors.

The APU Murrieta campus offers a variety of graduate degrees and teaching credentials. Among these are Kindergarten through Grade 12 combined teacher education credentials and master's degrees plus the Masters in Educational & Clinical Counseling. Additionally, APU offers degrees in Educational Leadership including PASC Tier 1 & CASC Tier 2 Credentialing programs.

APU's School of Education has earned these notable accreditations: WASC (Western Association of Schools and Colleges), CTC (Commission on Teacher Credentialing) and NCATE (National Council for Accreditation of Teacher Education). An average of 853 credential recommendations are issued annually to APU graduates over the last three years and APU is California's third-largest private School of Education and sixth-largest among all California institutions of higher education.

APU is a leading Christian university and continues to be recognized annually among the nation's best colleges by U.S. News & World Report and The Princeton Review. The APU Murrieta Regional Center is proud to be a part of Southwest Riverside County for over 30 years.

The February 25th information meeting is for adults. To RSVP for the event please contact Gloria Wolnick at (951) 304-3400 or gwolnick@apu.edu. To learn more about APU and these programs visit www.apu.edu/murrieta


---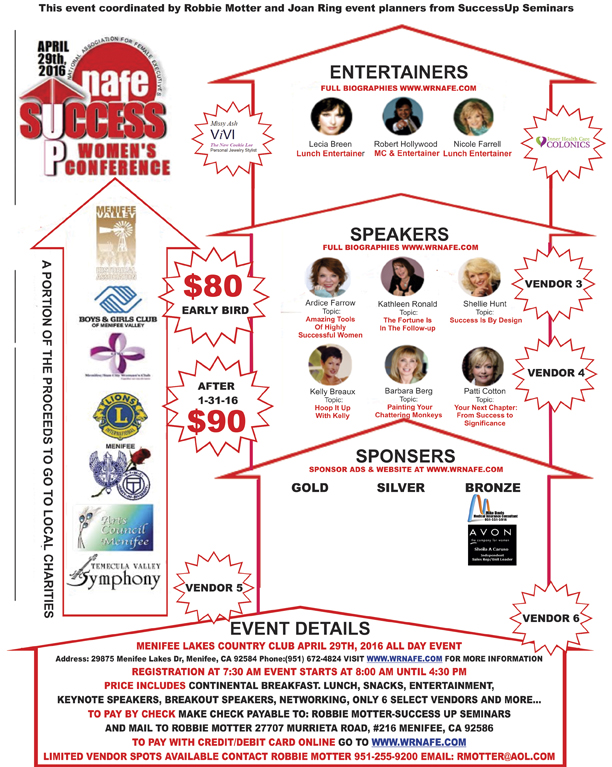 ---
Local Club Meetings

The Murrieta Garden club will meet on Tuesday, Feb. 9th at 9:30 . We meet at the Murrieta Community Center 41816 Juniper St. Agenda for February: Business meeting, Guest speaker, Photo contest ( garden theme). Please join us for an informative morning with topics including gardening,,interests in civic beauty, and charitable projects. Email murrietagardenclub@yahoo.com

Mental Health Forum—NAMI-Temecula Valley meets on the third Wed. of the month, 6 – 8:15 p.m. at Assistance League, 28720 Via Montezuma in Temecula. Free. Info: www.namitv.org or 672-2089

SW Riverside County Marine Corps League Detachment 1057 meets on the last Saturday of each month at 9am at Grand Isles, 24405 Village Walk Place in Murrieta. More info: www.mcl1057.org or call 951-775-1191

Assistance League of Temecula Valley meetings on the 1st Tuesday of every month; 9:30 a.m. social; 10:00 a.m. meeting. 28720 Via Montezuma, Temecula. Visitors welcome. 951-694-8018

Woodcarvers Of Temecula Valley–Meet every Friday noon to 3:00, at Mary Phillips Senior Center, 41845 Sixth St., in Old Town Temecula, 951-694-6464. Members to help you learn. Beginners to experienced welcome.

Lake Elsinore/Wildomar Elks #2591 meet on the first four Tuesdays of each month at 7:30 p.m. at the lodge located at 33700 Mission Trail, Wildomar. For info call (951) 674-6804.

Temecula Valley Elks #2801 meet on the first, third, and fourth Tuesday of each month at the Lodge located at 28061 Diaz Road in Temecula. For info call 951-695-7470


---
Pet Adoptions
Animal Friends of the Valleys is located at 33751 Mission Trail in Wildomar. Phone: 951-674-0618. Hours of operation: Monday, Tuesday, Thursday, and Friday from 10:00am-4:00pm. Wednesday from 10:00am-7:00pm. Saturday 10:00am-5:00pm. Website: www.animalfriendsofthevalleys.com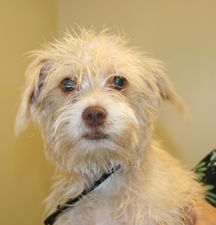 Intake Number: 284008.Terrier, 4-years old, female, grey/white. My name is Kenzie. I have been an outside dog, but I would love to have someone embrace me and make me a part of their home and family. I am a good dog and I get along with other dogs. I will need to be spayed before going to my new home.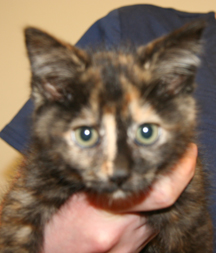 Intake Number: 283218. Domestic Short Hair, 3-years old, spayed female, white/black. My name is Whiskers. I am such a cutie. I have the prettiest markings. I am a friendly cat and I get along with other cats. I would be a wonderful companion. I am already spayed and ready for a forever home.


---
Vol. 18 No. 11..................................January 2016
---
Political News and Views


Murrieta's Witch Hunt
Mayor Ramos has been exonerated by the Riverside County District Attorney's office for charges of sexual assault. An extensive investigation cleared Harry Ramos of all charges made by Kat Smith. For background on this story, scroll to our August issue,


---
One (or more) bad apples spoils the whole bunch
A Murrieta watchdog reported that he filed a complaint against the city stating that "A full audit of every council member's credit card expenses over the past four years is needed to bring to light any and all personal purchases. The results of the audits should be released to the public, identifying those who are overstepping their authority and misusing public funds for personal gain. When personal purchases are discovered on City issued credit cards, an investigation must be conducted to determine if Measure D or E have been violated as the credit cards may have been used for personal use and therefore constitutes these expenses as compensation."

No audit as of this writing however the Murrieta City Council has unexpectedly voted to have their City issued credit cards taken away.


---
Party Affiliation
The acronym RINO (Republican in Name Only) is highly befitting of former Temecula Councilmember Chuck Washington who changed his party affiliation to Democrat recently. He is still supported by the Republican controlled machine however. The view is that The Party couldn't risk Governor Brown's appointing a local Democrat to the vacated County Supervisor seat formerly held by Jeff Stone who was elected to the State Senate. Hence, Washington changes his party affiliation and gets the appointment over the Governor's second choice - a female Democrat no less.


---
On the National Level

Muslim Immigration Constitutionality
Contrary to negative comments that cite GOP front-runner Donald Trump's suggestion that Muslims need to be excluded from American immigration programs until Congress gets a handle on the issue is covered extensively in Bob Unruh's World News Report (WNR), published on or about December 9, 2015. There is precedent for everything Donald Trump has said he wants to do. It is a blatant attack on Trump, by the mainstream press, to keep the truth from voters. In fact, it is exposed in this report, that journalists who do not like Trump are being fed comments that they want to hear rather than scholarly information.

Here are a few excerpts from Unruh's investigative report. Information that is not being covered by the mainstream press.

Provision of federal law:Whenever the president finds that the entry of any aliens or of any class of aliens into the United States would be detrimental to the interests of the United States, he may by proclamation, and for such period as he shall deem necessary, suspend the entry of all aliens or any class of aliens as immigrants or nonimmigrants, or impose on the entry of aliens any restrictions he may deem to be appropriate.

Eric Posner, a professor at the University of Chicago Law School, pointed out that the Supreme Court "has held consistently, for more than a century, that constitutional protections that normally benefit Americans and people on American territory do not apply when Congress decides who to admit and who to exclude as immigrants or other entrants." "This is called the plenary power doctrine," he continued. "The court has repeatedly turned away challenges to immigration statutes and executive actions on grounds that they discriminate on the basis of race, national origin, and political belief, and that they deprive foreign nationals of due process protections." He said while the court hasn't ruled specifically on religious discrimination, "it has also never given the slightest indication that religion would be exempt from this general rule." Posner pointed out there even is a precedent for Trump's idea.

"In 1891, Congress passed a statute that made inadmissible people who practice polygamy (directed, at the time, at Mormons). But any honest answer to a journalist's question about whether Trump's plan to ban Muslim immigration is unconstitutional should start with the plenary powers doctrine, and observe that it would be an uphill battle to persuade the Supreme Court to abandon a century of precedent."

And when the Iranian hostage crisis developed under President Jimmy Carter, a Democrat, Front Page Mag reports he issued orders designed to pressure Iran. One of them said Iranians were banned from entering the U.S. unless they opposed the Shiite Islamist regime – or had a medical emergency. He said, in 1980, "The Secretary of Treasury and the Attorney General will invalidate all visas issued to Iranian citizens for future entry into the United States, effective today. We will not reissue visas, nor will we issue new visas, except for compelling and proven humanitarian reasons or where the national interest of our own country requires." Carter also ordered 50,000 Iranian students in the U.S. at the time to report to immigration offices and face deportation if they were in violation of their visas.

Talk radio giant Rush Limbaugh noted Carter's work. "Over here, everybody in the establishment in the political class, Republican, Democrat, media, you name it, is all claiming that what Trump said is dumb, stupid, reckless, dangerous, unconstitutional - while it is the law of the land.

Read more at http://www.wnd.com/2015/12/experts-trump-muslim-ban-likely-constitutional/#z7rhvJ4wQaeG6rmo.99


---
On Religious Freedom
Rick Santorum argues that Islamic principles are not entitled to complete religious protections due to the religion's embrace of beliefs that are fundamentally incompatible with the Constitution. "Islam is different. I mean that sincerely, Islam is not just a religion. It is a political governing structure. The fact of the matter is, Islam is a religion, but it is also Sharia law, a civil government, a form of government. So the idea that that is protected under the First Amendment is wrong.


---
What is the Nuclear Triad?
In a recent presidential debate a single candidate, Donald Trump, was challenged with this question. He was condemned in the mainstream press for not answering fully. So what is it? Traditional bombers, Intercontinental Ballistic Missiles, and Submarine Missiles. These strategic deterrent delivery platforms in the U.S. nuclear arsenal provide a wide range of options that can be tailored to meet desired military and political objectives. The Strategic Submarine and the missiles they carry represent the most survivable leg of the nuclear triad. The Single-warhead Intercontinental missile contributes to stability, and like the submarine, has low vulnerability to air defenses. The bombers can be visibly deployed forward as a signal in crisis to strengthen deterrence against potential adversaries and assurance of allies and partners; it is also possible to recall a manned bomber after launch or takeoff toward a target.

Do you care whether presidential candidate Donald Trump knows the semantic for the three-legged stool?


---
Community Voice (Opinion)
Importation of Muslim Refugees is Suicidal in Fact
by Ken Woytek, Menifee
The humanitarian, self-righteous benefit sought by the progressive left in America is awesomely naïve and foolhardy as they press for widespread invitation and facilitation of blind acceptance for Muslims fleeing violence in Mideast homelands. Europeans already regret and rue the acceptance of Syrian and Iraqi citizens who flock to sanctuary in Eastern and Northern nations, many at the invitation of TIME magazine's Person of the Year. Angela Merkel, German chancellor. Her plea for augmentation of the ageing labor force in her economy by courting young, mostly unskilled Muslims from primitive societies in chaotic revolutions will soon prove to be a disaster, as repetitions of Paris slaughter recur, throughout Eurozone and towns like San Bernardino. One wonders why the magazine editors failed to note and acknowledge the questionable wisdom of ill-advised migration of unrest and hatred beyond the traditional sites of Islamic violence.

Can America not recognize the sinister consequences of blindly allowing immigration to proceed from countries with no intelligence related to their émigrés? Does it make any sense to transport persons of ANY religion from their Mideast homes to escape violence and death by settling in enclaves within Europe or America? It is far more effective to reserve safe havens in neighboring states with diverse populations and cultures, so that repatriation is easily effected once the mayhem is subdued in their native lands. The United Nations charter organization was founded to afford just such relief from tyranny and power-mongering anywhere among its member states, and one wonders when/if the U.N. will ever stop arguing the situation and get busy with practical, necessary solutions that include relief to victims of terror. God (Allah) knows the "diplomats" have plenty of assets to apply in this crisis.

It is particularly disturbing to witness the dangerous policies advocated by Christian clergy in Menifee and elsewhere. They promote pious sheltering of Muslims without regard for the mindset of refugees that can include jihad. A healthy regard for the safety and survival of their flocks seems to be sacrificed on the altar of Christian love for humanity that trumps (forgive the irony) reason. A second, but compelling, issue parallels the potential for imported terror among our Pastors. The attraction of illegal aliens and asocial homeless substance abusers is promoted by zealots of many stripes, to the detriment of faithful and their neighbors.

Further, the obvious benefit of our Constitutionally effective Second Amendment is ridiculed as barbaric. Actually, self defense is essential to counter the previously ignored and unheralded influx of sinister invaders from around the world through our imaginary border to the South. Yes, many intruders seek better jobs and family sustenance, but unknown and ignored threats are couched in unguarded sovereignty.

The faulty visa enforcement bureaus are equally fraught with risk to our citizenry, mandating an heroic self defense effort that is only beginning to emerge with widening demand and purchase trends for firearms, defensive tools like tactical flashlights or Mace or Pepper-spray, and rapid growth of home security systems implementation. Sad indeed is the resort to personal protection that is necessitated by failure in our duly-elected officials to control ingress and who abrogate responsibility for national security as is their duty.


---
Book Review
By Esther Tyrrell, Murrieta

Award-winning journalist Gretchen Carlson explains the secrets of her success in GETTING REAL (Viking and Penguin Audio.) A native of Minnesota, the blonde host of FOX News Channel's The Real Story with Gretchen Carlson was fortunate to grow up in a family with strong family values where she learned qualities that made her hard-working and resilient. Not only an outstanding child prodigy on the violin, she was also an outstanding student who attended both Stanford University and Oxford.
Her intelligence, musical talent and middle American outlook combined to help her win the Miss America crown in 1989. Carlson also recounts the heartbreaking challenges she encountered as she tried to break into broadcast journalism and found that her success as a beauty queen was actually a detriment. But her steely determination to succeed proved that there's nothing wrong with being intelligent, accomplished and attractive.

Drew Blythe Barrymore has written a thoughtful and inviting memoir called WILDFLOWER (Dutton and Penguin Audio.) The accomplished actress, known for her troubled childhood, has compiled a unique collection of stories that reveal what it was like to be a star at age seven and a has-been at 14. A descendant of a well-known family of stage and movie actors, Drew first appeared in an ad at the age of 11 months. At seven she starred in the blockbuster film "ET The Extra-Terrestrial"

While still a pre-teen, she was a regular at New York's infamous Studio 54 where she could regularly be seen smoking cigarettes, drinking and indulging in marijuana and cocaine. She entered rehab, but at 14 she attempted suicide. Some months later, and after another stint at rehab, she was legally declared an adult.

In the mid-1990's she starred in a number of films and in 1995 she moved into producing and directing movies. She has attained success in these fields and is happily married with two daughters. Having indulged in thoughtless behaviors at times, Drew caught herself in time and became a different kind of person. One can only marvel that she has survived and turned into such a focused and inspirational woman.


---
Wire Sculptor Larry Trocosso Honored
Larry Trocosso has been involved with one art form or another most of his life. As a boy he enjoyed carving wood and sculpting clay. As a young man he worked with other media and even created stained glass windows for several years. Then he discovered wire sculpting and now works full time designing what is in his mind's eye.

The copper wire he usually works with varies from not much wider than a hair to more than one-eighth of an inch in thickness for his larger size wall sculptures. His completed works range in size from approximately six inches to life size. "I think of my wire sculptures as creating a quality pen and ink drawing directly on the wall, only the wire sculpture can be moved," said Trocosso, of Sun City.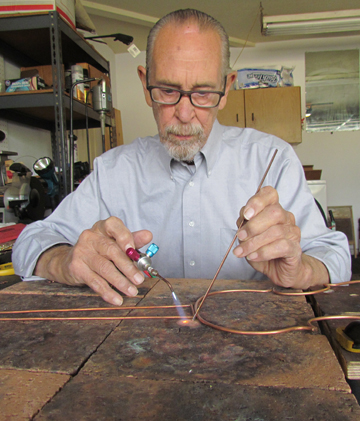 All of his artistic endeavors have been self-taught, although he did take some art classes through community colleges. He found working with wire relatively easy, bringing together many of his previous artistic experiences into one. "I learned by making mistakes, reading books on art, taking classes in college and so on," he said. "When I'm asked how long it took me to create a sculpture my favorite reply is that it has taken me a lifetime to learn and about 80 hours to create."

Much of his work these days is commissioned but he displays original works at art shows and exhibits every chance he has. Arts Council Menifee's visual arts division co-chair, Linda Morrison, said this is the first time in five years that wire sculptures have been part of the gallery. One of his latest creations, "Native American" is currently on display at the gallery at the Kay Ceniceros Senior Center in Menifee.

"Larry designs the most unique and amazing art," she said. "His 'Iwo Jima Flag Raising' won him an award at our first juried art show this year."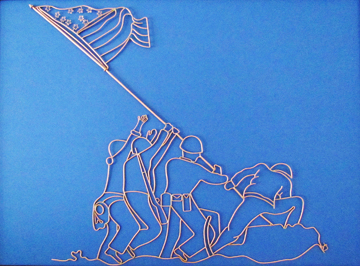 "When I relocated from the San Gabriel Valley I started looking for a new art association to get involved with that was actively involved in the city and supported art education. Arts Council Menifee has what I am looking for," said Trocosso, 75. He said the best award he can receive is when a fellow artist purchases one of his sculptures.

"Larry is not only an accomplished artist; he also is an active participant in all of our visual arts events," Morrison said. "We are proud to award him a most deserving honor of being named January's Artist of the Month."


---
Menifee Senior Softball League
The Fall Champs: Dino Castrello, Jack Langraf, Dennis Long, Cordy Cordell, Si Overturf, Dennis Cullen, John Pape, Bill Daily, Gary Rose, Lee Prather, Gene Dick, Paul Wojo, George Togo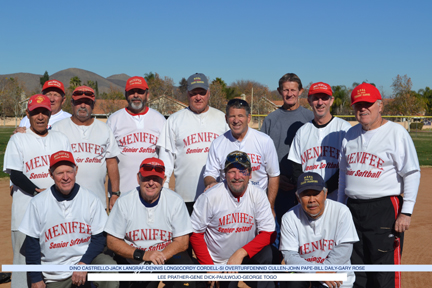 ---
Temecula Student Sets Boys' Water Polo Record
Chaparral High School senior Jack Donnelly, a two-time U.S.A. Water Polo Academic All-American, scored 182 goals during the 2015 season, shattering the previous Southwestern League record of 177 goals, which was set in 2012 by former teammate Michael Gleason. Donnelly scored his final five goals against Laguna Beach High School during Chaparral's loss and final match in the first-round of CIF tournament play on November 11. A four-year varsity player and two-year captain, he also recorded 57 assists and 167 steals for the 2015 season. Donnelly was named Team Most Valuable Player for Chaparral in both 2014 and 2015, and he was a unanimous First Team Southwestern League-nominated player in 2014 and 2015.

According to Donnelly, CHS Coach Josh Stone and Elite Water Polo Club Coach Bryan Lynton, who is also the head coach for Murrieta Valley High School, were major influences in his progress this season and overall player development.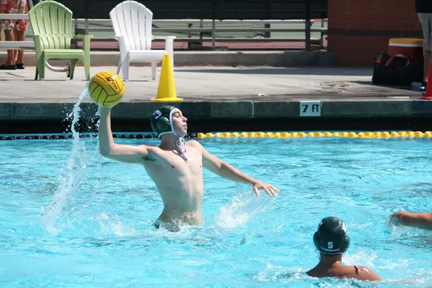 ---
Life-Saving Overdose Antidote Without a Prescription
Ralphs Grocery Company recently announced it was making the opioid overdose reversal medicine, naloxone hydrochloride, available without a prescription in each of its in-store pharmacy locations in Southern California. The medicine is used to reverse overdoses from heroin and other opioids, which can cause a person's breathing to slow or stop. Naloxone, which can be administered as a nasal spray or an injection, helps a person wake up and continue breathing. The drug must be administered while also calling 911 for medical assistance.

According to the U.S. Centers for Disease Control, more than 40,000 people die from accidental drug overdoses every year in the United States and most of these deaths are from opioids. "Naloxone is an effective antidote to opioid overdoses. By providing access to this medicine in our pharmacies without a prescription, we can help save lives," said Rebecca Cupp, RPh, Vice President of Pharmacy for Ralphs Grocery Company. "We are empowering our pharmacists to put this overdose rescue medicine in the hands of those who are in a position to help an opioid overdose victim."

Ralphs is making naloxone available in its pharmacies without a prescription under provisions of California Assembly Bill 1535. The bill, which was passed in 2014 and went into effect on January 1, 2015, permits pharmacists to furnish the medicine upon request. Previously, naloxone was available only by prescription from a healthcare provider or from a handful of naloxone distribution programs throughout California.

All Ralphs pharmacists providing naloxone are required to take a two-hour training session to learn how to educate individuals who might use the medicine and screen patients for sensitivity to the antidote. "Ralphs is committed to being part of the solution to the problem of epidemic prescription drug abuse," said Cupp. "Our efforts to prevent medicine abuse, including providing naloxone, are designed to help the communities we serve become healthier and safer for everyone. For more info on other services and locations visit "https://www.ralphs.com/topic/pharmacy


---
Pursuit of a College Campus in Wildomar
A ruling by a Riverside County Superior Court judge gives Mt. San Jacinto College (MSJC) its second court victory relating to the proposed purchase of 80 acres in Wildomar for the possible future development of the proposed I-15 corridor campus.

In 2009, the California Supreme Court issued a decision on a previous lawsuit that allowed the college to proceed with an option agreement to possibly purchase the land from the Riverside County Regional Park and Open Space District. The recent lawsuit, filed on November 4, 2014 by residents, sought to invalidate MSJC's Purchase and Sale Agreement with Riverside County Regional Park and Open Space District. The lawsuit also claimed MSJC failed to adopt procedures required by the California Environmental Quality Act (CEQA).

On Dec. 4, 2015, Superior Court Judge Craig Riemer ruled in favor of MSJC, stating that MSJC and the Riverside County Regional Park and Open Space District have followed all requirements of CEQA. "Mt. San Jacinto College is pleased with this decision and is working diligently to serve the educational needs of our students," said Trustee Ann Motte.

This ruling clears the way for MSJC to prepare an environmental impact report for the proposed I-15 corridor campus.

Trustees (L-R): Trustee Ann Motte, Board Clerk Bill Zimmerman, Board Chair Tom Ashley, and trustees Dorothy McGargill and Dr. Sherrie Guerrero.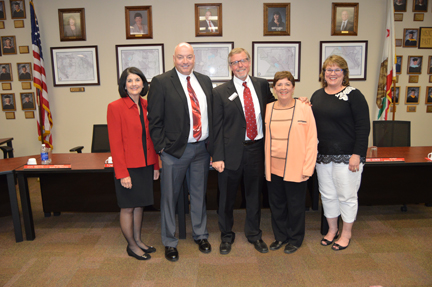 ---
I am a Seenager. (Senior teenager)
by Ken Woytek, Menifee
I have everything that I wanted as a teenager, only 60 years later.
I don't have to go to school or work.
I get an allowance every month.
I have my own pad.
I don't have a curfew.
I have a driver's license and my own car.

I have ID that gets me into bars and the wine store. I like the wine store best. The people I hang around with are not scared of getting pregnant, they aren't scared of anything, they have been blessed to live this long, why be scared? And I don't have acne. Life is Good!

If you are a Seenager, you will feel much more intelligent after reading this. Brains of older people are slow because they know so much. People do not decline mentally with age, it just takes them longer to recall facts because they have more information in their brains. Scientists believe this also makes you hard of hearing as it puts pressure on your inner ear. Much like a computer struggles as the hard drive gets full, so too, do humans take longer to access information when their brains are full. Researchers say this slowing down process is not the same as cognitive decline. The human brain works slower in old age, said Dr. Michael Ramscar, but only because we have stored more information over time. The brains of older people do not get weak. On the contrary, they simply know more.

Also, older people often go to another room to get something and when they get there, they stand there wondering what they came for. It is NOT a memory problem, it is nature's way of making older people do more exercise.


---
Vol. 18 No. 10..................................December 2015
---
Great Oak High Spirit Run

Representatives from the Great Oak High School Spirit Run for the Arts presented the Temecula Education Foundation (TEF) with a check for $2,000 at the November 10 Temecula Valley Unified School District (TVUSD) Governing Board Meeting. The two nonprofit foundations share a common mission: supporting visual and performing arts programs in the TVUSD. This is the fifth year the Spirit Run for the Arts has awarded funds to TEF; the $2,000 donation will support TEF Curriculum Support Grants for TVUSD teaches.

The foundation recently awarded 62 educators at 23 schools with grants to enhance curriculum using visual arts, performing arts, or science enrichment programs. Over the last five years, the Spirit Run has contributed almost $10,000 to TEF. Since 2011, TEF has donated over $100,000 to TVUSD teachers to support students in Grades K-12. The next GOHS Spirit Run for the Arts will be Fall 2016. Run registration opens January 1, 2016.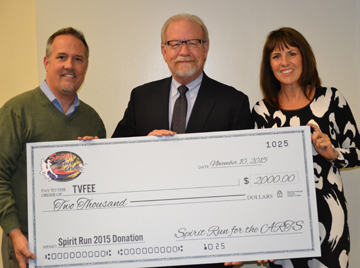 Pictured: Great Oak High School Spirit Run for the Arts representatives Todd Wiggins and Sharon Matus with Temecula Education Foundation (TEF) Director Morris Myers (center).


---
Talented Art Teacher Jim Taylor Receives Award

Jim Taylor uses his creative energy to produce works of art that are strongly influenced by the French Impressionists. "I like to blend my images with color and texture so that most come out of the background as a sort of surprise," said Taylor, who has lived in Menifee since 2007. "I believe the word is pareidolia. An example of this would be looking at the clouds and seeing or recognizing shapes."

Taylor joined Arts Council Menifee earlier this year and although it is not the first art group he has belonged to, it is one that has generated the most involvement. "The board of trustees selected Taylor for their December "Artist of the Month" award not only for his artistic talents, but for his willingness to roll up his sleeves and assist behind the scenes to set up their gallery receptions and events. He's a real team player," said Bill Zimmerman, Past President of the art organization.

Born in Oakland on Thanksgiving day, Taylor has lived in California since 1961. His family lived at various military bases while his father served in the U.S. Navy. Taylor was a self-described "band geek" and played trumpet in high school and French horn in college. He was also in choir and played tenor banjo with a Jazz Festival camp in Mammoth Lakes.

"Music has always been part of my life as it is with almost everyone," said Taylor. "With that in mind, we all seem to have some connection with the arts in an emotional or thoughtful way."

Taylor has created a series of artworks with dance and music themes and plans to do more. He has painted horses and landscapes, too. Taylor is also a photographer and has taught the subject at Calvary Christian School in Murrieta.

Mostly, I'm painting. But the desire for photography is still there and if I can capture something and then paint it, all the better," he said. Taylor uses photographs for ideas, applying his paint style to the work.

"I work to create something other than classical/photographic work," he said. "Most artists are trained to do realistic work and then we have to break from that to create our own style. So if I get too realistic, I paint over it."

Taylor remembers copying cartoons such as Huckleberry Hound when he was young and his mother had him take some painting lessons. He took art classes in high school and majored in art in college. "I work in just about every medium except welding and bronze. Not that I can't do those; I've just not had the opportunity," Taylor said.

Taylor is glad to be part of Arts Council Menifee, which he feels is "supportive of all the artists." He has worked hard to devote much more time to painting in the past year because he felt he had to prove himself. "There is an old saying: 'Those who can, do, and those who can't, teach' and that just makes me boil a little bit because I'm a teacher," said Taylor, who has taught all aspects of art to students in grades 6 through 12. "So when I wasn't teaching it, I wanted to prove I could do it."

He currently works as a substitute teacher for Nuview School District. He spends time with his wife of 42 years and their five grandchildren, who live nearby.

Taylor has a gauge for his art. "If I walk into the room where the painting is and it makes me smile, I know I've done it right. If I look at the work and I see something not quite right, it needs a repaint," he said. "I hope anyone who has my art smiles the same way. It should make you feel something."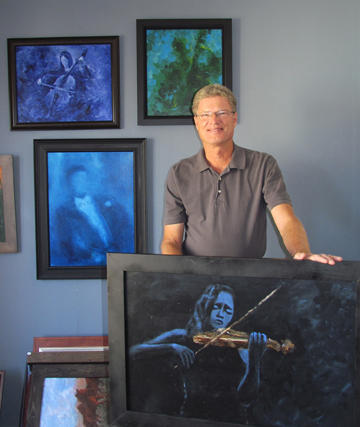 ---
Reflections Art Gallery & Awards Night
The Temecula Valley Council of PTAs (TVC PTA) held its annual Reflections Arts Gallery & Awards Night on November 9 in the Golden Bear Theater at Temecula Valley High School. A total of 48 students from Grades K-12 in the Temecula Valley Unified School District (TVUSD) received awards in visual and performing art categories. Of those, 19 original works of art will now advance to 23rd District (Riverside County) PTA for judging.

Trophies were presented to: Lily McGrath (Dance), Nicolas Valley Elementary, Hope Boer (Dance), Tony Tobin Elementary, Mia Welsh (Photography), Abby Reinke Elementary, Amanda Reyes (Photography), Vintage Hills Elementary, Luke Knipscheer (Photography), Margarita Middle School, Andrew Flores (Photography), Chaparral High School, Ashley Reyes (Film Production), Vintage Hills Elementary, Avika Patel (Film Production), Day Middle School, Emma Schneider (Literature), Pauba Valley Elementary, Elizabeth Reed (Literature), Vail Elementary, Morgan Dickson (Literature), Temecula Middle School, Catherine Santa-Presca (Literature), Temecula Valley High School, Frederik Sasanka (Music Composition), Vintage Hills Elementary, Indiana Rivera (Music Composition),Margarita Middle School, Sade Soto (Visual Arts Special Artist), Vail Elementary, Zoey Evans (Visual Arts), Vintage Hills Elementary, Eren Beltre (Visual Arts), Vintage Hills Elementary, Matias Rodriguez (Visual Arts), Day Middle School, and Ruby Bruder (Visual Arts), Great Oak High School.

A National PTA program, Reflections is an art recognition and achievement program for students in Grades K-12. It provides opportunities for students to express themselves creatively and to receive positive recognition for original works of art inspired by a pre-selected theme. Students may submit an entry in any of six arts areas – literature, musical composition, photography, visual arts, dance choreography, and film/video production. The theme for 2015 was "Let Your Imagination Fly."

"Participation in and appreciation for the arts are goals of the Reflections Program," said Rebecca Weersing, TVC PTA president. "Participation is a great way for students to use their critical thinking skills and creative talents to produce art that supports a specific theme. Now more than ever, the program is designed to increase community awareness on the importance of the arts in education," she added.

Students placing first in each category at the Council level advance to the 23rd District PTA (Riverside County) Reflections event and, from there, are judged against entries from students across California. State winners will be recognized at the California State PTA Convention, which will be held in April 2016 in Sacramento.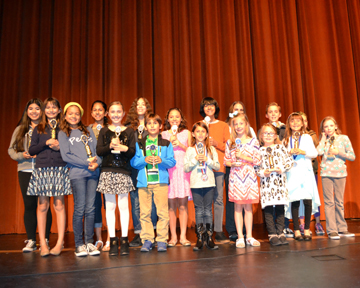 ---
SoCal READI
Southern California Regional Exercise for Anthrax Disaster Incidents (SoCal READI ) was a full scale medical countermeasures distribution and dispensing exercise sponsored by the California Department of Public Health (CDPH) in partnership with multiple local health departments in southern California. The week-long drill concluded on November 20, 2015.

Activities were designed to increase the capacity for disaster related healthcare response throughout the community by establishing ways that volunteers and professionals will manage medical treatment and distribution of medications in response to an aerosolized anthrax release in the greater Los Angeles basin.

Numerous county agencies across Southern California participated and trained together for the drill over the course of two years. "We are very happy with the way so many agencies came together to challenge and assess their ability to address a health emergency," said Kim Saruwatari, Director of Riverside County Emergency Management Department. The emergency drill tested the protocols and procedures of public health, environmental health, fire, law enforcement and emergency responders throughout Southern California. The exercise included the activation of medical points of dispensing, or PODs. From these POD locations, officials practiced a swift and organized distribution of life-saving medications that would be required following the release of hazardous material into the environment in a real-life event.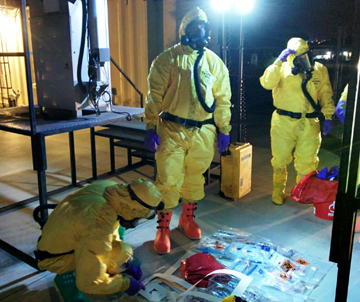 ---
Book Review
By Esther Tyrrell

The holidays are upon us and here is a list of my recommendations for the reader on your list.

Giada De Laurentiis' offering, HAPPY COOKING: Make Every Meal Count ... Without Stressing Out (Pam Krauss Books) delivers sumptuous recipes for dishes like Creamy Spinach and Mushroom Lasagna, Brown Butter Tortellini, and tasty desserts such as key lime panna cotta and Limoncello Parfaits. An extra bonus: she's included recipes for gluten-free, vegetarian, and vegan cooks.

Food Network star Ree Drummond has written THE PIONEER WOMAN COOKS: Dinnertime: Comfort Classics, Freezer Food, 16-Minute Meals, and Other Delicious Ways to Solve Supper! (William Morrow Cookbooks) to help the busy cook get dinner on the table on the double. There are step-by-step directions and pictures for dishes like Cheesy Cauliflower Soup, Cajun Chicken Pasta, Tortellini Primavera, Ginger Steak Salad and even jalapeno-jam poppers.

Todd Wilbur is the super sleuth of copycat recipes because he specializes in figuring out how to make your favorite restaurant dishes. In "Top Secret Recipes Step-by-Step: Secret Formulas with Photos for Duplicating Your Favorite Famous Foods at Home" (Plume,) he outdoes himself with spot on directions to making Tony Roma's ribs, Red Lobster's cheddar bay biscuits, PF Chang's lettuce wraps and KFC's cole slaw and grilled chicken. His dessert selection is awesome ranging from the Cheesecake Factory's strawberry cheesecake, Mrs Fields chocolate chip cookies and even delectable Cinnabons.

IN THE HEART OF THE SEA: The Tragedy of the Whaleship Essex by Nathaniel Philbrick (Penguin Books and Penguin Audio), is the story of the Essex, a Nantucket whaleship that set out on a routine voyage in 1819. Philbrick not only chronicles the harrowing fate of the ship and its 20 crew members but also uses it as a backdrop to explore one of the most important and unusual industries of the 19th century. This story was the inspiration for Moby Dick, Herman Melville's legendary tale of the destruction of a whaling vessel by a great white whale.

Will Robie is back and starring in THE GUILTY by David Baldacci (Grand Central Publishing and Hachette Audio.) Once one of our nation's most formidable assassins, Robie failed in his latest mission because he was unable to fire his own weapon. His personal assignment now is to turn his attention to his hometown in the Deep South, a place he fled from right after high school and face the problem that he has been avoiding - and that has been dogging him for decades - one that could turn out to be as perilous as any high-stakes mission he's ever encountered.

Lieutenant Eve Dallas of the New York Police and Security Department, has been tracking two cold-blooded killers in DEVOTED IN DEATH by J.D. Robb (G.P. Putnam's Sons and Brilliance). Fresh out of an Oklahoma penitentiery, Darryl, with his girlfriend Ella-Loo, has set out to achieve the American Dream (without working for it, of course.) Their journey takes them across the country to New York where their brutal crimes come to the attention of Dallas who realizes she must stop them before there are more victims including, possibly, herself.

THE NAKED EYE: A Novel by Iris and Roy Johansen (St. Martin's Press and Brilliance) focuses on Kendra Michaels, a profiler and investigator who works with the FBI and CIA. The last time she encountered Colby, a serial killer, she survived and he was sent to Death Row. But although he was supposed to have been executed, he actually escaped and Kendra is now convinced that he is killing again and tampering with evidence to escape detection. He's determined to get her this time. Good thriller loaded with heart-stopping twists and turns.

A Homemade Together Christmas by Maryann Cocca-Leffler (Albert Whitman and Company) is about a family of pigs determined to give each other homemade gifts for Christmas this year. Momma, Dad and sister Rosie quickly come up with ideas for presents. But little Luca can't think of anything suitable. This charming story, beautifully illustrated in vivid watercolors) follows the little piglet as he solves his problem in the most endearing way. Ages 4–7.

Certain Poor Shepherds: A Christmas Tale by Elizabeth Marshall Thomas (Candlewick) is an imaginative twist on the Nativity story. Following the sight and scent of the star are the shepherds who, in this case are Lila, an enormous sheepdog, a goat named Ima, and their flock of sheep. In this unusual Christmas story, they encounter a host of invisible angels and the caravan of the Three Kings on their journey to Bethlehem. Ages 8–12.

Happy Holidays!


---
Vol. 18 No. 9..................................November 2015
---
Sally Howard Receives Honor

Sally Howard believes she is the only author to write an autobiography of her journey as a foundling, an adoptee and then the birth mother to a child put up for adoption. Her work is titled "Finding Me in a Paper Bag: Searching for Both Sides Now" and chronicles her life from its mysterious beginnings to her surprising findings.

Howard has been named October's Artist of the Month by the Arts Council Menifee Board of Trustees. Her book is available on the local authors' shelves at the Sun City Library, where she has volunteered since moving to the area in 2008.

She had been a bookstore volunteer for more than 25 years in San Juan Capistrano and wanted to continue the work. She also operates an online bookstore that sells children's books. Her other creative outlets include singing with choral groups for more than 30 years and creating craft works. Howard recently sold her first art project – a large collage of World War II memorabilia.

"When I found the literary group I felt like I was home," she said.

Howard served as one of the instructors during Arts Council Menifee's two-week Summer Youth Art Institute held at Quail Valley and Romoland elementary schools.

"I had the privilege of teaching writing at the summer art camp. Using writing skills combined with art proved to be so rewarding for the teachers and students as well. Our next project, we hope, is holding a contest with high school age children writing song lyrics," she said.

Howard became an author after being encouraged by other members of an online group for birth mothers to write about her search for her birth parents and her biological daughter.

"After filling 20 typed pages I knew bringing up the past was causing me to experience pain I had hidden for so long so I located an adoption therapist," said Howard, 76. "I handed her my pages, thinking she would find something to work on with me. Instead she said I had the workings of a book. That started a difficult and emotional journey."

However, she was bound and determined to find answers and gave herself one year to search. In the end, it took her 10 years to complete the book.

Howard is a college graduate and has worked for many human service organizations. She has been a guest speaker at various events around the country and hopes her story will be of help to someone else. She would like to counsel young girls before they get pregnant.

"Many people have hidden secrets they carry around for years; this can make them sick," she said. "My secret has left a psychic scar on my being but I no longer drag my secrets around. This is very freeing."

Now widowed, Howard and her husband of 50 years had three sons. Her biological daughter is a journalist and author who calls Holland home.

Sun City resident and artist Edie Schmoll met Howard shortly after joining Arts Council Menifee more than two years ago. "Sally is a very lively person and such a joy," Schmoll said. "Her book is well written and a good true story."

Howard's book, published about 10 years ago but including an updated chapter, is available at Amazon.com. The Arts Council Menifee Literary Arts group meets the first Wednesday of each month from 5 to 6 p.m. at the Sun City Library, 26982 Cherry Hills in Menifee. The free meetings are open to anyone interested in writing.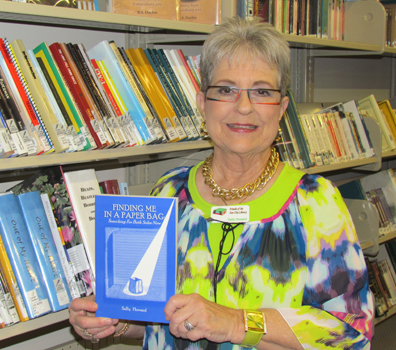 ---
A Friend of My Enemy is My Enemy
A dialog with a Bugle Reader about the long-term Corruption in the region.

Reader Wrote:
Murrieta Council Ousts Mayor Over Ethics Allegations. Should be interesting. "The Perv (sic) is on his way". You are all over Jeffries again too? My road and some others are looking great. Come see what our supervisor is up to these days, Drive down Grand from Corydon to the 74.

Publisher Knight Wrote:
Makes me sick. I know these people and the Perv is not Ramos! Let me be clear on my perspective and history of the players. I will always be all over the crooks in what I call the most corrupt County on the state [Riverside] and the most corrupt city in the county being Murrieta [aka Manur-ieta]. I have gone head to toe with Jeffries since he lied to me during the 2005 Murrieta Recall Measure. You think he is a friend because roads are being paved in your area? The County has long-planned for these roads, not Jeffries. And you probably didn't lift a finger to support the people who tried to Recall Jeffries in May 2015. Not enough volunteers so it failed. Shame on you!.

In 2005, Jeffries took a bribe from Rancon President, Dan Stephenson, and used his position with the Riverside County Republican Party to Oppose the Murrieta Recall. When I got the propaganda mailer I phoned Jeffries and he claimed he knew nothing about it and asked me to fax it to him. He kept up the pretense even on election night when Rescue Murrieta proponents and potential successor candidates confronted he and Tom Rogers at the Registrar's office as we were all watching the results on the computer monitors - except when they turned the monitors away from the windows when there was something the Registrar didn't want us to see. Yes we had suspected election fraud for years and that is why teams followed the electronic voting cartridges and paper ballots from each of the precinct stations to the Registrar's office in Riverside that night. The only site we couldn't control was the Promenade Mall early voting machines. The results were so close but alas, as suspected, money can buy elections when there is only a 5% need to fix the results especially on machines at early voting sites. One felon lost his seat, Jack vanHaaster. That's how Gibbs, Barbara Nugent and Ed Faunce's successor candidate of choice, got on the Council. And Gibbs has been proven to be a huge disappointment to the integrity of local government. More on his participation in the Corruption complaint that was filed with the city on September 28, 2015 - see next article.

We all learned the truth about the bribe Jeffries took from Dan Stephenson to get support for his 2006 State Assembly campaign after the Recall Election. Of course Dan does not consider what he did as a bribe even though he admits, in a personal interview with me, that he called Jeffries and said if you do this for us, I will support your campaign. Dan followed through by writing the following letter to prominent election contributors, one of which supported the Recall effort and therefore brought the letter to my attention, Here it is "again" as it has been published many times since 2006 in an effort to wake up voters to the corruption in our County. Stephenson says of Jeffries, "he [underscored in the letter] did something that no one else has ever done - he got the Republican Party to endorse our local campaign on the No On Recall in Murrieta, "gutsy stance for a politician". Dan did not mention, as he later told me in the interview, that it took four phone calls with the quid pro quo offer before Jeffries agreed.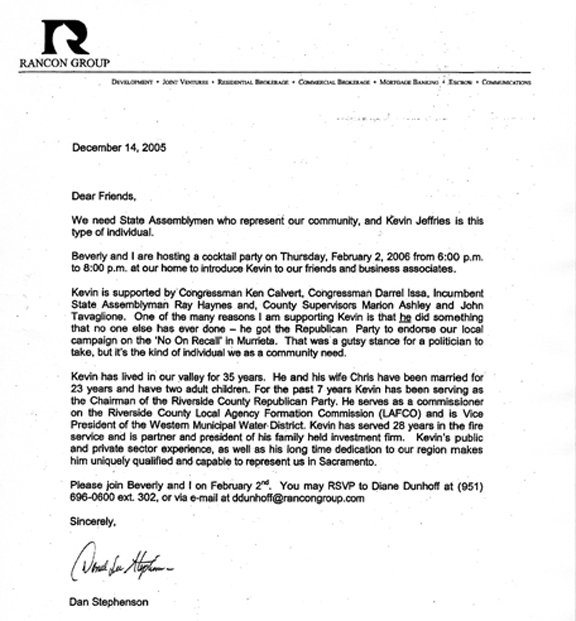 I was not a member of Rescue Murrieta but I did run as a successor candidate for the council seat of the Deadbeat Dad, Doug McAllister, and I did volunteer my time to circulate petitions. In fact, I was dis-invited to the candidate forum at Ed Faunce's home where it was reported that everyone was asking, "Where's Nancy? Nugent didn't tell them she called and asked me not to come. The "Rescue Murrieta" Recall Committee led by Barbara Nugent and Ed Faunce gathered the dirt on McAllister and made it public but the daily press refused to expose him and Police Officer Froboese gave him a platform for the sympathy vote at the Every Fifteen Minutes program where they defamed the abandoned son of McAllister after Bryan tragically died in a non-DUI traffic accident. I met the wife McAllister left with two children when he fled to Australia to avoid child support so I do detest the man's behavior and ethics. The children were devastated from an early age. As they grew up they came to hate the man. After he was elected, or had sufficient support for election fraud, the maternal grandmother wrote, I can't believe the people of Murrieta are so stupid. Are you one of the Stupid ones? If you don't vote, then you are among the majority who allow fraud to pervade the election system. It only takes a consultant a few hours to enter about 5% fraudulent votes on an electronic cartridge. That is all they need when only a minority of registered voters show up. Think about the probability of surprise when they lose because you changed your voting habits.

Remember, a friend of Your Enemy, is Your Enemy!


---
Complaints of Corruption in Murrieta Continue

A formal complaint was filed with the city manager's office on September 28, 2015 charging corruption and citing Alan Long, Rick Gibbs, Rick Dudley (city manager) and MPD Police Sgt. Froboese in an alleged illegal activity of using taxpayer dollars to fund a private enterprise, an Equestrian Center in Murrieta, without putting the project out to bid.

It was also cited that city staff and equipment were used to make capital improvements for the private business of Froboese's friend, Traci Kuchan.

More on this story is sure to follow if an investigation ensues.

Recall Anyone? Click the menu item "Recall Strategy" on the left of this home page for more info. As a trusted Publisher and Murrieta registered voter, I have been asked to coordinate a list of proponents and volunteers for a recall in Murrieta. Email me at nancy@thebugle.com to add your name to a list which will be held in a confidential file until teams are ready to begin the recall process.


---
Temecula Education Foundation Awards Grants

At the October 20 Temecula Valley Unified School District (TVUSD) Governing Board Meeting, the Temecula Education Foundation (TEF) presented 62 educators in the Temecula district with funds to support enrichment programs benefitting students at 23 sites. Funded applications were limited to $500 each; grants awarded totaled over $26,000. Since 2011, TVFEE has awarded over $100,000 to Temecula educators for classroom enrichment.

Curriculum support grants for enrichment activities focusing on visual arts, performing arts, and sciences were available to educators in all TVUSD schools. Grant applications were due October 1. Per TEF guidelines, monies must support curriculum for students in the current school year and must be spent by January 15, 2016.

Speaking on behalf of the district foundation, TEF Vice President Jeff McNurlan congratulated teachers and principals. "We are proud to support educators whose passion and creativity make a difference in the classroom. This is the fifth year our foundation has been able to fund grants. We wish we could fund all requests. Unfortunately, our dollars are limited, and we had to focus on those applications we felt were within the scope of this year's application and which impacted the largest number of students.

"Our mission is to enhance and improve learning opportunities for students in the TVUSD. We've come a long way in five years, and we hope to continue to grow our programs every year," he added. "Community events – like the TEF-sponsored Taste of Temecula Valley and summer school enrichment classes, as well as financial support from the Great Oak High School Spirit Run from the Arts and the Temecula Valley Art League – enable us to support our teachers and enhance the curriculum for students. We thank the community for its ongoing support," he said. Visit the newly designed TEF website at www.temeculaeducationfoundation.org.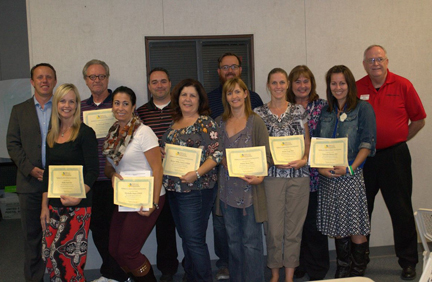 Pictured with (far left) Temecula Education Foundation Vice President Jeff McNurlan and (far right) TEF Director Mark Katan are some of the recipients of 2015-16 Curriculum Support Grants awarded by the foundation on Oct. 20. Grants will be used to support visual arts, performing arts, and science curriculum enrichment in the Temecula Valley Unified School District.


---
Temecula Valley Elks Host "Harvest Ball"

The Temecula Valley Elks will host its first "Harvest Ball" with music provided by the Valley Winds Swing Band on Saturday, November 21 at the Temecula Valley Events Center, 27345 Jefferson Ave., in Temecula. Doors open at 4pm. Tickets are $30 per person ($35 after November 10th). Hors d'oeuvres, Dinner and Entertainment/Dancing are included. The dress attire is cocktail. For tickets and information, call the Temecula Valley Elks #2801 at (951) 695-7470.


---
Mosquito that can carry yellow fever detected in San Jacinto

An invasive mosquito that can carry yellow fever and other diseases has been detected in San Jacinto, one of 35 California cities where it has been located. A resident in south San Jacinto brought an adult mosquito to the Riverside County Vector Control program staff in October. Because the mosquito appeared to be an Aedes aegypti mosquito, traps were set in the area and eight more adult mosquitoes and several larvae were collected. They were positively identified as Aedes aegypti on October 26 by county staff and the California Department of Public Health.

Aedes aegypti is not native to California. The black-and-white mosquito prefers to feed on humans during the daytime and can transmit dengue and Chikungunya viruses. While there is no indication the viruses currently are transmitted by mosquitoes in California, there is potential for the viruses to be introduced by infected international travelers who return home, potentially to become sources for local transmission. In the age of global commerce, Aedes aegypti has been detected in 12 counties and over 35 cities statewide. View the California Department of Public Health map at: https://www.cdph.ca.gov/HealthInfo/discond/Documents/AedesDistributionMap.pdf

The Aedes aegypti mosquito is different from native California mosquitoes. It lays eggs just above the water surface in small containers, such as flower pots, pet bowls, discarded tires and bird baths. Because these mosquitoes can breed in amounts of water as small as a bottle cap, residents are reminded to eliminate all standing water on their property. The species' eggs can survive on surfaces even after water has been drained, so residents should drain all stagnant water and then scrub all items that contained the water.

The vector control staff will continue surveillance in areas surrounding the point where the mosquitoes were found. These efforts include door-to-door inspection of residential and commercial properties for mosquitoes and habitat. The City of San Jacinto contracts all vector control services with Riverside County, and the vector control staff will work closely with city officials on follow-up investigations.

Contact the Riverside County Vector Control program at (951) 766-9454 or your local vector-control district to report mosquito problems, request mosquito fish, or report neglected pools or standing water as potential mosquito sources. Visit the department online http://www.rivcoeh.org/Programs/vector for more information.


---
Menifee Painter Honored

The first juried art show hosted by Arts Council Menifee was billed as "Celebrating our Best of the Best" in visual art creations, and talented local artist Brian Dietz was awarded "Best of Show" for his "Winter B & B" painting.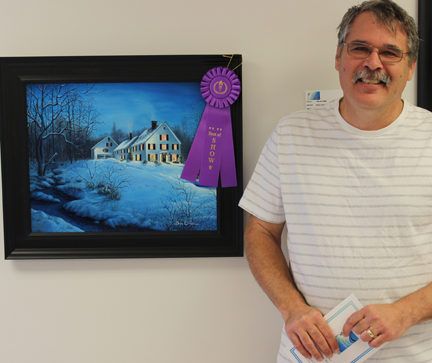 Art was once a livelihood for Brian Dietz – now it's his lifeline. After being diagnosed with a complicated neurological disorder called Trigeminal Neuralgia, he had to resign from his regular graphics and marketing position to focus on his health. He continued creating artwork as a form of therapy. Since becoming disabled I was determined to not become insignificant," he said. "It was important for me to use my situation the best I could."

A Menifee resident since 2006, Dietz has also been named November's Artist of the Month by Arts Council Menifee, which he joined more than two years ago. "Brian is a gifted artist," said Linda Morrison, co-chair for ACM's Visual Arts Division. "His paintings are realistic and he captures the magical scenery and light in his beautiful landscapes."

Dietz is inspired by the outdoors and works from many different sources to create works in various media. He said sometimes the subject matter dictates the medium and other times it's the environment.

"Whenever I go anywhere, I am always looking to collect subject matter and inspirations for paintings," he said. "My wife and I just returned from a long awaited trip to New England. I was excited to visit the same areas where artists such as Andrew Wyeth, Thomas Cole, Albert Bierstadt, Winslow Homer and Edward Hopper painted. It was truly inspiring, yet I can still be awed and inspired by a Menifee sunset, a Murrieta oak tree, a Temecula winery or a San Diego Beach."

He prefers to work from his own sketches and photographs but will use other reference material to better understand a subject, if necessary. "I love to paint plein air whenever possible. It is a great way to learn to capture shapes, color and values quickly. Sometimes a simple watercolor at the beach can lead to a nice oil or acrylic painting back in the studio," said Dietz, 54. "If somebody can look at one of my paintings and feel enjoyment and feel like they are there, that's my goal."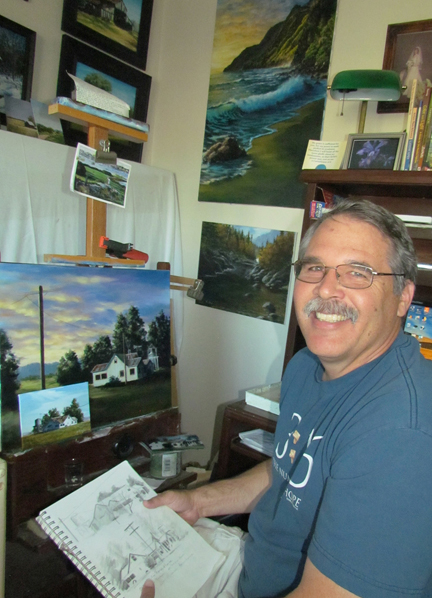 All of his formal training in art took place more than 30 years ago. "You never truly lose that passion to create," Dietz said. "It may get misplaced from time to time but deep down the tendency is still there. He said there is as much mental stress as there are physical issues with a disability. "People often identify with each other based on the work they do and their jobs. Becoming disabled you are quickly removed from that social network. Battling depression is common," he said. "Trigeminal Neuralgia is triggered or worsened by things like fatigue and stress. Many of the side effects brought on by the medication to control the pain can cause mental as well as additional physical issues. Practicing art became a natural outlet for me."

He believes that God allows challenging things to happen for a reason and that his main purpose here is to serve Him. "I feel that my condition has allowed me to focus on my art in a way that has allowed me to improve my skills and help others," Dietz said. "Painting is a process which requires patience and understanding. Slowing down to paint a picture can be very therapeutic. I love to paint pictures of places where I imagine I can see myself being. In a way it helps me transport myself to a very relaxing place."

The time he can devote to his art varies depending on how he is feeling at the moment. But he tries to manage his time as efficiently as possible and has learned to appreciate the process more and pace himself better. "I consider myself way more fortunate than most," Deitz said. "I have a family that cares about me. I am able to get up, take a walk, see my kids and granddaughter, work on a painting, kiss my wife, worship my Lord and live in a free country just to name a few."

Although Dietz is not able to be as active with ACM as he would like, he said being involved even a little bit is better than not at all. "It helps give me a sense of purpose. I am able to connect with other people who have a common passion for art," he said. "Menifee has some great artists who are really wonderful people with impressive backgrounds. I am always humbled by the level of talent at the shows. I am truly humbled by the recognition."

Dietz said ACM's new space at 29995 Evans Road in Menifee is a great addition to the community for the patrons and artists alike. "Now that we have a permanent space, I hope that more people from the community take advantage of the opportunity to visit the gallery and see some inspiring art," he said. "Art can do such tremendous things. Every painting is like an exercise to learn something or at least understand what I can do better."


---
Vol. 18 No. 8..................................October 2015
---
Memoriam
Betty Jean O'Brien (February 16, 1929 - August 19, 2015)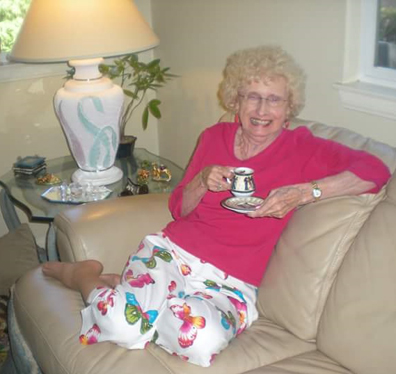 Betty is fondly remembered for her "Just a Minute" columns that were published in The Murrieta Bugle, The Temecula Bugle, and The Community Bugle over the past fifteen years. Her short, mostly humorous, mini-articles shared her life's little adventures with our readers. Many of her column materials were included in a book that she self-published in 2010 (ISBN 978-1456352516). Her short selections recounted the pleasures and pitfalls of raising a large family while pursuing a career as a Community College instructor. She wrote, "Whenever you have a little waiting time, from the bathroom to the boardroom, these lightly thought provoking or amusing selections can be read in Just a Minute."

Betty Jean O'Brien was born in Vandergrift, Pennsylvania. Her family moved to Pittsburgh, Pennsylvania when she was twelve. As a teen, Betty courageously battled TB and graduated from high school with her diploma signed by Dr. George E. Martin, whom she credits with saving her life. Betty attended Mount Mercy College in Pittsburgh and earned her BA in English and Biology. She married Paul O'Brien in 1952. They had six children together: Paul O'Brien Jr., Ellen O'Brien-Garcia, Carol Davis, Kevin O'Brien, Sharon Ibrahim, and John O'Brien. Betty returned to college in 1973, earning her MA in Education from CSU Stanislaus at which time she was an instructor in the Reading Department at Modesto Junior College. From 1980-1994, Betty was a full time professor in the Reading Department at the beautiful West Valley College campus in Los Gatos, California. Betty made her home in Murrieta for the last seventeen years and enjoyed every minute of her time in her beautiful home.

Betty was a wonderful mother and will be forever in the hearts of her children and grandchildren.


---
Carol South Honored by Fellow Artists
By Bill Zimmerman, Arts Council Menifee

Take a look at Menifee's art movement. The city enjoys its successful and active Arts Council. Look closer. You now see people, the volunteers that make it happen. One such volunteer is Carol South, who is being honored by the art organization for the leadership role she played.

Traditionally, art organizations are volunteer-based. They are formed to benefit local artists in a community. The efforts are a labor of love, with members coming together to plan and host events that promote the arts. Arts Council Menifee is no exception.

The area's local artists have benefitted from the vision and efforts of Carol South, an artist herself, whose work is greatly admired by her peers. South is one of the organization's founding members and was instrumental in creating the art gallery that adorns the walls of the Kay Ceniceros Community Center. She has served as the Co-Chair of Arts Council Menifee's Visual Arts Division that has grown in numbers since inception. South recently retired from the position, and has been succeeded by fellow artist and friend Linda Morrison who now heads the division.

While coordinating the gallery and events, South participated as one of its artists, displaying her work for the public to view. She still shows her original paintings along with her line of unique greeting cards. Some of her cards include original hand painted images, which can be personalized upon request.

Viewers instantly notice that South's artwork is from a perspective foreign to most of us. "I found real inspiration while visiting other countries", said the artist. Her travels included a Kenyan safari where she photographed wildlife in their native surroundings. Those images provide a reference as she creates "Into Africa", a series of wild animal illustrations specially framed using borders that simulate the detailed designs of Masai beadwork. This group of works includes use of watercolor and oil, as well as unique etched intaglio and linocut printing techniques.

South enjoys working in a wide variety of media including watercolor, oil, acrylic, pastel, colored pencil, collage, printmaking and mixed media. She finds that the subject matter influences her selection of media.

South's early art training equipped her with the skills to produce life-like portraits and to hand render images in realistic detail, work that has earned numerous awards.

As a small child growing up in New Mexico, her introduction to painting was by her mother, an award-winning professional photo colorist who applied transparent oils to sepia-toned portrait photographs. This early instruction has enabled her to produce life-like portraits.

Along with creating stunning artwork, South has played a contributory role in the development of the arts in her community. When she first moved to Menifee, she founded the Oasis Fine Arts Group and served as the group's president for four years. She is also a member of the Fallbrook Art Association.

"It gives me great pleasure to see all of the activities here in Menifee that promote the arts, and I have been thrilled to be a part of it all", said South.

Below, Carol South with "Desert Flower", an original oil on canvas. Photo by Bill Zimmerman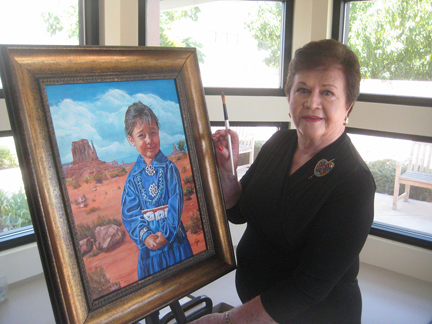 ---
DOWN MEMORY BASEPATHS...

Now available at Amazon.com (ISBN 978-1-5169-9413-7) this 166 page book is packed with local author and long-time Bugle columnist Edd McDermott's introduction to the great game of baseball. Immerse yourself in fifteen of the most entrancing, entertaining, and ground-breaking World Series games ever played. Your stroll down memory basepaths will continue with the movers and shakers of the game; the heroes (and villains) who molded America's greatest pastime. Your path will continue with a comedic look at first base coaches and a tale of how Mr. Vin Scully spawned his remarkable announcing career. The conclusion examines one of the most enduring accomplishments in World Series play: The Perfect Game-October 8, 1956. Imperfect man pitches perfect game.


---
Riverside County student makes contact with rabies-infected bat

Riverside County health officials are working with the parents of a San Jacinto High School student who had contact with a bat that later tested positive for rabies. "People should avoid touching bats since they are high risk for rabies," said Barbara Cole, Director of Disease Control for Riverside County Department of Public Health.

This is the fourth incident in Riverside County in recent months in which a person has come in contact with a bat that later was determined to have rabies. Rabies can also occur in wild animals such as raccoons, skunks and foxes.

Cole recommends avoiding contact with wild animals at all times. Exposure can happen even when a bite or scratch has not occurred. Anyone who believes they have been exposed should consult their health care provider. Residents within Riverside County Animal Services jurisdiction can call 951-358-7387 if they find a bat on their property or inside their home. For more information on what to do if you believe you have been infected, call Riverside County Disease Control number at 951-358-5107.


---
Community Voice - Public Opinion Forum
Cease Importation of Poverty, Export Liberty for World Prosperity
By Ken Woytek, Menifee

The prevailing growth condition in Western societies is deplorable. Throughout the world, immigrants in hopeless destitution are deserting their failed society and flocking to foreign lands with a promise for betterment of living conditions for them and families. Legal or illegal, these invasions are diminishing the destination cultures through dilution of productive resources and result in a universal slump in overall success by mankind.

It should be obvious, but is not acknowledged by world leaders, that the preferred solution to counter degradation is to enhance and improve the lot of people in their homelands, rather than attempt to absorb and assimilate fugitives into more successful society. Jack Kennedy was generations ahead of this current development, when he promoted and implemented the US Peace Corps to enrich and inspire the less well-developed cultures for achievement of economic, social, and political success by imitation of American and Western liberty.

Unfortunately, the training provided to a host of peace "ambassadors" was largely devoted to practical skills, without necessary political expertise to effect reversal of the autocratic mindset of primitive peoples constrained to follow without question the dictates of chieftain, activist, warlord or governor. The program was mostly a bust for all parties, except for information and sympathy awarded the volunteers regarding their simple beneficiaries. The bosses in all the lands served by Corpsmen forbade changes in the status quo that might threaten their power base, and so enrichment was not possible, and still is elusive.

No one blames the fugitive from abroad. Rather, how can we accept the dereliction by governments that allow invasion by aliens without orderly immigration processes that insure benefits to our thriving cultures and economic growth in responsible steps. We must charge the elected representatives of all destination societies to collaborate for effecting social change in totalitarian regimes that includes education and inspiration of residents to adopt their own declarations of independence, casting off their dictators, and reforming the homeland they can cherish and nurture. We must also defeat the obstructors who oppose liberty and democratic republics that promise fulfillment of individuals, and it may be necessarily by force of arms AND diplomacy.


---
Nero Reincarnated?
By Douglas VanderHeide, Murrieta

Our current leaders at the Federal, State, County, City and the Water Districts are fiddling while California burns. To date, the only solutions being offered by our leaders have been to increase the prices of water and sewers. Let's not be delusional, since about 95% of the water in California is distributed by the Water Districts, this is just another form of taxation.

There has been no action or even serious discussion about fixing the real problem which is supply. If this group had been leading our Country during the Great Depression, we would not have the Hoover Dam, the Tennessee Valley Authority, Social Security, etc., etc.

In the meantime, here are some of the problems that Government inaction is causing:
1. The Central Valley of California is the largest fertile area for growing food in the world. Crops are being ploughed under or not being planted. Unemployment rates in many of these areas are at 40%.
2. Grocery bills are rising throughout the Country.
3. Businesses are closing their doors or severely cutting back resulting in more unemployment.
4. Tax revenues at all levels of Government will decrease because of increasing unemployment.
5. Tax expenditures at all levels of Government will increase to support those able bodied individuals that are unable to work.
6. Since Government doesn't know how to live within budgets, the few still earning a living will see their taxes increase. This will, in turn, force cutbacks in individual spending, decrease business expansion and hence further affect unemployment.

By now most of you have received a rate increase notice from your water district. I would suggest that each of you should examine your bill closely. Assume you vacated your home for the entire billing period. The cost of the water itself is typically 10% to 33% of the bill depending on the Water District. The rest of your bill, 67% to 90% is fixed and includes service fees, sewer charges and in some cases property taxes. As an example, RCWD charges 0.3% in Temecula and 0.5% in Murrieta of the assessed value of your land.

How does increasing the fixed charges reduce demand? It doesn't, it's just a sneaky way to give big users a volume discount. I would suggest that our leaders are more interested in increasing taxes than they are in conserving water. Do you really think prices will come back down once the drought is over?

If gasoline were priced like water, today's price of approximately $4.00 per gallon could be lowered to $2.00. Here's what the new price structure might look like:
There would be a $30.00 fixed charge before entering the gasoline station. An economy car requiring 10 gallons of gas would pay the $30 fixed charge plus $20 for the product (10 gallons at $2.00 per gallon) for a total of $50 or $5 per gallon. A truck requiring 30 gallons of gas would pay the $30 fixed charge plus $60 for the product (30 gallons at $2.00 per gallon) for a total of $90 or $3 per gallon. As you can see, there is a $2.00 per gallon volume discount to the big user. The tiered rate structure is an attempt to remove some of this discount.


---
Vol. 18 No. 7..................................September 2015
---
Menifee Businesses Sought for Donation Box Space

The Menifee Valley Lions Club is looking for Menifee/Sun City locations, including local churches, to place collection boxes for shoes and eyeglasses. The contact person for space or donations of shoes is Lion Deborah Ramshur: 253-670-3175, email deborah.ramshur@yahoo.com

The contact person for space or donations of eyeglasses and eye glass cases is Lion Annette Quinn: 951-246-2064

With your help on these two projects we can continue to reach out and help those in need in our community. The Menifee Lions Club will be publishing a list of locations where people can drop off these donations. That's an opportunity for business exposure at no cost. We will pick up the boxes as they get filled. These projects are on going.


---
Which Wolf Will You Feed?
By Yolanda Villafana - http://reborn2write.blogspot.com

It's back to school time. Summer flew by, especially since I've been preparing myself for a challenging school year. My lead teacher is deserting me. OK, she's not really deserting me. It just feels that way. She was a joy to work with. Everyday, it was like working with Mary Poppins and Snow White all wrapped up in one sweet package.

Each school year brings new challenges. However, when you add a major change, such as change in staffing or classroom, the challenges can seem overwhelming.

Recently, I saw the movie, Tomorrowland, which is about the power of optimism over pessimism. The main character, Casey, has a conversation with her dad who is lamenting the fact that he will be out of a job as a NASA engineer. Casey reminds him of the story of the two wolves, "There are two wolves who are always fighting. One is darkness and despair. The other is light and hope. The question is which wolf wins? The answer: The one you feed." As I sat and watched this film about hope conquering negativity, I reflected on this coming school year and I asked myself, "Yolanda, which wolf will you feed?"

It would be easy to complain and feed the dark wolf but here is what God says about feeding the dark wolf: The Spirit and your desires are enemies of each other. They are always fighting each other and keeping you from doing what you feel you should. Galatians 5:17

When we feed the dark wolf, we allow our flesh to control our thoughts and actions. Our negativity spreads like a virus in your workplace. That is not what God desires for our lives. So now that we know the dark wolf has to die, how do we feed the light wolf?

Step 1 - Daily prayer is essential for conquering the dark wolf. Be prepared. You're up against far more than you can handle on your own. Take all the help you can get, every weapon God has issued…In the same way, prayer is essential in this ongoing warfare. Pray hard and long. Ephesians 6:13-18 (MSG)

Step 2 - Read your Bible daily. God's Word is food for our soul; better than any cup of coffee for waking us up. God's love will flow through His pages nourishing our hearts. The more we read and learn about God, the more we'll crave His Presence. I love those who love me, and those who seek me early and diligently shall find me. Proverbs 8:18 (AMP)

Step 3 – Go to church consistently. There is something powerful, healing, and renewing about being in God's presence surrounded by people praising and worshiping Him with one voice and one heart.

So, this school year, instead of lamenting the loss of a sweet light wolf, I'm praying that I'm the light wolf who brightens up my classroom and workplace. Let me ask you, "This school year, which wolf will you feed?"


---
Community Voice - Public Opinion Forum
California Policy Wrecks The State's Economic Health
By Ken Woytek, Menifee

A comprehensive book co-authored by Art Laffer, the renowned pragmatic economist, has summarized fundamental political implications of tax choices by all the various states in their attempts to succeed for benefit of residents and taxpayers. My reaction to the findings in that serious study of policies shared or discouraged by state officials in our nation is one of despair for our state's future and our successors'.

If we Californians can recognize the damage done and those actions continuing to destroy our state's prosperity, it is possible to halt the well-intentioned but deleterious lawmakers in Sacramento. First, know that high state income tax policy crushes economic growth for that state. Conversely, low or zero income tax states enjoy superior economic success. And, no, public services in the latter group of states do not suffer shortages in mandated benefits to citizen-residents or to the poor - contrary to popular myth.

Specifically, the no income tax states retain workers and invite migrating wage earners, while high income tax states bleed productive citizens. So, 11 no income tax states are blessed with economic success and 9 highest income tax states experience low, zero, or negative prosperity.

Doubters claim that the high taxes insure superior services over what a low tax state can afford. Not valid; as an example, the greatest share of public state funds are spent on education, and no-tax states score better in teacher numbers and student achievement than the high taxers. The 11 as a group employ 305 educators/10K residents, and the 9 only carry 299 teachers/10K population. The greater number then produce strikingly higher 4th and 8th grade mastery of English and math.

The most stark contrast between no-tax and hi-tax states is the performance charted in Texas vs. California over ten years, 2002 - 2012.

TX grew 1.6%. CA slumped 0.2%.
TX population grew 20.1%, CA grew 9.1%
TX has no income or capital gains tax. CA collects the nation's highest income and capital gains levies.
TX labor force grew 16.6%. CA grew 6.6%.
Gross state product in TX grew by 78.5%. CA grew 44.4%.
Average poverty level circa 2011 in TX was 16.5%, in CA was 23.5%; and the trend widens currently.
Recent unemployment rates are 6.2% in TX and 9.8% in CA.
Percentage of all US welfare recipients: 2.58% live in TX, 34.07% live in CA.
Fearmongers have limited oil production in CA to approx. 500,000 bbls/day, while careful TX drilling yields 4 times that. Those different results give royalty revenue that allows the Lone Star state to eliminate suffocating anti-business earned income and corporate taxes gouged from the economy by CA politicos.
Service providers earn very different salaries that are a reflection of union mandates; average TX hospital employees are paid $52K, in CA it's $80K; TX corrections officers earn $37K, CA awards $72K, TX education workers make $43K, in CA $61K; police workers in TX average $54K, CA pays $91K; highway workers in TX get $42K, CA pays $75K. The result is expensive highway construction. TX cost is $88K per mile, CA cost $265K per mile.

If Californians choose to discontinue the tragic and reversible slide into poverty, unemployment, exodus of wage-earners, exploding government expenses, and business flight, we must replace the policies created by politicians who are irresponsible power brokers acting in opposition to the constituents who are suffering by their greed and elitism. The perennial machine in Sacramento and major cities is responsible for the state malady; we must end the spendthrift bleeding of human and resource assets in this eroded golden state.


---
Book Review
By Esther Tyrrell

Jeff Shaara's THE FATEFUL LIGHTNING (Ballantine Books and Random House Audio), is the fourth and last volume of his series on the Civil War, which began with the unforgettable "A Blaze of Glory." Shaara is a New York Times best-selling author whose fine books focus on historical fiction with an emphasis on military history. "The Fateful Lightning" begins in 1864, a time when the Union is finally winning a war against the Confederacy that's been dragging on for four long years. The head of the Union Army, Ulysses S. Grant, is concerned with the Northern troops stationed in Tennessee under the command of William Tecumseh Sherman. The author's meticulous research and writing style enables him to vividly portray the settings, both historical and political, of the war between the states. He also clearly understands military strategy and easily conveys complicated tactics and maneuvers in a way that makes readers feel they are on the battlefield. In this way, he vividly describes events of the ensuing eight months such as General Sherman's taking of Atlanta which proved to be an important turning point in the war. He then proceeded on his momentous "March to the Sea". In time, the Confederate army was defeated and the war was over. Each of the chapters is written from the point of view of one of the characters in the book. Some are prominent war heroes, citizens, soldiers and one is a runaway slave. Regardless of their station in life, the author makes them come to life.
Highly recommended.

If you're searching for this year's perfect summer beach read, look no further than DAY FOUR by Sarah Lotz (Little, Brown and Company and Hachette Audio). It is late December and The Beautiful Dreamer, one of a fleet of ships of a cruise line that has seen better days, is embarking on a five day voyage of fun in the Caribbean sun. Hundreds of passengers are aboard, eager to enjoy dining, drinking, shopping and relaxation during the New Year's Eve holiday. And although they do, indeed, have a great time for the first three days, you soon begin to get the uneasy feeling that something very bad is going to happen. On the fourth day of the voyage, unexpected, creepy events begin to take place that will eventually turn the holiday cruise of a lifetime into a nightmare. First, the engine room catches fire leaving the ship without power. There are several back-up systems but they don't work and the major power failure leaves the boat stranded in the middle of the Gulf of Mexico without electricity or lights. All forms of communication, including WiFi, fail and there's no way to get through to the outside world. When it becomes evident that the Norovirus has taken hold on board and is escalating throughout the vessel, things really become unpleasant because the toilets and showers don't work and sanitation becomes impossible. Eerie events that are hard to explain start to take place. For example, a young woman's corpse is found in one of the cabins and crew members report seeing ghosts below deck. Stranded, hungry, sick, frightened and panicking, the passengers expect to be rescued, but there's no sign of ships anywhere. And this is when all hell breaks loose aboard the luxury liner. The author is wonderfully adept at building suspense and succeeds in surprising the reader with an unexpected and frightening ending. Dark, scary and very entertaining but not suggested as a relaxing read on your next cruise.

Do you have an insurmountable problem that you can't solve? Have you tried every means available to fix the situation but now feel you have no choice but to give up? Perhaps the book LET GOD FIGHT YOUR BATTLES by Joyce Meyers (Faithwords and Hachette Audio) has the answer for you. Famed televangelist Meyers has written this book specifically for those who have reached the end of their rope and who have exhausted all means of getting a resolution to their situation. Her answer is to calm down and let the Higher Power she calls God take over. Convinced that this Higher Power takes a personal interest in us and wants to help us, she believes that trusting in Him will provide the right solution for life's most difficult challenges.
She backs up her inspirational encouragement with plenty of wisdom from the Bible and the result is a book that may relieve your stress and calmly lead you out of fear to a place of confidence and peace. A little guidebook that can show you how to live a more stress-free life.

How is your workday going? Are you just treading water by doing mindless activities on your "to do" list or, when the day is through, have you really accomplishined something worthwhile? If you're unhappy with your answer, the book DO LESS GET MORE: How to Work Smart and Live Life Your Way by Shaa Wasmund (Portfolio Publishing and Brilliance Audio) can help you stop doing busy work and start accelerating your accomplishments by doing the right things at the right time. A how-to manual for getting things done, it is written for readers who are so focused on achieving success that there's no time for anything else: persons who spend every moment anxiously thinking about what to do and how to do it. Eventually, they fall behind and are forced to spend valuable time trying to catch up in order to get back on schedule. The author, a top entrepreuneur who attended the London School of Economics, analyzed the patterns of overachievers and concluded that many are motivated by fear. They've concluded that the only way to achieve is to work non-stop like the Energizer Bunny and they feel gratified when others note how much time they spend planning and working because it proves they're not slacking off. But it doesn't have to be that way and the author reveals a number of strategies that can make the road to success not only constructive but also delightful. For example, it is vital that one learn how to determine what is really important and to concentrate on them. This one rule automatically gives one more time to do what is necessary to achieve one's goal. Additional tips include deciding which people in your circle truly support you. Draw them into your circle and regularly ask for their advice. Stop thinking "when this happens, I'll do that." For example, when I land the first $10,000 account, then I'll spend time with my family." Instead, narrow your goals down to a series of small steps and do them now. Also, prove that you are serious about important projects and events by jotting them into your calendar because that is a valuable incentive to show up. And perhaps most important of all - learn how to say "no." If you want to stop doing and start living, consider this book.


---
Spiritual Artist Kathi Fox Receives Honor

Kathi Fox has spent her adult life helping others reach their full potential physically, spiritually and naturally. As co-founder and operator of Total Health with her husband, Joe, she extols knowledge of how the mind and body work together as one to keep us balanced.

August's Artist of the Month for Arts Council Menifee, Fox is being recognized for all she shares as a painter. "She has a passion for art and a willingness to share her knowledge through her classes. Her gentle spirit and love for the arts is an inspiration to all," said Linda Morrison, co-chair of visual arts at Arts Council Menifee. "Kathi is an active member and is so deserving of this award."

Primarily self taught, Fox continues to educate herself by reading books and attending enrichment classes. She teaches a weekly Fundamentals of Art class and also leads monthly "Paint Party" sessions at the Kay Ceniceros Senior Center in Menifee. "It has been a challenge and a great growing experience for me as I had never taught art before," Fox said. "Teaching uses the left side of the brain and painting uses the right side, so it really is different. But I love sharing with people what I do."

She also offers mobile paint parties, providing all the supplies and instruction. "You provide the space and invite the guests and I do the rest," Fox said. "It makes a great birthday celebration, bonding time with friends or creating a milestone memory." She is aware of other groups that serve wine and other adult beverages at similar events. Her parties are strictly non-alcoholic, making them suitable for all ages.

Fox explains her art style as representational that varies between realistic, impressionistic or abstract. She finds her inspiration in nature, worship songs, Bible stories and dreams she has. As she prepares an art piece, she said most of the time the specifications are inherent. "Each painting dictates what medium I will use (watercolor, acrylics or pastels)," she said. "What size, what medium, on what surface, even the title, comes to me before the creation."

Despite her love for drawing and painting, Fox took a 10 year hiatus from it during the years her young family lived in a community that operated Murrieta Hot Springs as a vegetarian health resort. She worked there as a gourmet chef. "Our daughter was young and we worked long hours, year round," said Fox, who lives in the Romoland community of Menifee. "I don't think any of us had time for hobbies or personal pursuits."

She started her art again in 1986, shortly before opening Total Health, and mostly likes to paint landscapes. "I always feel so much better when I am doing something creative," Fox said. "I can remember painting during a stressful time in our life and feeling something going on in my brain that convinced me of the beneficial nature of art." That personal experience made her a firm believer in the healing power of creating art, which she now integrates into her Naturopathic practice as an adjunct therapy. She has been a practicing Naturopath since 1992, helping people with their health challenges.

"As for how art affects my own health – I will never be without it again," Fox said. "Now that I do some kind of creative expression almost every day I feel so much more balanced, happy and relaxed in my life – even when there are trials."


---
Supervisor Jeffries' County Senior Meals Program a failure in Mead Valley
By Britt Holmstrom

Soon after taking office in 2013, it was quite evident that Riverside County Supervisor Jeffries did not care about the needs and services for seniors in Mead Valley and Good Hope. The new senior center opened, but was rented out instead of providing senior services. Supervisor Jeffries told the seniors that the senior room was never part of the Community Center, took the sign down and rented out the entire Mead Valley complex including the Senior Center. The seniors were told they would be using the public library and if they did not like that he would rent that out too. The seniors were outraged at the disrespect given them by their newly elected supervisor and began to speak out at the Board of Supervisor's hearings. Jeffries responded back by putting the senior lunch program into place in Mead Valley but problems continued to exist as Jeffries pushed through a sole source contract last year for senior lunches in Mead Valley and Good Hope - a violation of state law which requires open bidding.

The contract ended on June 30, 2015 and the Office on Aging has yet to complete a contract for congregate meals for these two facilities. Other providers were not allowed to submit a RFP (Request For Proposal) to bid on the meal program. The County signed a sole source contract last year with a provider that had no experience in serving senior lunches. The contract states this provider, "can provide a quality food service for this community and will be consistent and in compliance with our State mandates". This contract was approved by the Board of Supervisors at Kevin Jeffries urging after many seniors addressed the Board of Supervisor numerous times regarding the poor service that was being provided. The Supervisors knew about the violations and multitude of problems and yet approved a nine month contract. So far no one has provided a copy of the new contract nor was a contract approved by the Board of Supervisors. How can the County operate a state program without a contract?

A number of state laws were violated and seniors that participate in this nutritional lunch program are at risk. The insurance was made out to the City of Perris instead of Riverside County. The lunches do not meet the minimum nutritional requirements. State required training is not being provided to staff and volunteers. Untrained staff are in charge of confidential meal applications that are frequently missing and seniors are asked repeatedly to fill out new applications. Identity theft is a concern as senior's confidential health and identity information is lost. Untrained volunteers are being asked to monitor the food supplies in the kitchen, complete reports and perform many of the duties that are within the scope of a registered dietitian. Staff and volunteers do not have state required training in food safety, prevention of food borne illness, HACCP, accident prevention, fire safety, first aid, choking and emergency procedures. If a senior should have a medical emergency there would not be any staff trained to deal with the situation.

I have asked for the resignation of the Director of Office on Aging a number of times publicly at the Board of Supervisor meetings. I find that this open disregard for seniors is incomprehensible. Supervisor Jeffries continues to ignore senior concerns and violations of state law at the Mead Valley and Good Hope Community Centers putting those of us seniors at risk. Millions of dollars in state and federal taxpayer money is given to Riverside County each year to provide much needed senior services. The contract for senior lunches must be put out to bid so that the best competent provider can be hired.


---
Vol. 18 No. 6..................................August 2015
One topic this month that's a doozy regarding Murrieta politics and one regarding the Rancho Water District election. This issue was closed early for our vacation.
---
Murrieta Corruption
Bugle Publisher Nancy Knight has been approached privately by individuals from across the region regarding the political antics in Murrieta. The Bugle also received a Community Voice submission on the topic of Mayor Ramos. This issue is dedicated to providing feedback on the Murrieta politics situation. Motives are included in the publisher's comments to the Community Voice submission.

Knight writes: For those who do not know me, be advised that I am a 40-year resident of Murrieta and ran many campaigns for Murrieta City Council from 1997 to 2008. I came in second to Doug McAllister in the 2005 recall election and second to Randon Lane in 2008. I have experienced first-hand the retaliation of the threatened Murrieta Police Association, Murrieta Planning Department, and Murrieta Chamber of Commerce, to name a few. My property has been devalued through a change in land use, the Chamber spread false statements about our ethics, attorneys or imposters posing as attorneys have called to threaten us for using Murrieta in the name of one of our publications, Rancon President Dan Stephenson, who pretty much controls elections with developer contributions had his attorney send me a threatening letter, and the Murrieta Police union boys filmed me under the guise of an endorsement interview with a real motive of entrapment that became apparent at the end of the interview with Officer Froboese pulling a Bugle article tear sheet of my exposé on his participation in defaming a young man for the political gain of Doug McAllister. The key question was intended to get a confession that I indeed wrote it. They got the confession and more with my informing the entire panel of the details that supported everything that was written. Their libel case was thwarted! I can only guess what vicious rumors they spread that I don't know about. Based on all of my personal experience, I offer the following as an exposé that answers many of the questions posed by residents, not only in Murrieta but throughout the region, as residents try to understand what has caused Mayor Harry Ramos to be the target of escalating vicious attacks.

When I first read the Murrieta Patch story, complete with Ms. Smith's attorney's graphic statement of what Ramos was being accused of, I was chilled by the accusations and sickened by the thought of what his family must be going through. I have known Harry Ramos to be an honorable man who is interested in the well-being of the community he serves. As a resident who was harassed by Code Enforcement for something he considered unconstitutional, he got his first glimpse of Murrieta politics. He challenged Code Enforcement and won in court. That is when he made a decision to run for Murrieta City Council. He thought, or hoped, his fairness toward residents would improve city hall operations. As a disabled Marine, he also was given an internship in city hall where he saw first-hand how the back rooms operate. This is a man who has knowledge and experience beyond any of the other people who have been elected due to the financial support of the development industry, the support of the local Republican Party, and the support of sycophants who do their bidding for them. Ms. Smith's attorney's statement to the press was totally out of character for Harry Ramos but not so out of character for many attorneys that I have had the misfortune of knowing over the years. Their motive of course is financial gain. Given my suspicion of a lack of credibility in the Patch story, I Googled the woman's name and was relieved to find the Valley News investigative report complete with witness accounts that it was Ramos' accuser that acted inappropriately at the Chamber of Commerce mixer. If you missed that story please paste the following into your address bar to read the story in full - complete with a photo of Ms. Smith taken in January when the incident Ramos has been charged with occurred. http://myvalleynews.com/local/witness-states-murrieta-mayor-ramos-accuser-acted-inappropriate/

In summary, the Valley News report authored by Julie Reeder and published on July 25, 2015 recounted a witness statement that Kathleen (Kat) Smith appeared to be under the influence of alcohol and acted inappropriately toward two men, including Murrieta Mayor Harry Ramos, at a Chamber MEGA Mixer on Jan. 22...". Reeder reported that Esmeralda Sandoval was one of six people together for a period of time at the chamber event before it ended. Sandoval said that Smith "was flirtatious with Carlos (Bazan-Canabal) and Mayor Ramos." Sandoval recounted that Smith was "rubbing herself on one of the men and said they were sexual gods and very attractive. It seemed she was interested in whoever was going to be receptive." When asked if at any time did Ramos, who claims he was not drinking, go along with what Smith was doing or saying, Sandoval answered, "No, he didn't act inappropriately." Sandoval and other witnesses stated that their recollection is that Smith was under the influence and Ramos was not. Sandoval said Bazan-Canabal, who is a Valley News independent contractor, and Ramos were giving Sandoval looks like, "Hey, get your friend." Sandoval said she didn't respond because Smith was not her friend. She said the only touching she saw Ramos do was put his hand on Smith's shoulder at the meeting "which may have been to help her keep her distance, but it wasn't an inappropriate gesture." Sandoval said the group of them all left the mixer at the same time. "We all walked out together. Kat, Tatiana and myself walked out together and the mayor followed us," she said. "We went to Anthony's. I don't know everyone's name but Tatiana, Kat, Lori (Cuevas), another lady and another man were there." According to Sandoval, Ramos was asked more than once if he would join them at Anthony's but he declined saying, "Not this time, maybe next time." When Smith arrived at Anthony's, Sandoval said she didn't seem upset or shocked in any way. She seemed to be enjoying her time at Anthony's. Sandoval said she has not had any more contact with anyone in the group since that night. Sandoval said, "I'm just disgusted that someone would make it difficult on women who are true victims of such acts; to now have someone crying wolf so that people who are victimized truly may not be taken seriously." The Valley News also wrote that they have had access to additional witnesses and evidence that might support Sandoval's recounts. Public Comments from the Valley News story are posted below following the Rancho Water District submission.

Bugle submitted Comments:
Ramos Supporter wrote: I want to say what a fantastic article you wrote. I know Harry and his family and they are totally devastated about the whole incident. They are good people and it is a shame what the Murrieta Mafia can do to a person. Keep up the great writing and I hope people will read this and one day see what idiots Gibbs, Long and Lane really are.

Murrieta resident wrote: Nancy, I saw your story on the Bugle website about how you were attacked by the police union and I listen to REDICE radio a lot and found this radio interview a while back about Murrieta's Dr. Dortch and his family.
https://www.youtube.com/watch?v=ldOSYUDIAzQ
I haven't heard or seen a thing in the paper or on the internet about the update to their situation. It's just very scary what has happened to you and Dr Dortch.

Dr. Dortch story - Publsher's comment:The YouTube radio interview is a summary of the first 19 months of injustices that began with the arrest of the Dortch's 12 year old son in March 2013. It also includes advice for parents on what to teach your children about when not to trust the police. I contacted Dr. Dortch and they are still battling the injustices through the court system. The most recent court hearing was scheduled this month, August 2015.

Update posted September 28, 2015:Mrs. Dortch informed us that On Tuesday, September 1, 2015 Dr. David Dortch was arrested behind his office by the sheriff "Fugitive Team". The Dortch civil rights cases, being represented by Melody Kramer, Esq., has now increased to defense of two criminal cases against David Dortch. Mrs. Dortch writes: "David is a political prisoner being held without bond on what amounts to a 45 day psychiatric hold. This corporate court is trying to force Dave to have psych evals by a psychologist and a psychiatrist on the county dole. They refused to allow us our choice of psych professional. Dave will be refusing this which may place him in contempt of court. Our free speech rights have been trampled along with so many others. I have never been so scared in my life. Yet, I am so proud of my righteous husband for standing up to this STATE beast. What a sacrifice he has made hoping to preserve some freedom and rights for our blessed children we brought into this messed up world. Dave is not able to work now and our business manager, who is a wonderful godly man, is doing his best with damage control of the business."

The following articles and evidence to support the Dortch family can be found on the website of Dr. Dortch's attorney, Melody Kramer, Esq. at www.kramerlawip.com who provides detailed information regarding the arrest and interrogation of the Dortch's 12-year old son (Z.D.), invasion of their home, an email with alleged false statements made by Murrieta police officer Reid. She has posted"
Case No. 5:14-cv-01983-CAS VBK: FACTUAL ALLEGATIONS

"Civil rights plaintiff told to "stop making trouble for himself" by Riverside County DA is now being held in jail indefinitely, without bail"

The email sent by officer Markellus Reid:[Reid, Markellus Sent: Wed 6/12/2013 9:36 AM
To:_CityBusiness
Subject: Safety Concern for City Personnel

"Update on civil rights plaintiff being held without bail – Judge Clark refuses to reconsider jail confinement"

Video of the Arrest of Dr. Dortch:

The Bugle will post an update when more info is available.


---
More on Murrieta PD corruption:Temecula resident wrote:"Councilmember Ingram being sued - Murrieta PD involved. Attorney for the plaintiff speaks out at recent City Council meeting."
https://drive.google.com/file/d/0B5qXP4p8xr_6ZFBFVS1sTU1CMGM/view?usp=drive_web

Publisher's Comment: Kudos for the applause from the few. Shame on the rest of the audience. I can only assume you are the silent majority that is to blame for the corruption in this city. Bad men in politics need nothing more than for good men to watch and do nothing, including not voting the corrupt incumbents out.

Better yet, take the advice of the attorney in the video and use your remedy of Recall to clean up your city - Become a STAR - Stand Tall And Recall!

If you need a strategy, click the Recall Strategy menu item on the left. It only takes a few good men and a few hundred dollars to rid your city of corruption. I have a sample Petition already typeset. All you need is to edit the reasons for the recall to suit your group's collective preference for each of the councilmembers you wish to recall.
---
---
Community Voice - A "Harry" situation
By Jeff Brooks

Over the past several months the citizens of Murrieta have learned of possible misconduct by its current Mayor, Harry Ramos. Allegations stemmed from an ambiguous complaint from former Murrieta Councilman, Doug McAllister, during public comments at a recent city council meeting. It is unknown McAllister's reasons or motivation in taking such actions against Mayor Ramos while he stayed silent during, then Mayor, Alan Long's DUI fiasco.

Publisher Knight's response:
Motive: McAllister is a Developer's Representative and his employer recently lost a case in court for a high density condo project. Click our "Archives" menu item to read the full story "Court Halts High-Density Housing Development in Murrieta" [July 2015]. Ramos was the single No vote for the project. McAllister has motive, in fact all developer representatives have motive because Ramos listens to the residents and votes in accordance with neighborhood concerns. Ramos also raises issues with planning staff who always side with the developer and falsely claim no mitigation measures are needed for a wide variety of resident concerns. City Planner Cynthia Kinser was cited by Judge Sharon Waters in her "Statement of Decision" on the McAllister employer's project with findings that reads like a statement on Kinser's incompetency in my opinion. Another project that Ramos voted No on recently is represented by Kassen Klein for a high density project in the Greer Ranch neighborhood. "Unknown" reasons to attack Ramos, ruin his reputation and honorable standing in the community, not to mention the stress on his family? Not likely! While it is true the developer reps have their needed three votes, they do not like questions from the dais that sheds a bad light on the three or four cronies who vote to approve their projects. The Greer Ranch project was approved in a 3-1 vote (Ingram had to recuse himself as a resident of Green Ranch). Voting to approve were Long, Lane, and Gibbs. Everyone stayed silent on the DUI accident where Long injured four Murrieta Valley High students. His felony trial was postponed until mid-August. Apparently, Long wants the students investigated for unknown reasons. We can only wonder what young person will be defamed next for political and financial gain?

Jeff Brooks: Some say McAllister is vying for a City Council seat in the next election and sees ousting Ramos as an easy way to get back into the political spotlight as someone who can get things done. Regardless, it seems interesting that shortly after McAllister makes his debut with nonspecific ethics violations that we see a sexual assault accusation, against Mayor Ramos, followed by a civil lawsuit with no criminal charges being filed. Sexual Assault is a crime, yet the victim has not filed an official police report with the City of Murrieta or the District Attorney's Office, but rather files a civil suit for personal monetary gain, with only political repercussions for Mayor Ramos. Did McAllister know something more than what he alluded to during public comments at the city council meeting? Did he know the city was at risk of being sued? We may never know.

Publisher Knight's response
Actually a civil suit has not been filed. According to Jeffery A. Morris of the law firm of Stutz, Artiano, Shinoff & Holtz, representing the city of Murrieta, he states, "The City has only received a Government Tort claim on behalf of Ms. Smith. The claim was dated, July 22, 2015. At this time, the City has not received a settlement demand, nor a lawsuit regarding this matter." As for the non-specific charges of ethics violations Ramos has never had a city staffer or city volunteer come forward to support any charges of ethics violations and when that didn't work to the Council's benefit, Ms. Smith has claimed to have been "approached" in July about Ramos that led to her claim of having been sexually assaulted by Ramos last January. Ms. Smith is apparently in need of money as she claims to be an unemployed radio show sales representative. She is therefore vulnerable to suggestions posed by whomever "approached" her. It does appear that a crime is being committed here and it is not Ramos who committed it, in my opinion.

Jeff Brooks' next paragraph is not published verbatim here due to inaccuracies:

Publisher Knight's response to the inaccurate comments.
For the record, Ramos does not claim to be Mexican therefore the comments that Brooks and others are reading or hearing are trumped up. The MU blog entitled "Discussion on Mayor Harry Ramos" was posted by Sheila Dee on June 2. Sheila claims she posted the info at the request of someone who wanted to remain anonymous. The informant states, "there is a group of Murrieta residents seeking to oust Mayor Harry Ramos. Grounds vary from "he's Mexican", "he's late for meetings, not prepared properly at council meetings and doesn't follow through with city related tasks", "he's not proactive in the community as he should be". All are NOT True according to sources who follow the meetings closely. Ramos was born in the Bronx to parents of Puerto Rican descent (a US territory - hence Americans). Many of the other comments appear to be attributable to a perception propagated by Barbara Nugent that I viewed in a council meeting video. It was a shameful, sycophant performance, in my opinion. As a Gibbs supporter, Nugent is apparently trying to embarrass Ramos in public and the public in turn thinks Ramos has few accomplishments as a Councilman. I remember writing to Councilmember Ramos at the time and complimenting him on his composure during Barbara Nugent's rant. As for his speech pattern, a mix of dialects from his heritage and New York, yes, his accent may make some words sound inaccurate, and yes he has joked with staff when his gavel keeps turning up missing or "stolen" as the joke would claim. And Ramos may not show up at certain events which is understandable and I bet he now wishes he hadn't shown up at that fateful January Chamber event! By the way does anyone know how much money the city gives the Murrieta Chamber of Commerce, a club, that has been known to be on the dole for upward of $30,000 per year in tax dollars. It's for services performed you say? Like answering the telephone as I recall on their list of services that former Chamber staffer Mr. Oliver presented to the city. What a joke!

Jeff Brooks: Further, Mayor Ramos has aligned himself with local extremists such as Alex Ramirez, Douglas Gibbs (not related to councilmember Gibbs) and Ernie White. [A race supposition was deleted by Publisher Knight]. But when Mayor Ramos conducts his press conference, where are the extremists, they sure as heck aren't standing behind him. Why don't they want to be seen on camera with the Mayor as he denies the allegations? For that matter, where is his wife. I would think his wife would be jumping at the opportunity to stand behind her husband if she truly thinks he is innocent and is being unjustly attacked. When the facts are revealed we will discover who was on the side of truth. But when you have extremists like Alex Ramirez, Douglas Gibbs and Ernie White in your corner, you lose credibility.

Publisher Knight's response:
The extremists are not the Ramos supporters. I know Ernie White and he is another man of integrity who is trying to educate the public. As for credibility and ethics charges, Doug McAllister is the last person you would want to believe. Doug McAllister is a deadbeat dad who Barbara Nugent wanted recalled in 2005. She worked hard to oust McAllister, VanHaaster, and Seyarto. She brought all of the court documents to The Bugle regarding McAllister's past including the letter he sent his wife and mother of his two young children writing, I checked and you can't touch me here, after he fled to Australia to avoid child support. When he returned to the states, after an unsuccessful turn of events in an Australian court, he was prosecuted by Riverside District Attorney Grover Trask to pay the back child support. He had no contact with his two children who lived in Wildomar until the unfortunate death of his 21-year-old son Bryan. Worse the Murrieta Police provided a platform for McAllister to gain the sympathy vote at their "Every 15 Minute" program and at the expense of defaming the abandoned son Bryan. Bryan's mother could not refute the impression of a DUI that Doug gave in his speech as she had to wait for the insurance company to complete their investigation. The Californian helped with the sympathy vote angle by carrying the story of Bryan McAllister's death but not the fact that he was the abandoned son of Doug McAllister. Doug did not have a relationship with the son he abandoned at the age of seven or the daughter he abandoned at the age of five. Neither of the children wanted anything to do with their father. The insurance company eventually found Bryan to not be driving under the influence and paid the insurance benefit to the mother. At the funeral, it was reported that Doug commented that at least now I know what he looked like. According to Rescue Murrieta participants including Ed Faunce, during the Rescue Murrieta recall campaign, McAllister was called a sociopath - someone without a conscience. His behavior toward the first family is certainly proof of that analysis. Don't you find it strange that Faunce and Nugent now befriend McAllister? "Follow the money", Faunce used to say. And we all thought he meant it in a derogatory way toward crooked politicians. I guess some people in business follow the money for decisions on friendships.


---
Comment from Jeff Brooks on "A Harry situation" post-publication

I just wanted to drop you a line and thank you for the conversation. Although we may not agree on some things, I appreciate the dialog. Your response was based on research and factual evidence. I guess all the facts will be revealed when the investigation is over. Thanks again.


---
Who is Protecting Murrieta's Water At RCWD?
by Douglas VanderHeide

RCWD Board Members are elected at-large. None of the current Board members represent the over 8,000 Murrieta residents serviced by the Santa Rosa Division. EMWD, WMWD and EVMWD divide their service areas into districts so that the customer base is fairly represented. The Rancho at-large method of electing board members is in direct violation of the California Voting Rights Act. As reported by the San Diego Union/Tribune, June 25, 2015, the Fallbrook Public Utility District is currently being sued because of this violation. The article also states that Government agencies that have tried to fight such cases have either lost or gave up the fight and complied.

For 2015, it appears that Murrieta budgeted about $1.3 million for water and Temecula budgeted about $750,000. Murrieta residents pay a 0.5% property tax assessment on the land value which goes directly to RCWD, Temecula residents pay 0.3%.

Murrieta residents also pay a property tax assessment of $69.92 labeled as a Stand-by tax payable to RCWD. Temecula residents do not pay this tax.

The debt to build the Santa Rosa sewage plant in 1989 which services Murrieta has been serviced interest only all of these years. A significant overhaul or possible teardown and rebuild may be necessary in the near future. As I understand it, this cost will probably be in the $40-$50 million range.

Where is the transparency related to all of this debt? When is this plant going to be paid for? When do the property tax assessments go away?

RCWD is not complying with Best Management Practice 11, a guideline from the State Water Resources Board. This practice establishes a maximum of 30% of revenues from the fixed charge. Because of excessive service charges and property tax assessments RCWD residential customers in Murrieta and Temecula pay over 80% of their water fees in fixed charges.

By now most of you have received your ballot for the Rancho Board. Don't forget to vote, Water Boards directly affect your wallet and your quality of life! It would be my recommendation to vote only for non-incumbents in the up and coming Rancho Board election. Maybe this tactic will send a message.

This same tactic should be remembered the next time Murrieta City Councilmen are up for re-election. It seems they are not too concerned about where they spend our City's money and they certainly don't care that about the half of Murrieta that pays extra taxes for water.


---
Valley News Public Comments on the Mayor Ramos Accusations:

Jan Sayer - July 25, 2015 at 4:48 pm: Curious as to "why" she is no longer at the radio station? What station? My 2 cents is on Mr. Ramos. This woman is a fake. He certainly does not seem to be "her type". She is looking for the free ticket with this one. What a shame she would jeopardize this young man, and what he stands for. I saw this on the news the other day, and her persona and body language give a different story.

Sam Handley - July 25, 2015 at 10:58 pm: I was at the mixer for work and mayor Ramos spent about 45 minutes with me and a coworker talking about the youth of our community and our relationship with Christ. Mayor Ramos was a perfect gentleman, I also observed and spoke to this women and she was a little bit too tipsy for someone who was representing a local radio station for work. It seems to me that with hundreds of people there that night would have been a foolish move for the mayor to make a move like she is accusing him of, especially when she was the one acting up that night.

Jane- July 26, 2015 at 6:13 pm:Great article Valley News, keep up the good work and can't wait to see this woman exposed for the …. she is!

JoeMama - July 28, 2015 at 7:20 am: And this is why Gibbs and Long need to be recalled. Long should have NEVER been re-elected. When this is all over with – with Ramos being cleared – I hope the voters remember what started this debacle.

Jane - July 29, 2015 at 2:00 am: You know JoeMama the problem is that the voters need to come to meetings and call Gibbs, Long, and Lane out for the corrupt people they are and not just blog here. We have to get people into the meetings to let them know that We are Not stupid and we know Exactly what they are trying to do to a good man who actually votes for the people.

Carolyn - July 28, 2015 at 10:16 am: WHY DIDN'T RAMOS DENY GETTING IN THE CAR WITH SMITH? He knows DNA evidence might prove that he was. So, why did he get into a car with a supposedly inebriated woman and let her drive? If witnesses truly saw her making passes at him, why did he take the risk of being alone with that type of woman? I want to see him deny that he was in her car. [Comments on race were deleted by Publisher Knight].

Jane - July 29, 2015 at 2:03 am: Carolyn so lovely to see Gibbs' crony hard at work here to spread your nastiness to make people think Ramos(a good man) is actually all these things you say. I hate to tell you but the Majority of All combined surrounding cities are on his side because they know his true character. You have probably never even met the man but decide to make assumptions because you are just another Gibbs puppet…Good luck with that! One more year to go till re-elections and I say…RE-ELECT HARRY RAMOS!!

Recall Alan Long - July 28, 2015 at 8:18 pm: Mr. Mama- I assume you don't live in Murrieta. Or did I miss or forget about an e-mail, FB message, etc. from you sometime over the seven months of trying to organize a recall of Alan Long? Or does drinking and driving fly but perceived back-room dealings and/or political backstabbing don't?

I think we agree that this all started some time ago, and I know now that thinking back in October that a recall of Alan Long was a slamdunk was naive. It was naive not because it didn't need to be done (it did and does), but because I didn't recognize at the time that Murrieta politics seems (from the outside looking in) to have a deep history of dysfunctional city council relationships, poor city hall work culture and management, and (worst of all) partisan citizens who prefer to dig in around their guy and attack the other guy. I think that our elected representatives play into this as a way of self-preservation. All of this at the expense of the system as a whole.

Would a strong, unified message from citizens about city hall, sometime before October 16, 2014, have made Alan Long think twice about drinking and driving? Or made Jonathan Ingram dial back his response to a perceived threat, which ultimately made him the target of a federal civil rights lawsuit? Would a call for accountability (recall or otherwise) for Alan Long have sent a message that would have made Harry Ramos change his behavior, and/or make others think twice about accusing him (publicly or through Doug McAllister) of things he didn't do? Would a unified message from citizens about city hall have made someone get to work on fixing the environment that somehow made it logical to complain to someone outside of management about something as relatively petty as somebody going through someone else's desk drawers? Would a unified message from citizens about city hall have made it more likely that Harry Ramos would act on potentially criminal acts in city hall at the time he became aware of them, instead of waiting until his head was on the block to threaten to go to the DA? Would a unified message from citizens have forced the city council to take action on Long, as well as on Ramos' activities since, according to McAllister's group, they knew about it and ignored it?

We'll never know.

For those more interested in watching and feeding into the circus, enjoy the show. You probably have a long one ahead of you.

If there is anyone left that is paying attention and wants to work on fixing things, instead of leaving that to a group of people that has proven itself incapable of doing so, let me know. I'm ready when you are.


---
Vol. 18 No. 5..................................July 2015
---
Court Halts High-Density Housing Development in Murrieta
Murrieta Residents fight to maintain the charm and safety of the SCGA Golf Course Community

Murrieta, CA (June 18th, 2015) – A Superior Court judge ruled last week that the City Council's approval of a 112 unit high density housing development on the 4th tee of the SCGA Golf Course violated the California Environmental Quality Act (CEQA). The Court found in favor of a group of residents that filed suit over the project, the Murrieta Community Values Organization (MCVO), agreeing with them that the project could have significant environmental impacts that should have been studied before approval, and that the City failed to consult with or provide notice to the Department of Fish and Wildlife and the State Clearinghouse as required.

Judge Sharon Waters cited multiple issues with the project, including a failure to notify the appropriate state environmental departments, failure to complete an Environmental Impact Report (EIR), and inadequate mitigation measures to prohibit pollution to local streams and rivers. The Court noted that the project could have significant impacts on traffic in the surrounding communities, aesthetics and community character, noise pollution, geological, soil, and seismic faults, and that hazards could result from relocating the tee area at hole 4 of the golf course. The Judge set aside all approvals of the project.

Josh Bergere, founder of MVCO, said "this is a great day for the little guy. This is truly a story of David versus Goliath and helps to illustrate that communities don't have to fall victim to indifferent politicians or big money developers who are not concerned with the community but rather with the money that can be generated by such projects." He also said, "I hope that other communities who are facing the same concerns can find the strength and unity to stand up for their families and friends and ensure their voices are heard."

"CEQA protects both the natural and human environment from the effects of a project, large or small. It also provides the community opportunities to weigh in on those effects and it requires the City to take community concerns seriously," said Everett DeLano, a North County lawyer with extensive CEQA experience who represents MCVO. "We told the City of Murrieta time and time again," DeLano continued, "in written comments and at hearings at city hall, that they could not and should not ignore the residents' valid concerns about the project. But the City refused. Fortunately, the Court agreed with us, finding that the City had violated CEQA by failing to give the project's many impacts appropriate consideration."

In April of 2012, Golden Eagle Property development, an Orange County Based housing development company, proposed a development project that included 3 stories and 112 apartment homes within a 6.75 acre parcel located on what is currently the 4th tee box of the SCGA golf course. Upon getting the news that this development was being reviewed by the City of Murrieta's Planning Commission, a group of residents in both The Preserve and Ridgegate communities decided to act.

Both communities were concerned about numerous aspects of the project and how it would impact them and their families: increased traffic, noise pollution, damage to homes from stray golf balls, detriment to the character of the community and ultimately the safety of the residents. The residents banded together and formed the Murrieta Community Values Organization (MCVO) to fight the development project and the City of Murrieta. They hired Everett DeLano, a prominent North County lawyer with extensive CEQA experience to help them battle the project.

The group raised their concerns at various City meetings, however in January 2014, the City Council approved the project in a 4 to 1 vote. Councilman Henry Ramos voted against the project due to his concerns about multiple issues raised during the many council meetings. MCVO quickly filed a lawsuit to challenge the approval. "It's time that the City of Murrieta and big developers from outside our community realize that the residents who live in and love this community won't allow themselves to be pushed around any longer," said Bergere.

The Judge's decision means that all project approvals have been set aside. If Golden Eagle Properties seeks a new approval from the City, it will need to complete an EIR that addresses the concerns raised by MVCO, and ensure that those concerns are adequately addressed.

About Murrieta Community Values Organization - The Murrieta Community Values Organization was founded with the singular belief that everyone in our communities should have a voice in the events that impact the safety and sanctity of their communities in which they live. They strive to stand up for those that can't stand up for themselves and ensure that their voice is heard. If you would like more information about MCVO, please send an email to info.mcvo@gmail.com

Contact info for Attorney Everett Delano: (760) 510-1562 or Email: Everett@delanoanddelano.com


---
Brite Nite Meeting at the Wildomar/Lake Elsinore Elk Lodge 2591

Brite Nite is held on the 5th Tuesday of the month and on June 30 the program was informational with a presentation about our water supply. Greg Morrison from the Elsinore Valley Municipal Water District provided a lot of facts and answered a lot of questions about our water usage, restrictions, available programs, etc. Here are some interesting facts about EVMWD's water:• 70% of their water comes from Northern California or the Colorado River• 20% from Local Wells• 10% from Canyon Lake• Storage in California and the Colorado River is below 50%• This is our 4th year in drought conditions• Effective 7/1/15 there is a 15% reduction of imported water• 68% of our water usage is outside the home• New landscaping is to be on drip irrigation and drought resistant.

The message here is clear. We must do all we can to conserve water during these extreme dry conditions. On a positive note, this translates to lower monthly bills and less yard work. For more information on their rebate programs visit: www.evmwd.com/rebates.


---
The Drought Situation and
My Nominations For the Worst Public Servants of the Decade
By Douglas VanderHeide - Murrieta, CA

1. Past and present members of the Murrieta City Council:
For years this council has failed to recognize and seek change to the water/sewer problems in this city. Past Councilmen have been quick to blame the State. If this were true, then:
a) How many other cities in California have such a wide disparity in water/sewer rates?
b) How many other cities in California have 5 separate pricing structures?
c) How many other cities in California have 4 separate Water Districts?
d) How many other cities red-line neighborhoods for property taxes?

Because of the numerous districts, we have turf wars oftentimes not resulting in solutions which best serve the overall goals of the community. The Water District concept was enacted by the State to avoid the exact problems that we are currently seeing. To a lesser degree the City of Temecula has similar problems.

2. Past and present members of the Rancho Water District Board of Directors:
They are giving our water away to the big land owners, the rich and the wasters of water. When we purchase a home, we give our water rights away expecting that this natural resource will be managed responsibly by Government.
a) RCWD has property tax assessments which I am sure have all been refinanced at lower rates in the last few years. The service charges and the property tax rates to their customers have not been lowered. Where is the extra money going? Is all of this debt being serviced interest only?
b) The Santa Rosa sewage plant debt has been serviced interest only since it was first built in 1989. I am sure this debt has been refinanced, why have sewer fees not been reduced? When is this plant going to be paid for? A significant overhaul or possible teardown and rebuild may be necessary in the near future. As I understand it, this cost will probably be greater than the original cost to build the plant. How is this going to be paid for?
c) Where is the transparency related to all of this debt?
d) RCWD is not complying with Best Management Practice 11, a guideline from the State Water Resources Board. This practice establishes a maximum of 30% of revenues from the fixed charge, in the example below RCWD takes over 80% in fixed charges from its customers.
e) RCWD Board Members are elected at-large. None of the current Board members represent Murrieta or the Santa Rosa Division even though over 25% of the RCWD customers live in Murrieta. EMWD, WMWD and EVMWD divide their service areas into districts so that the customer base is fairly represented. This at-large method of electing board members is in direct violation of the California Voting Rights Act. As reported by the San Diego Union/Tribune, June 25, 2015, the Fallbrook Public Utility District is currently being sued because of this violation. The article also states that Government agencies that have tried to fight such cases have lost almost every time.

3. Past and present members of the Riverside County Board of Supervisors:
For at least the last 3 years they have been made aware of this problem and have ignored us, partly I suspect because our City Council has also ignored the problem.

Why do I say that RCWD is giving our water away?
They sell their water at $0.63 in the Rancho Division and $1.12 per unit in the Santa Rosa Division for Tier 1 water usage. EMWD sells their Tier 1 water for $1.72 and EVMWD for $2.14. The RCWD low prices are extremely misleading. The costs of water quoted above do not include service charges and property tax assessments. These service charges and property tax assessments are fixed and have no relation to water usage.

Let's look at specifics:
Both Divisions of Rancho charge high service charges. The Rancho Division servicing Temecula and parts of Murrieta has a property tax assessment which is 0.3% of the land value.The Santa Rosa Division servicing Murrieta has two property tax assessments - one which is 0.5% of the land value and the other is a flat tax of $69.92.

The Assessed Land Value varies depending on when the property was last sold and reappraised by the County. A small sampling indicates that the Land Value can be anywhere from approximately 17% to 36% of your total assessment.

For the calculations below, I am using a $100,000 Land Assessment on the Property Tax Rolls for a customer using 10 units of water during a 30 day billing period: The cost comparisons are listed in declining order.

RCWD, Santa Rosa Division (Murrieta) charges $134.85/mo:
Water Usage $13.16, Service Charge $35.45, sewer fees $38.75 and property taxes $569.92/yr or $47.49/mo.

WMWD (Murrieta) charges $99.13/mo:
Water Usage $23.86, Service Charge $27.24, sewer fees $44.53 and property taxes $42/yr or $3.50/mo. It should be noted that RCWD owns the sewer plant that WMWD must use. Using the EMWD plant would reduce WMWD charges to $80.49.

EVMWD (Lake Elsinore/Murrieta/Wildomar) charges $83.70/mo:
Water Usage $23.62, Service Charge $16.58, sewer fees $43.50 and no property taxes. It should be noted that RCWD owns the sewer plant that EVMWD must use. Using the EMWD plant would reduce EVMWD charges to $66.09.

RCWD, Rancho Division (Temecula/Murrieta) charges $78.11/mo:
Water Usage $8.16, Service Charge $19.06, sewer fees $25.89 and property taxes $300/yr or $25/mo.

EMWD (Temecula/Murrieta) charges $63.29/mo:
Water Usage $24.70, Service Charge $10.62, sewer fees $25.89 and property taxes $25/yr or $2.08/mo. Low water usage makes you eligible for a $6.47 sewer discount.

Using the example above, not including the sewers, both Divisions of RCWD derive less than 16% of their revenue from the commodity (water). By contrast, EMWD derives 66% and EVMWD 58% of their revenues from the commodity. The 70% specified by Best Management Practice 11 is not being met by any of our Water Districts.

Including the sewer charges lowers both divisions of RCWD to approximately 10%, EMWD to 39% and EVMWD to 28%. The lower these percentages are, the greater the volume discounts. In effect the poor and those who conserve water are subsidizing the rich and the wasters of water. Without water there is no need for sewers, so why are they separated? How is cleaning up waste from water any different than cleaning up oil spills or nuclear accidents?

Let's compare pricing gasoline in the same way that our water is priced - with a service fee and a commodity price per gallon. Lower the price of gasoline from about $4.00 per gallon to $2.00 per gallon and charge everyone a $30.00 service fee before they are allowed to enter the gasoline station. The new price structure vividly demonstrates how the wasters of water benefit from low commodity pricing.

An economy car requiring 10 gallons of gas would pay the $30 service fee plus $20 for the product (10 gallons at $2.00 per gallon) for a total of $50 or $5 per gallon.

A truck requiring 30 gallons of gas would pay the $30 service fee plus $60 for the product (30 gallons at $2.00 per gallon) for a total of $90 or $3 per gallon.

As you can see, there is a $2.00 per gallon volume discount to the big user. How is this discount promoting conservation? Likewise, the tiered rate structure of water does little to promote conservation.

It should be noted that EVMWD and RCWD are comparable in size. Both districts are significantly smaller than EMWD. As you can see in the above comparisons, EMWD and EVMWD differ by less than $3 if sewer charges are not included. It is unfortunate that EVMWD is stuck with the RCWD sewage plant.

Don't forget to vote, the Water Boards directly affect your wallet and your quality of life!


---
Chaparral High School Drama Department Wins 5 Awards
Receives 14 Additional Nominations in 10th Annual National Youth Arts Competition

TEMECULA, CA – The Chaparral High School Performing Arts Department is pleased to announce that students in its Drama Department, under the direction of Chris Irvin, drama/music theater teacher, have earned five awards and 14 additional nominations in the 10th Annual National Youth Arts Awards for the 2014-2015 season. Award winners are: Lead Actress in a Musical: Sidney Aptaker as Doralee in 9 to 5: The Musical; Lead Actress in a Musical: Lexi Gunn as Judy in 9 to 5: The Musical; Lead Actor in a Play: Tag Pruitt as Lloyd in Noises Off; Supporting Actress in a Play: Sidney Aptaker as Miss Furnival in Black Comedy; and Ensemble: 9 to 5: The Musical.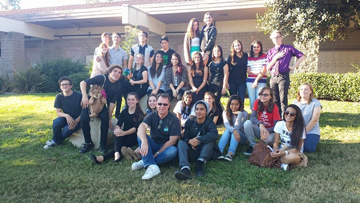 Additional nominations earned by CHS Drama students were: Outstanding Production: 9 to 5: The Musical; Outstanding Production: 9 to 5: The Musical; Lead Actress in a Musical: Amanda Dienhart as Violet in 9 to 5: The Musical; Lead Actor in a Play: Zachary Downing as Brindsley Miller in Black Comedy; Lead Actress in a Play: Julianna Smith as Carol Melkett in Black Comedy; Supporting Actor in a Musical: Rafael Loza as Hart in 9 to 5: The Musical; Supporting Actress in a Musical: Shannon McMahon as Roz in 9 to 5: The Musical; Supporting Actor in a Play: Tag Pruitt as Harold Gorringe in Black Comedy; Supporting Actress in a Play: Marissa Gonzalez as Belinda in Noises Off; Ensemble: Black Comedy; Ensemble: Noises Off; Set Design: Chris Irvin for Noises Off; Direction: Alex Flores for Black Comedy; Direction: Chris Irvin for 9 to 5: The Musical; and Direction: Chris Irvin for Noises Off

Created to honor outstanding work by youth in the arts, NYA Awards, formerly known as the National Youth Theatre Awards, has expanded to celebrate music, dance, film, and other art forms. This past school year, more than 300 productions were considered for awards, including shows from more than 100 different theatres in more than 50 cities spanning 10 states. Award winners were selected from nominations by a panel of more than 20 judges and reviewers.


---
Tech Trek

Nine 8th grade girls, representing three School Districts: Temecula Valley, Murrieta Valley, and Lake Elsinore, are the 2015 AAUW Tech Trek scholarship winners. The scholarships were awarded to Genesis Moreno, Michelle Sanchez, Emika Saito, Analia Bravo, Avika Patel, Madelyn Houser, Kelsey Carlson, Aubrey Garrett and Ana Ortiz (not pictured).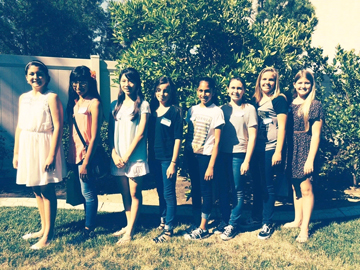 The Temecula Valley Branch of the American Association of University Women is sending them to the Tech Trek Science and Math Camp at the University of California Irvine in July. The branch has sent 94 girls with the help of generous donations.The project, which began in California in 1998, promotes girls entering STEM fields and has now spread to ten other states.


---
Homes for our Troops

Temecula business owner, Tony Richerson, has made helping Veterans a large part of his business in honor of his family members who have served. Richerson has two cousins and two nephews who have served in the Marines and through his local Budget Blinds franchise in Temecula, he has helped five local Veterans.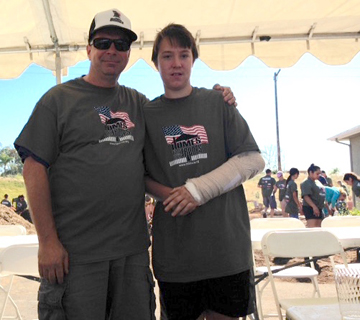 Richerson has donated his time, product and expertise to provide and install window coverings for five Veterans in the Temecula area that have been severely injured in Iraq or Afghanistan. Each of these Veterans have specially-adpated, mortgage-free homes that were built by the non-profit, Homes for Our Troops, and as a part of the construction process, Richerson agreed to provide window coverings in the homes.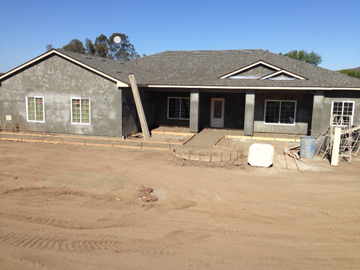 The fifth home is currently being built for Army SPC Geoffrey Quevedo. Richerson has been working with builders to ensure window coverings are installed by the time Quevedo moves into the home.

"I believe that we have a responsibility to our military men and women. Any chance we get to thank them we need to seize. Participating in the Homes for our Troops projects gives me a chance to do that. It makes me feel good to help people that definitely deserve the help."


---
Jonathan Diaz Graduates From US Air Force Academy

Jonathan Diaz, a member of the Chaparral High School (Temecula) Class of 2010, earned a BS degree in social sciences and was commissioned as a Second Lieutenant in the US Air Force. The graduation ceremony for the United States Air Force Academy, Class of 2015, took place on May 28 in Falcon Stadium at the USAF Academy is Colorado Springs, CO. Diaz will be stationed at Vandenberg Air Force Base in CA. Present for the commencement ceremony were mom Rosalie and brother Joseph, a 2015 CHS graduate.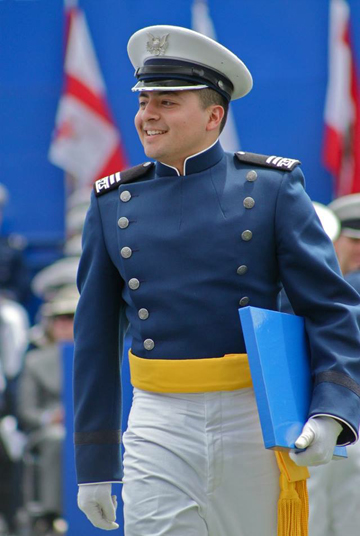 ---
Dedicated Teen Artist Honored
By Arts Council Menifee

At 19, artist Christian Keefer is still on the verge of a long journey through the art world. He looks forward to taking his talent in many different directions and was honored to receive the title of Artist of the Month for July by Arts Council Menifee.

Keefer has already shown and sold many of his works, including a large colorful painting that is now hanging at Whimsical Frozen Yogurt and Gelato at Menifee's Countryside Marketplace. The sale was made during a show of works by many local artists at the "Arts Showcase" event, held there on May 16.

The owner of the popular yogurt shop purchased Keefer's mixed media work named "Pure Joy" that depicts two young women enjoying an ice cream cone.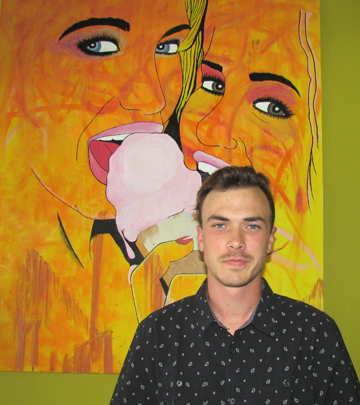 "It just all fell into place," said Keefer, of Menifee. "The project's coloring matched the yogurt shop to a T. I was just shocked and overwhelmed when he approached me about buying it."

Keefer started seriously pursuing art in middle school and took art classes at Elsinore High School where he began to explore more aspects of the craft.

"My grandmother is an extremely talented artist and my dad is a commercial artist," he said. "I got into street art (when I was younger) and it evolved from there. I discovered I really enjoyed it and wanted to keep growing as an artist."

While still in high school, he painted tee-shirts and sold them to friends. Keefer's ultimate goal is to create his own clothing line, using tools that haven't been used before to create something unique.

He appreciates the genre of pop art but is all about finding a new niche to make a name for himself as an artist. Keefer likes to think outside the box and continually searches for new ways to make a statement.

"I'll always do something with art. I get a lot of (positive) feedback and that feels really good but at the end of the day my art has to speak for itself," he said. "If I can just make enough money to get by, that's okay – as long as I'm doing what I love."

Keefer's dedication to his craft has him spending seven hours a day this summer learning more about composition and design techniques through two art classes at Mt. San Jacinto College's Menifee Valley campus.

"We enjoy the friendly relationship with MSJC's fine arts department and support it by participating in the college's art shows and events," said Linda Morrison, who co-chairs Arts Council Menifee's Visual Arts Division with Kathy Pickett and Mimi Maki.

When Keefer isn't at school or working in his garage studio, he helps his dad at his business. Brian Keefer has operated Freedom Signs for more than 30 years and his son said his success is due to the craftsmanship he puts into his work. Brian is responsible for many of the signs on Front Street in Old Town Temecula.

Young artists are encouraged to attend the monthly Visual Arts Division meetings, which include demonstrations. The annual patron fee of $20 is waived for student artists.

"I really appreciate the Arts Council Menifee program," Keefer said. "I can take what I need to grow and learn in an art sense; it's a great environment to be in as an artist."

Arts Council Menifee offers local artists opportunities to exhibit their art – at its gallery and at special events where they can display and sell their art.

"Students are discovering the benefits of joining the Arts Council as a place to learn and share their art and be a part of Menifee's art community," Morrison said. "We know there are talented young artists in our city and we are thrilled when they join our organization."


---
Recall Measure to Boot Out Supervisor Kevin Jeffries
We Need Public Support and Petition Signatures
By Britt Holmstrom, President - Mead Valley Seniors Assn.

The political machine is in full operation within the walls of Riverside County. Kevin Jeffries' run for Supervisor 2011-2012 included the Deputy District Attorneys' Association funding his campaign to the tune of over $20,000. The President and then Vice-President of the Deputy District Attorneys' Association during that time period was the recently elected District Attorney Mike Hestrin who is apparently crying poor to the Supervisors for both his DA budget and his campaign finance debt.

All five County Supervisors are co-hosting a fundraising event to help raise a reported balance on Hestrin's campaign debt of $79,000. Keep in mind Hestrin's salary is reported as $250,000 per year. At the budget hearings the issue of ethics for co-hosting the fundraiser was raised. The Supervisors did not find this unethical. Supervisor Ashley stated, "this is a political tradition".

I disagree with Supervisor Ashley and find this to be an unethical pseudo tradition that we do not need to perpetuate. In a Press Enterprise article reporter Jeff Horseman wrote, "Hestrin's 'Retire the Debt' fundraiser, set for June 26 in Riverside, features a who's who of politicians and community leaders as co-hosts. They include all five county supervisors, Sheriff Stan Sniff, State Senator Jeff Stone (R-Temecula), and city council members from across the county".

How can these five supervisors be impartial in the budget negotiations that impact every aspect of our lives? While the Sheriff and DA employees are getting up to 10% yearly salary increases other county services are evaporating. Now these same supervisors are looking to the already strapped cities to pay more for sheriff services. People need to pay attention as our quality of life is being diminished while special interests take over our government.

The Riverside County Civil Grand Jury, who are the watch dogs of our local government, are being stifled as they attempt to address these problems. Press Enterprise reporter Jeff Horseman cited that "In a sharply worded report, Riverside County's Civil Grand Jury has accused the county's top lawyer of consistently interfering in its work, misleading county employees, and having a chilling effect on employees' sworn testimony".

Ethical County Supervisors who work for the betterment of our lives is important. As I stated at a Board meeting in January, I hoped that the goal for the County Supervisors would be building character and building our communities for the economic health and welfare of everyone. That has not been the case. Among the reasons for the campaign to Recall Supervisor Jeffries from office is for his ongoing willful abuse of power that includes secret meetings to fast track a 1.4 million sq. ft logistics center next to homes and a church, renting out a new community center and kicking out the senior citizens who were told to move to the nearby library with the comment that "If you do not move to the library, I will rent out that room at the library too". More reasons for Jeffries' recall can be found at recallsupervisorjeffries.com where you can also sign up to help or donate to our cause.


---
County urges steps to limit West Nile virus
Riverside County health officials are asking residents to take steps to prevent the illness from spreading

What steps can you take to limit major breeding grounds for the mosquito vector that spreads the disease? Contact the County Supervisors and City Councils to rescind their ill-advised use of detention basins as a cheap method of flood control at the expense of public health. In 2014, 801 human cases of West Nile Virus were reported in California, the second highest in state history. Twelve cases were reported by Riverside County last year. These detention basins need to be dried up. There is a relatively inexpensive solution. It is feasible to dig the basins deeper and fill them with 1-2 inch rock. The space between the rocks will fill with excess runoff without having surface waters that attract breeding mosquitoes.

The County Supervisors are especially willful in their disregard for public health and safety. Rather than work toward elimination of surface water detention basins they are asking for a vote of the people in unincorporated areas to pass a bond measure to fund mosquito abatement. Cities will no doubt follow their lead if the County bond measure passes. Cities contract with the County for vector control in city approved detention basins however due to limited budgets they only call upon the County Vector Control Program for investigation and abatement after residents complain. The problem is that most residents do not know they have to call Code Enforcement to complain.

In the absence of any elected official in your area agreeing to dry up their detention basins here are your other choices for self protection as advised by the County Health Department.

• Protect against mosquito bites by using insect repellent. Use a repellent with DEET (N, N-diethyl-m-toluamide), picaridin (KBR 3023), oil of lemon eucalyptus [p-methane 3, 8-diol (PMD)] or IR3535 according to the instructions on the product label. DEET products should not be used on infants under two months of age, and only in concentrations of 30 percent or less on older children. Lemon eucalyptus oil should not be used on children under age three.

• Be aware of peak mosquito hours. Dawn and dusk are peak biting times for many mosquitoes. Consider rescheduling outdoor activities planned for those hours.

• Choose clothes that can help reduce mosquito bites. Wear long sleeves, long pants, and socks when outdoors to help keep mosquitoes away from skin.

• Mosquito-proof your home. Drain standing water, where mosquitos lay their eggs and drain or discard items that hold water. Check rain gutters and drains. Empty unused flowerpots and wading pools. Change water in birdbaths and pet bowls at least weekly.

• Keep mosquitoes outside with tight-fitting screens on all windows and doors.

Contact the Riverside County Vector Control program at (951) 766-9454 or your local vector-control district to report mosquito problems, request mosquito fish or report neglected pools or standing water as potential mosquito sources. Visit the department online at http://www.rivcoeh.org/Programs/vector for more information.


---
THE RISK IS REAL - Mosquitoes Spread Disease
Community Voice by Ron Loftus, Riverside County

Most summers, mosquitoes are merely persistent pests leaving miserable, itchy welts. This year, however, experts say the risk of disease just went up a notch when adult rock-pool mosquitoes (Ochlerotatus japonicus), first seen in Portland five years ago, were found to have spread around Multnomah County. This mosquito is a killer, and a known carrier of dengue fever, West Nile virus and encephalitis. No matter where you live, the Red Cross says "mosquitoes are responsible for more human deaths than any other living creature."

Don't these mosquito-repellent wristbands look like they'd be super-smart for gardening, golfing, fishing, swimming and camping? After all, who wants to glisten with a sheen of sweaty, chemical bug spray during outdoor activities?

The pitch
I got caught up late one night. HSN barker, Cory Bergeron, gesticulated wildly, more amped than a power line 10 seconds before a brownout, delivering a rapid-fire pitch:
"When (mosquitoes) smell carbon dioxide - that's like a homing device. They come right at you." The wristband, he said, "completely masks your entire body in a cocoon of protection." In less than five minutes, more than 2,000 viewers shelled out nearly $19.95 each for a 12-pack of colorful Viatek Mosquito Shield Bands, and the product was sold out.

Still wanting to know if such bands worked, I found a similar product to try: the BugBand, sold at REI for $5 (offered in green or glow-in-the-dark).

The verdict
These products are too expensive when we already have proven winners. For instance, if you want to pull out the big guns for adults, Jungle Juice at REI (98 percent DEET, lasts 10 hours) requires only six drops per application and costs $7 a bottle. If DEET, picaridin and permethrin give you the chemical willies, pick up some oil of lemon eucalyptus (often listed as PMD on labels) for kids and adults. The Centers for Disease Control says it "provided protection similar to repellents with low concentrations of DEET."


---
Book Review
by Esther Tyrrell, Murrieta

BELIEVER: My Forty Years in Politics (Penguin Press and Penguin Audio) is author David Axelrod's revealing look into the exciting world of American politics. Specifically, it chronicles the rise of Barack Obama by giving us a bird's eye view into his campaigns and two terms as president.

Axelrod, a journalist and political strategist, is the grandson of Eastern European immigrants who can trace his interest in politics to a day when, standing on the sidelines watching a parade, he was lifted up to see President Kennedy as he passed by.

A one-time reporter and columnist for the Chicago Tribune, he covered the rough and tumble world of Chicago politics at the local and state levels. While reporting on the New Hampshire and Iowa presidential primaries, he began to consider a career as a political consultant and soon opened a firm for local politicians.

He met Barack Obama, then a state senator representing Chicago's South Side, in 2002. A graduate of Harvard Law School, Obama was interested in running for the Illinois Senate in 2004.

He dazzled the public with his key-note speech at the 2004 National Democratic convention in Boston. That's when Obama's team, with Axelrod at the helm, began considering the junior senator as a 2008 presidential candidate. Major selling points were his views and his ability to communicate them.

In 2008, Axelrod was the senior strategist in the presidential campaign which resulted in Obama's election and in his subsequent re-election campaign. For the first two years of Obama's first term in office, he was a strategic adviser to the President. They were close friends and, as in most friendships, there have been rough spots along the way. The author doesn't hesitate to discuss personal anecdotes, both good and bad, as well as the interaction with Vice-President Joe Biden, and the Clintons, as well as crucial legislative battles like the Affordable Care Act.

Although the book definitely has a Democratic slant, it can still be of interest to those who embrace more conservative political views. For example, it offers a rare opportunity to learn first hand about today's political campaigns in addition to the way in which politics are handled inside the Oval Office.



First rate political biography.



An American sports legend is the focus of Charles Leerhsen's TY COBB: A Terrible Beauty (Simon & Schuster and Brilliance Audio). Known as the "Georgia Peach", Cobb played with the Detroit Tigers for 21 years and spent two seasons with the Philadelphia Athletics before retiring in 1928.

Believed by many to be the greatest baseball player who ever lived, he broke over ninety records and was the first player ever voted into the Baseball Hall of Fame.

Unfortunately, following his death in 1961, he acquired an unfair reputation as an unsavory character. The rumor mill pegged him as a racist who also hated women and children, and who was an alcoholic and drug addict who fixed games. He was accused of beng a rapist and a murderer, as well.

Books and a particularly damaging movie further reinforced these damaging myths.

The author, a respected writer and former Executive Editor at Sports Illustrated, refused to take for granted the sordid "facts" about Cobb. Determined to find out the truth first hand, he personally went to Detroit and Georgia in order to investigate the truth behind the player's contemptible notoriety.

What did he discover? That although Cobb could be belligerent, made a lot of enemies, and got into fights, he could also be passionate about baseball and was a responsible person with a generous side. Surprisingly, he was also instrumental in urging baseball officials to do more to integrate black athletes into the game.

The author believes that the reason why Cobb was singled out for the unjust treatment he received over the decades was because baseball needed a villain and Ty Cobb was the unfortunate choice for this role.



An enlightening and authoritative book about baseball royalty.




---